This post contains affiliate links, meaning I get a commission if you decide to make a purchase through my links, at no cost to you. Please read my disclosure page for more details.
Categories: Bordeaux Area, Family Travel
This episode features our frequent and very popular guest Elyse Rivin. If you enjoy her episodes, please consider supporting her on Patreon.
La Rochelle in the Charente is a gorgeous French city on the French Atlantic coast. It is surrounded by beautiful coast, white limestone and stunning vistas. La Rochelle is a favorite vacation spot for French people, but doesn't seem to be on a radar of a lot of American visitors. That's a mistake because it is usually sunny and has a mild oceanic climate. In La Rochelle we recommend this Maison d'Hôtes and this Airbnb.
You could spend a whole week in La Rochelle and keep busy by exploring nearby islands such as Île de Ré and Île d'Oléron.  Those are the easy ones because they both have a causeway to drive to them. You can even take a bus from La Rochelle to visit those places for the day. Some islands are more remote and can only be accessed by boat. You could also explore the Marais Poitevin and beautiful cities like Saintes, Rochefort and Cognac in this region.
How to get to the Ile de Ré without a private car: You could rent a Yélomobile car for the day or use this bus network. There are more options in the summer months as well.
In this episode we talk about the siege of La Rochelle, how it brought the city to its knees. We also discuss how La Rochelle gained back its prominence by being an active participant in the slave trade. This shameful part of history has been acknowledge in the city as you will hear when we discuss the new world museum.
We recommend you download the official brochures of La Rochelle published by the tourist office, they provide an excellent walking tour of the city.
A Short History of La Rochelle
La Rochelle has been an important city in France for a long time. The name itself comes from ancient Latin and the first written record we have of it dates back to the Dukes of Aquitaine in 961. Guillaume of Aquitaine made a charter for a fortified city named Rupella and over time that name has morphed into La Rochelle.
The city became wealthy because it has a natural port and Eleanor of Aquitaine encouraged business with England. The Knights Templar also used the port to get to the Holy Land and it became one of their established bases.
The city went back and forth between English or French depending on who was ruling and the alliances they made. Eventually it became French in the late 1300s and has stayed French ever since. But it was always coveted because of its port and commerce.
The Siege of La Rochelle
When Protestantism developed in France, some parts of the country converted in great numbers and in La Rochelle 80% of the population became Protestant. Henri IV who had been raised a Protestant himself (and converted to Catholicism so he could become king of France) signed the Edict of Nantes which gave French people the right to choose their religion. That level of freedom was short-lived unfortunately.
Then good king Henri IV was assassinated by a man who didn't think he was Catholic enough. His son Louis XIII was raised Catholic but was too young to become king when his father died.  The future king came under the the influence of Cardinal Richelieu. Richelieu had the objective to centralize power in France by taking back power over cities that were ruled by Protestants.
Richelieu decided to put La Rochelle under siege to bow the city to his will. The people of La Rochelle had gained a lot of independence and wealth. They  asked the English for help. The help came but was not effective.
The siege started in 1627 and lasted for 14 months. There were 3 huge battles. The kingdom of Holland assisted Richelieu even though they were Protestant themselves. For Holland, being in the good graces of Richelieu was more important than saving their co-religioners.
The Cardinal had a huge army and with help from Holland he was able to encircle the city. By the end of the siege, the population of the city went from 25,000 to 5,000 because thousands of people died of starvation. The people  capitulated and the city was without its former rulers. Richelieu had the walls destroyed so they couldn't be used for protection any more. The city lost it fiscal privileges.
The Slave Trade in La Rochelle
Things were looking dire, but La Rochelle came back in part because its merchants actively participated in the slave trade. The was good business and made them rich again. Sadly, this period of time was a golden age for the city. In the middle of the 1700s 80% of commerce in La Rochelle was related to the slave trade.
Today La Rochelle has a lovely port for pleasure boats, but it also has a port for large ships and boats where cruise ships dock. The city was not destroyed during WW2.
Not to Miss in La Rochelle
The city is perfect for simply walking around and enjoying the sights and sounds, but if you'd like to choose a few places to visit, we recommend you don't miss the following.
Musée du Nouveau Monde or Museum of the New World
This is one of the first museums in France to admit that the slave trade was a big part of the city's history. This museum also goes into the abolition of slavery, New France, the American war of Independence, the Gold Rush, the story of Huguenots who fled to America, and many parts of history that would be of interest to visitors from North America.
Musée Le Bunker de la Rochelle
WW2 history museum, it's a museum dedicated to the occupation of La Rochelle. It was a bunker that was used by the Nazis, pretty small, really interesting and a quick visit.
The Old Harbor
A great place to take a stroll, enjoy some drinks or ice cream and gawk at the beauty. This is the place where you can see the towers and what's left of the fortifications.
La Grosse Horloge
Rue Saint Jean du Pérot, lots of lovely restaurants. Not sure which ones will survive the pandemic, but once travel life starts up again that's where I would for a meal. It runs parallel to Rue des Murs between Tour de la Lanterne and Tour de la Chaine.
Walk the Allée du Mail, it's the road that goes along the beach front. Much of it is residential, but there are a few places to get a drink, lots of benches. Good place to go for a picnic, and park along there if you're going for a swim. Casino Barrière, a gambling establishment, is right along there next to the beach. There is also a beautiful park called Le Parc Charruyer near the Vieux Port.
The Aquarium at La Rochelle
One of the best aquariums in France, Annie and family loved it. Not to miss if you're visiting France with children! This aquarium is dedicated to conservation and educating the public.
Les Francofolies
A wonderful music festival that takes place in La Rochelle every normal "non pandemic" year. Well worth checking out if you like French music.
To see and do around La Rochelle
Le Marais Poitevin (Episode 322)
Ile de Ré
Rochefort (the Hermione and Marquis de Lafayette)
Ile d'Oléron
3 towers that were part of the military fortifications
Tour Saint Nicolas, square with French flag on top
Tour de la Lanterne, pointy hat
Tour de la Chaine, circular and dainty
For those interested in WW2 history there's an area of the port that was used to launch German u-boats. It looks like a concrete monstrosity and you can't visit it because it's unsafe. You can visit a similar installation near Bordeaux.  Atlas Obscura article about it.
Musée du Nouveau Monde : museum dedicated to the relationship between La Rochelle and the Americas. This museum goes into the slave trade, the abolition of slavery, New France, the American independence, French people who were involved in the Gold Rush. Housed in a beautiful Hotel Particulier, this is worth the visit. Huguenots who flee France to go to the Americas
Musée des Beaux Arts, about 1000 paintings, Renaissance, beautiful building too.
Regional Food Specialties
Oysters
La Mouclade (cream, Pinot, egg yolks, shallots and garlic)
Pinot de La Rochelle, it's a fortified wine, sweet
Chabichou goat cheese (some cendré, some with peppers, some frais, etc.)
La galette Charentaise, a sort of cookie
French Tip of the Week
Je suis à la bourre = I'm running late. This is a colloquial expression, not to be used when you're late for a formal meeting!
FOLLOW US ON:
Discussed in this Episode
Ile de Ré
Rochefort (the Hermione and Marquis de Lafayette)
Ile d'Oléron
Cognac
Saintes
Tour Saint Nicolas
Tour de la Lanterne
Tour de la Chaine
German u-boats
Musée du Nouveau Monde
Les Francofolies
Aquarium of La Rochelle
La Grosse Horloge
Oysters
La Mouclade
Pinot de La Rochelle (fortified wine)
Chabichou goat cheese
La galette Charentaise
Fort Boyard
Subscribe to the Podcast
Apple
Google
Spotify
RSS
Support the Show
Tip Your Guides
Extras
Patreon
Audio Tours
If you enjoyed this episode, you should also listen to related episode(s):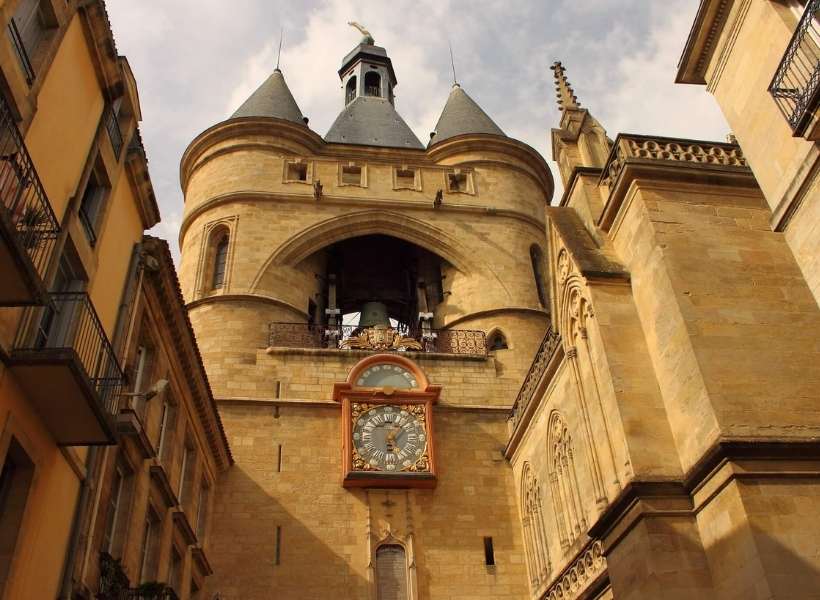 Categories: Bordeaux Area, Family Travel