Categories: French History, Toulouse Area
This episode features our frequent and very popular guest Elyse Rivin. If you enjoy her episodes, please consider supporting her on Patreon.
Jean Jaurès was a prominent French socialist leader and one of the foremost orators of his time. Born on September 3, 1859, in Castres, a small city in the South of France, Jaurès came from a modest background. He showed early signs of prodigious intellect, winning a scholarship to the prestigious École Normale Supérieure in Paris, where he later taught philosophy.
His political career began in earnest in 1885 when he was elected as a moderate republican to the French parliament, representing the département of Tarn. However, the Dreyfus Affair, a political scandal that divided France in the late 19th century, proved to be a turning point for Jaurès. His fierce defense of Alfred Dreyfus, a Jewish military officer unjustly accused of treason, led Jaurès to embrace socialism as a means to realize social justice.
In 1905, he played a pivotal role in unifying several competing socialist factions into the French Section of the Workers' International (SFIO), thereby creating a unified socialist party in France for the first time. As the leader of the SFIO, Jaurès championed workers' rights, social reform, and international peace.
One of his most notable contributions was his staunch opposition to militarism. In the face of growing international tensions leading up to World War I, Jaurès advocated for peaceful resolution and diplomatic negotiation, making him a central figure in the international peace movement. Tragically, his advocacy for peace led to his assassination on July 31, 1914, just days before the outbreak of the war.
Jean Jaurès, the man who changed France forever
Jaurès's lasting impact on French life is evident in multiple dimensions. His tireless work to unify the socialist movement laid the groundwork for the development of the French Left, which has remained a significant force in French politics. His commitment to social justice, particularly in his defense of Dreyfus, strengthened the principles of laïcité and equality in the French Republic. Moreover, his advocacy for workers' rights contributed to significant improvements in working conditions and labor laws in France.
Additionally, his passionate opposition to war has left a lasting legacy in the collective memory of France. In today's France, Jaurès is seen as a symbol of peace, and his speeches against the war continue to inspire anti-war and peace movements around the world.
Jean Jaurès's life and work have left an indelible mark on French politics and society. Despite his tragic death, his legacy of peace, social justice, and unity continues to resonate in contemporary France and beyond. His journey from a modest childhood in Castres to one of the most influential figures in French history is a testament to his remarkable intellect, tenacity, and commitment to his principles.
Places of Interest in and around Castres
Will you spend a day or more in and around Castres? Check out these places of interest:
Jean Jaurès Museum: This museum is near the birthplace of the influential socialist leader Jean Jaurès. It provides insights into his life and work, with numerous artifacts and exhibits.
Goya Museum: Located in the former Bishop's Palace, the Goya Museum boasts an impressive collection of Spanish art, including several works by the famed painter Francisco Goya.
Saint Benoît Cathedral: This beautiful cathedral, a mix of Gothic and Romanesque architectural styles, is an emblematic symbol of the city.
Quai des Jacobins: This picturesque promenade along the Agout River offers beautiful views of the multi-colored houses that line the riverbank.
House where Jaurès was born: the family home where he was born is at 5 rue Réclusane and there is a plaque above the door. The plaque is not easy to read and the house is not open to the public.
Le Sidobre: Just outside of Castres, this unique geological site is home to strange rock formations and vast forests, perfect for a day of hiking and exploring.
Castres Market: Visit the bustling local market, held in the city center, to sample regional specialties and fresh produce. Our guest on episode 417 of the podcast loves it.
The Episcopal Garden: A beautiful formal garden located behind the Goya Museum. It's known for its geometrically arranged flower beds and stunning views over the Agout river.
The National Centre for the Preservation of the Heritage of Protestantism in France: This center, located in a former hospital, has a permanent exhibition on the history of Protestantism in France.
Parc de Gourjade: A large park and leisure center situated on the bank of the Agout river. It's a great place for outdoor activities like walking, cycling, and playing golf.
Pierre Fabre Stadium: If you're a rugby fan, don't miss a match at Pierre Fabre Stadium, home to the Castres Olympique rugby team. One of the best teams in France for many decades.
#Podcast, #History, #JeanJaurès, #Castres, #France
FOLLOW US ON:
Subscribe to the Podcast
Apple
Google
Spotify
RSS
Support the Show
Tip Your Guides
Extras
Patreon
Audio Tours
If you enjoyed this episode, you should also listen to related episode(s):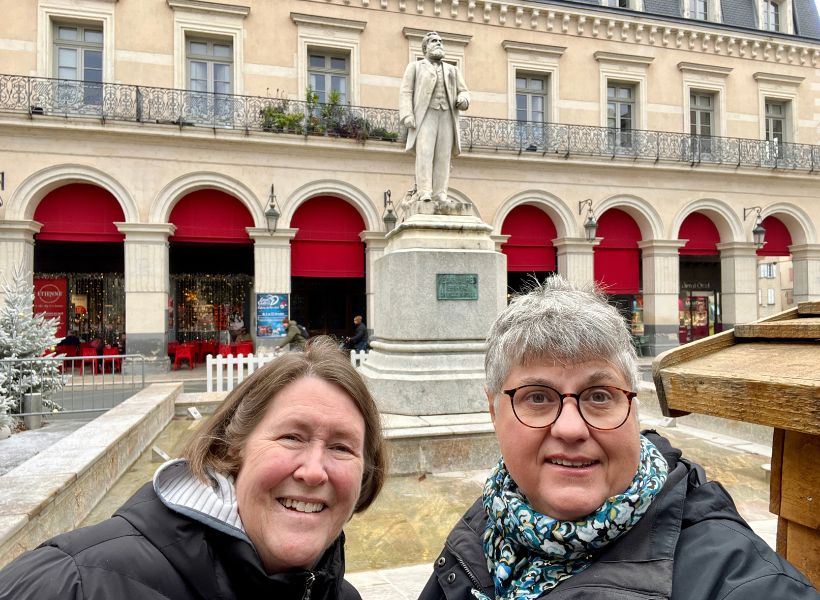 Read more about this episode
Show Notes
Transcript
Categories: French History, Toulouse Area