This post contains affiliate links, meaning I get a commission if you decide to make a purchase through my links, at no cost to you. Please read my disclosure page for more details.
Categories: Active Vacations in France, Provence
In today's captivating episode, Annie Sargent chats with Jessica Kosmack to delve into the exhilarating world of the Grand Prix de Monaco. For the magazine part of the podcast, Annie offers first-hand insights for those planning to visit Geneva and explore the wonders of CERN.
Experiencing Monaco During the Grand Prix
Monaco transforms into a high-octane arena during the race, with many areas becoming ticketed zones. While some attendees are content soaking up the weekend's electric atmosphere and the roar of the engines, a clever alternative exists. Opt for a restaurant broadcasting the race, and you'll enjoy the best of both worlds: Monaco's ambiance and the race action on screen. On practice days, Thursday and Friday, you can catch glimpses of the track from the palace overlook, which becomes a ticket-only area on race day.
Ticket Selection for the Grand Prix de Monaco
The F1 website excels in offering precise seat selection within the temporary stands. Opting for tickets on qualifying days can be a budget-friendly choice. Jessica and her husband chose premium seats with views of both the Casino and the sea, specifically for the qualifying day. Note that your tickets grant access only to the designated area, and while Monaco itself has no entry security, ticketed zones and fan areas do.
Navigating Monaco During the Grand Prix
Accommodation can be scarce; Jessica and her husband booked their Airbnb in Nice a year in advance. They recommend boarding the train to Monaco from Nice-Ville (also known as Gare Thiers) for the best chance of securing a spot. For future trips, they're considering Cap-d'Ail, a location just a 20-minute walk from Monaco, to save on travel time.
Transportation Tips
Monaco's limited roadways become even more restricted during the race. We  strongly discouraged driving to avoid frustration. Walking routes within the city also change due to roadblocks, so be prepared for some uphill and downhill strolls.
Post-Race Logistics
Exiting Monaco post-5 PM can be challenging due to crowded trains. On one occasion, they opted for a bus ride, trading speed for comfort and scenic views in a climate-controlled setting.
Dining and Costs
They highly recommend Made in Sud, a charming pizzeria near Nice's port. At the race, you can bring your own food and non-alcoholic beverages in non-glass containers into the ticketed areas, be prepared for steep prices on official merchandise and tickets, which can range from hundreds to thousands per person.
Bonus Activities
Your ticket grants you access to a full day of events, including Formula 1, 2, and 3 races, making it a packed day of excitement from 11 AM to 5 PM.
Hotel Recommendations
Must-Watch
Before you set off for the Grand Prix in Monaco, don't miss the Netflix series "Drive to Survive" to get you in the racing mood.
Table of Contents for this Episode
#GrandPrixDeMonaco, #AnnieSargentPodcast, #MonacoExperience, #F1Insider, #GenevaTravelTips, #CERNVisit, #RaceDayTips, #MonacoLogistics, #TravelInFrance, #DriveToSurvive, #FrenchRiviera, #NiceToMonaco, #TicketHacks, #MonacoVibes, #QualifyingDay, #TravelAccommodation, #MonacoDining, #FormulaRacing, #TravelAndSports, #ActiveTravelFrance
FOLLOW US ON:
Subscribe to the Podcast
Apple
Google
Spotify
RSS
Support the Show
Tip Your Guides
Extras
Patreon
Audio Tours
If you enjoyed this episode, you should also listen to related episode(s):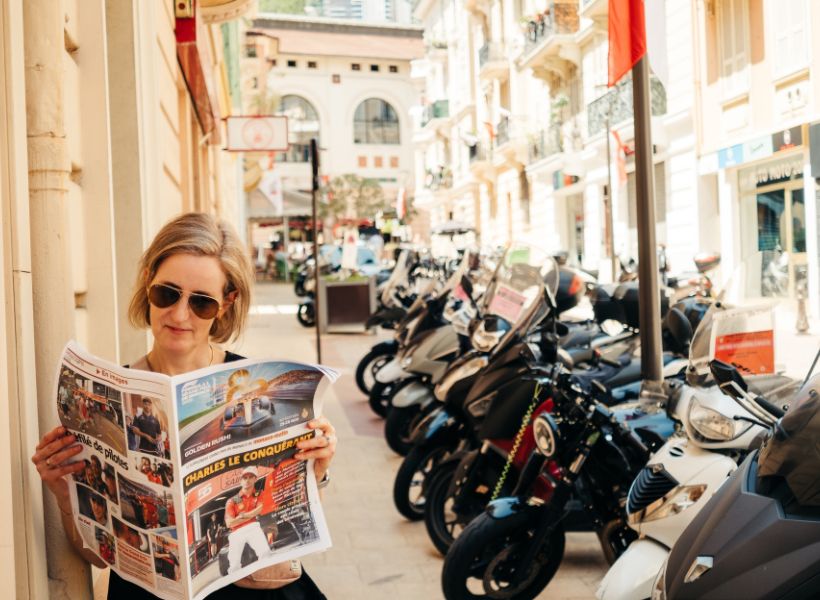 Read more about this episode
Transcript
Guest Notes
Categories: Active Vacations in France, Provence