This post contains affiliate links, meaning I get a commission if you decide to make a purchase through my links, at no cost to you. Please read my disclosure page for more details.
Categories: France How To, French Culture
Are you looking for a French immersion program in France? This episode will help you think through some of the things you should consider before making your choice. I must point that this episode NOT sponsored by any language school, my guests are making recommendations based on their experience and preferences only.
Interested in doing a full immersion course organized by Annie? Email her to be on the waiting list!
My guests Janice and Caroline recount their experiences and what they consider the positives and negatives of language programs.
Janice Chung has been a teacher and school principal and is now retired. She has a lot of insightful experiences about what makes a good learning experience. That's why I thought she would be a great guest to talk about French immersion programs. Janice also has a blog where she shared more details about all her experiences with French language schools in France.
My second guest on the podcast is Caroline Stanford who studied at two French immersion programs. One in Tours and on in Besançon, both medium-sized cities in France.
Language Schools Discussed in this Episode
Janice started going there years ago and keeps returning. The experience is great because you're speaking French 24/7 and class size is small. There are 3 hour of classes in the morning, then either free time to do homework, or cooking classes, or visits.
They center the experience around student's needs. If a student is having difficulties with a particular concept, they create lessons to address it. That's very different from schools where they follow the book and don't deviate.
For this school you take a short test online to decide what's an appropriate level for you. But on the first day you also get evaluated and then they place you in a class.
Here you have a couple of hours of class every day. It's not as student-centered as the previous one, but there are games, activities, you pair-up with other students. There's a whole range of things you can do. Janice would be happy to go back.
But because you don't stay in the same place as all the other students, you spend more time without anyone to converse with. Also, because there are students from all over the world and they each come with their unique accent and sometimes it's hard to understand their French for that reason.
Generally speaking you want to be in an environment that encourages taking risks and using what you know.
Janice had a difficult time at Alliance Français in Paris even though she had taken some of their classes in Toronto. She was placed in a class that was too difficult.
There were 10-12 students but the teacher responded to only a few students and did a poor job at encouraging participation from some students. Alliance is a highly structured type of class. They follow a set curriculum that is very teacher-directed with too little interaction with the students.
Janice never tried to do phone conversation in French, but she went to a few meetups in Toronto. This was not deep enough for her style of learning.
Caroline loved this small intimate school where she studied for a whole month in the summer. She loved the fact that there were only between 4 and 10 people per group. Students attend from all over the world. This is in the center of Tours in an old house. The school connected them with a host family where they continued to speak French in the evening.
This is geared towards intermediate or advanced learner, a bigger school with class size between 10 and 20. They did grammar, literature, linguistics, European Union, film, history, lots of topics. For the European Union class students had to make oral presentations.
At this school you could take the DELF exam. It is a test that puts you on a scale for French proficiency. It is required for foreign nationals to enroll in French universities.
Staying with a host family is wonderful, it gives you a chance to get to know the culture. The university dorm experience is not plush. Most students go home on the week-ends because students don't go far away from home for college in France.
French immersion programs not mentioned in the episode but worthy of consideration
Here are a few programs you might also consider based on personal recommendations shared on the Join Us in France closed group on Facebook.
General tips for people who want to learn French
Put yourself in situations where you'll need to speak French:
Visit small towns and villages where you won't be surrounded by people who use English every day.
Instead of flying or taking the train within France, use a ride-sharing service like Blablacar where you're more likely to talk to locals.
Stay in a Bed & Breakfast or Youth Hostel where you'll meet plenty of French people who have minimal English.
Understand that in large touristy cities in France many people you will interact with would rather speak English with you. They want to make you comfortable and it might be faster than taking your order in hesitant French.
It is very common for language learners to take classes for years and still be unable to speak. That's because learning grammar is one thing. Memorizing vocabulary is pretty easy. Using the language to converse is much more difficult. You should probably seek out French immersion programs where the emphasis is on conversation and on the student doing most of the talking.
Take advantage of the ability to explore other parts of France if you can. You don't need to study all the time!
Join Us in France in the news!
Article about Join Us in France in the AARP Magazine. There was also an article in the France-Amérique Magazine.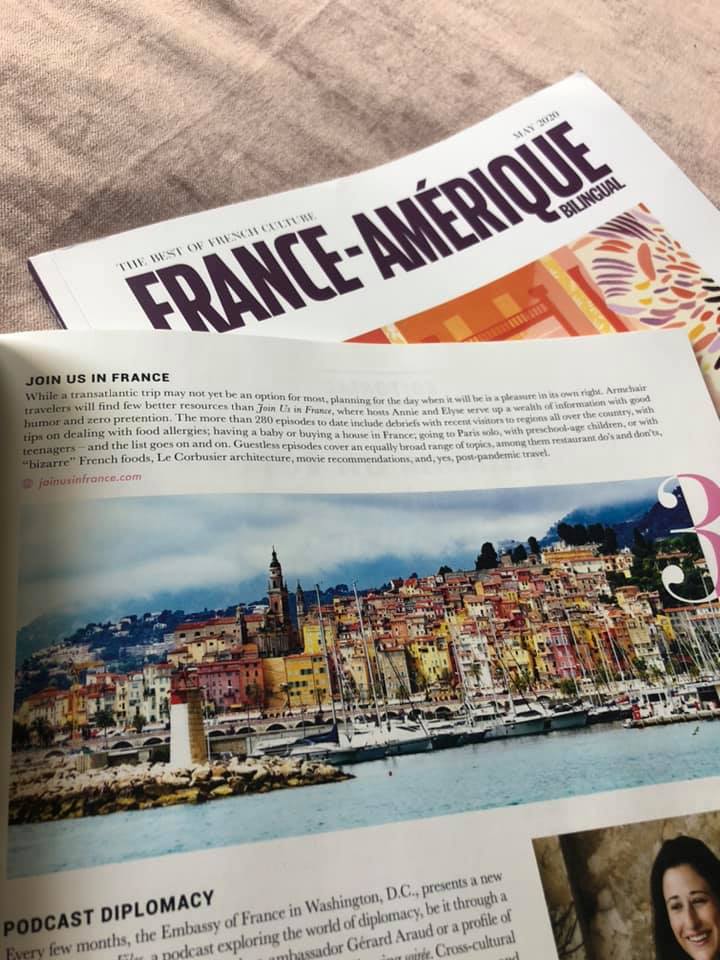 FOLLOW US ON:
Discussed in this Episode
Ecoles des 3 ponts near Lyon [05:53]
Accent Français in Montpellier [10:00]
Alliance Française in Paris [12:10]
Centre de Linguistique pour les Étrangers (CLE) in Tours [20:28]
The DELF certification [25:25]
Staying at a University dorm in France [31:20]
Thank you patrons and how you can support the show [34:03]
Join Us in France reviews in two magazines [37:32]
Annie's take on the current civil unrest in the US [39:12]
Update on the Covid-19 situation in France [43:38]
Reopening borders [45:24]
Subscribe to the Podcast
Apple
Google
Spotify
RSS
Support the Show
Tip Your Guides
Extras
Patreon
Audio Tours
If you enjoyed this episode, you should also listen to related episode(s):
Categories: France How To, French Culture