This post contains affiliate links, meaning I get a commission if you decide to make a purchase through my links, at no cost to you. Please read my disclosure page for more details.
Category: France How To
On today's episode I talk with my guest David Steinberg about creative ways to save money on your flights to Europe. He explains how he used miles to book open jaw flights and why you should consider it too!
What are open jaw flights? Let's say you live in Boston. You might fly from Boston to Paris, then make your way down to Barcelona by train, or by car, or even using a European airline like JetBlue and fly home Barcelona to Boston. It you draw this on a map, it kinda looks like an open jaw which is supposedly how this method got its name.
It turns out that this open jaw or multi-city booking is really cost-effective SO LONG AS you don't ask Delta or United or American Airlines to also fly you between Paris and Barcelona. You're buying two one-way tickets. Boston to Paris and then Barcelona to Boston. That used to be a terrible idea, but it's not any more, even if you're not booking with low-cost airlines!
Next week we'll talk about low-cost airlines between the US and Europe like Wow Air or Norwegian or Level with another guest. But what David and I discuss today can work with your favorite major American airline. So yeah, multi-city, it's a good way to go!
In this episode we also talk about taking the Eurostar between Paris and London and going under the Euro tunnel.
A Multi-City Trip to Europe from the Western US
Usually when you're traveling from the Western US to Europe, the most  expensive part of the trip is getting there.  One way you can make this a little better is by booking an open-jaw ticket.
You'll be booking from one city, travel around, and then come home from another city. Booking one way tickets used to be an expensive way to travel, but that's not the case any more.
Open-Jaw Is Especially Good if You're Using Miles
If you, like many people, accrue miles with your credit cards purchases, you can redeem those miles to travel. In that case the airlines mostly don't care if you book a round-trip ticket or two one-way tickets.
European capitals you might consider to fly in and out of are Paris, London and Barcelona or Madrid. As long as the airline you're using has a partnership with another airline. These are called Airline Alliances and they can work in your favor.
When using miles you have to be willing to reverse the direction of your trip. It's possible nothing is available if you start your trip in Paris, but if you start in London instead it will work fine, or vice-versa.
You Will Save Time if You Don't Do a Return Flight
If you're going to visit two countries anyway, you'll save a lot of time not flying back to Paris just to get on the return flight. You'll save money too because it will save you an extra hotel night.
Taking the Eurostar to London
The Eurostar is really good, you don't realize you're under water really. This is something you need to book in advance because fares increase as you get closer to your travel date. You should try to book as soon as your dates open.
You depart out of Gare du Nord and you need to get there early because you go through immigration on the French side and there are lines. French people are not always disciplined when it comes to queuing. Give it enough time!
But then once you get to London, you're done, you can exit the train and you're in the center of London which is really convenient. They could stop you and ask you more questions and search your luggage on the UK side, but they generally don't.
Gare du Nord is a zoo, give yourself plenty of time. It's also really big, so you may not find the right spot quickly. They do process the people pretty quickly. There is no need to get there more than 1 hour early because your departure info might not be one the displays yet. But give it an hour if it's your first time taking the Europstar. Minimum 30 minutes. The signage is done well to get on the Eurostar.
First Time in Paris Favorites
Even though they went to both Paris and London, they had never been to Paris whereas David's wife grew up in London. So for them, no question, Paris was the main event.
They were so eager to see Paris that they walked about 10 miles a day! Of course, if you don't want to walk that much there are taxis, Uber, the metro and buses. But they had prepared for walking that that's what they did!
They decided to stay in Saint Germain des Prés at the This was a hotel with friendly staff where they were greeted by name any time they entered the lobby. The Saint Germain are can be really loud, but this was not the case with this hotel.
Orsay Museum
Their favorite Museum was the Orsay where you can view an amazing collection of Impressionist paintings.
Rodin Museum
They also love the Rodin Museum, especially the garden. The security guys were very nice about saving their bottle of wine.
Picnic on the Grounds of the Louvre Museum
They had decided to skip the Louvre because it is so crowded, but they found a place near the Louvre called Maison Guyard where the lady made them a picnic with delicacies of all sorts and a bottle of Champagne. When they picked it up the lady recommended that they go enjoy their picnic on the grounds of the Louvre and that worked out really nicely on a Friday night.
Because they had the Museum Pass they decided to go into the Louvre after they enjoyed their picnic and they were able to go in on the spur of the moment when it was relatively uncrowded. Now you need a timed visit slot, so this would not work any more, but it was lovely. They knew exactly where they wanted to go which was the Napoleon III apartments and it was great!
A Day Trip to Giverny
They took the train to Giverny and then rented bicycles from Vernon to Giverny. It's an easy ride and on the way back they stopped at Restaurant Baudy. They had the road to themselves, stopped at an old mill and old chateau. There was nobody around on the ride back.
When you take the bus you don't see these things because they are about a block and a half from the main attraction. They also saw a little church and cemetery where a downed English WWII crew died and was buried.
Since that time they've installed a self-service bike rental that works with credit cards as well as the old rental from the bar in Vernon.
A Day Trip to Reims
They had booked a half-day tour where the guide let them go into private Champagne houses where it was just them. The guide also drove them around the vineyards. It is so easy and fast to do by TGV from Paris!
Where Is It OK to Drink Wine in Paris?
The city of Paris doesn't want to crack down on visitors who want to enjoy a bottle of wine in a public park, but if you think about it, drinking in a public park would not be allowed most places in the US. Paris has to find the right balance between avoiding public drunkenness and letting visitors enjoy themselves.
Museums (even the ones with lovely gardens) will probably not let you enter with wine. But public parks are OK so long as you keep it under control.
French people, as a rule, do not take a bottle of wine to the park. But we understand why visitors do it. The rules are different for homeless people who are encouraged not to be seen drinking in public. So, this is a complicated issue.
Anniversary Dinner at Cezembre
They wanted to book a special dinner for their anniversary and somebody recommended the Cezembre Restaurant as a culinary experience. This was a 7-course meal of contemporary food where the chef decides on the menu of the day and there is no menu for you to choose from. By the end of the 7th course they were very full. Not that anything was served in large quantities, but everything was just right.
More Information about Open Jaw Tickets
Just wanted to comment that there is a further trick for United mileage tickets. In addition to an open jaw, you are able to book a stopover, which can allegedly be up to 364 days (although that would not really be bookable). The stopover and open jaw have to be in the same airline flying region e.g. Europe.
We recently flew from Denver to Istanbul (5 day stopover) to Rome. We then got ourselves from Rome to Barcelona, and flew BCN-DEN (open jaw). You could probably do something similar either within France or with the stopover or open jaw touching France. If you play around on the MileagePlus site, searching 3-leg multi-city itineraries, you'll know you've done it right if the second leg show zero miles.
This basically means that the same 60,000 miles could get you either:
RT to SLC-CDG, or
SLC-CDG-LHR-SLC (as your guest did) or
SLC-CDG-BCN then LHR-SLC, with a cheap flight between Barcelona and London.
3 cities for the price of one!
Our Istanbul, Rome, Barcelona trip cost us about $200 plus the 60,000 miles.
FOLLOW US ON:
Subscribe to the Podcast
Apple
Google
Spotify
RSS
Support the Show
Tip Your Guides
Extras
Patreon
Audio Tours
Recommended in this Episode
Millesime Hotel in Saint-Germain-des-Prés
If you enjoyed this episode, you should also listen to related episode(s):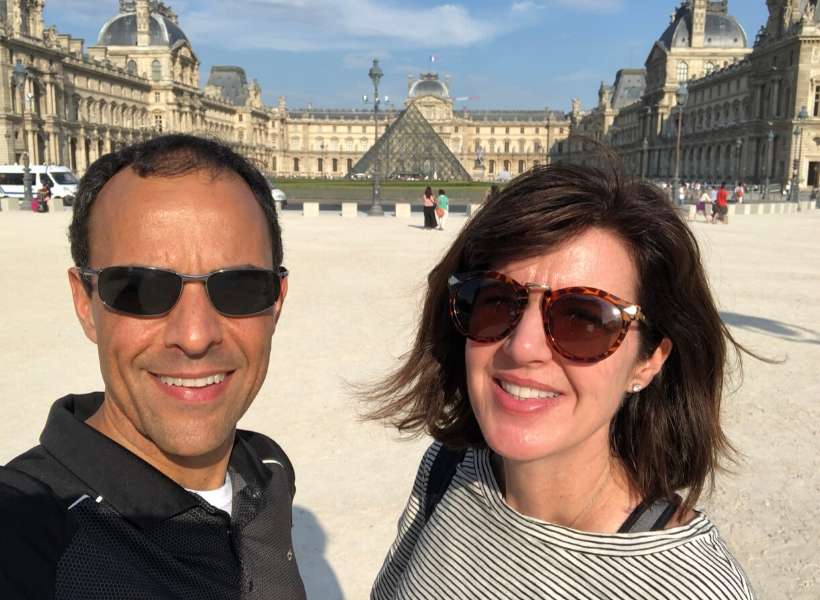 Let's Review
What a lot of people do is that they fly into Paris and then fly home from Madrid and in between they take European flights that are much cheaper than what they could buy through the airline that flew them to Europe. Of course, to get the best rates within Europe you have to book the flights as early as possible, but there are incredible deals out there!
Read more about this episode
Transcript
Guest Notes
Category: France How To