Category: Arts & Architecture
This episode features our frequent and very popular guest Elyse Rivin. If you enjoy her episodes, please consider supporting her on Patreon.
On today's episode, Elyse inspires us to go see stained-glass windows in France. Those windows almost always explore religious themes so we'll take stops at several Cathedrals that are worth a visit just to admire the stained-glass.
Stained-Glass Windows from the early 1200s in France
One of the places we stop during today's conversation is the Chartres Cathedral. The stained-glass windows you see there today were installed between 1205 and 1240. I don't know about you, but that makes me feel small.
Some of these churches are so tall that we can only see a lot of details with the help of binoculars or zoom lenses. As you know if you've been following the podcast for a while, Annie loves photography and has tried to photograph details of stained-glass windows for many years.
Stained-Glass Windows and Abbé Suger
I took the photo you see above at the Saint-Denis Basilica in Paris. This is where Abbé Suger lived and worked and where he preached that Divine Light lived in the Cathedral. Some of us choose to see this as a physical phenomenon, some of us choose to see it as a religious experience. Either way, it's beautiful and Abbé Suger was on to something when he linked the beauty light and stained-glass can bring to a Cathedral and the feeling of divinity.
FOLLOW US ON:
Subscribe to the Podcast
Apple
Google
Spotify
RSS
Support the Show
Tip Your Guides
Extras
Patreon
Audio Tours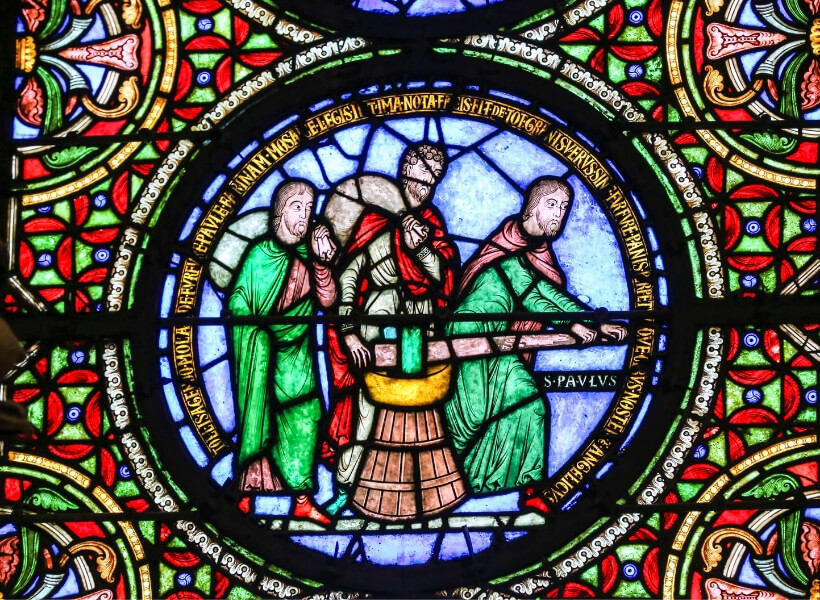 Read more about this episode
Show Notes
Category: Arts & Architecture