This post contains affiliate links, meaning I get a commission if you decide to make a purchase through my links, at no cost to you. Please read my disclosure page for more details.
Categories: French History, Normandy & Brittany
D-Day Anniversary Visit to Normandy - A Trip Report with Phil Roberson on Join Us in France Travel Podcast
Whether you're a history buff, a Francophile, or simply a traveler seeking profound experiences, this episode will leave you with a deeper understanding of WW2 events that shaped our world.
So, sit back, relax, and let's set off on this commemorative journey together, to honor the past, and embrace the resilience of the human spirit. Here we go, en route to Normandy with Phil Roberson who's been to Normandy many many times!
In this episode we discuss where to pickup a rental car if you're not sure about driving in Paris. We talk about beautiful towns where you can stop between Paris and Normandy.
Phil Recommends the Hôtel du Casino on Omaha Beach
This year spent his first morning in the D-day area at Hôtel du Casino. It is right on Omaha Beach at the Western draw—which experienced the fiercest fighting on D-day of any area. All their rooms have windows opening up to Omaha Beach, and you can walk there in thirty seconds. They also have a nice little restaurant and bar, which is good because there is absolutely nothing else in the area. But I woke up there and experienced Omaha Beach at low tide and sunrise—which is exactly the conditions on D-day. Except the seas were calm, and no one was shooting at me. But I was still able to walk out and get my feet wet before breakfast, and it was a truly memorable experience. I have stayed there once before, and on most trip I stop by at least for a beer, or a light meal on their deck overlooking the beach. The picture attached is from my hotel room window this past year, and it shows their deck form where I have enjoyed many a drink or meal.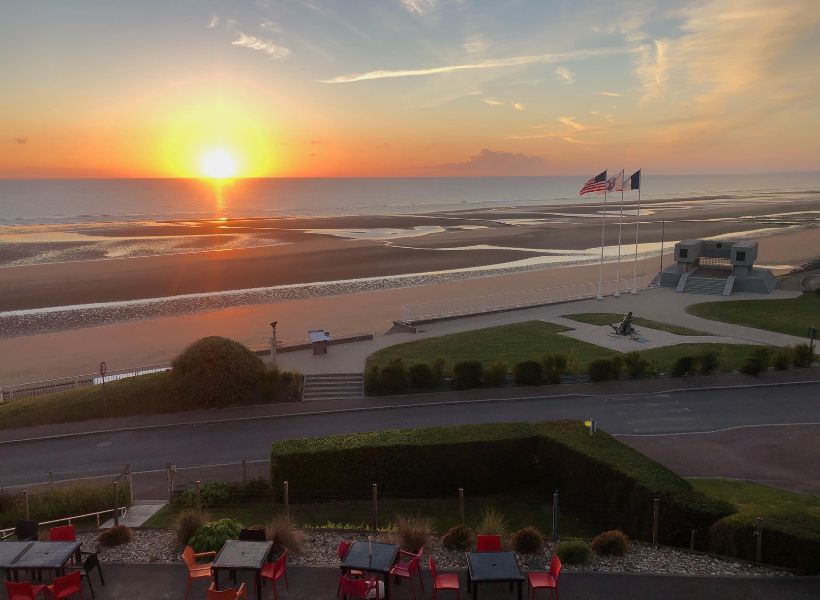 Tips for Organizing a D-Day Anniversary Visit to Normandy
Many B&B and hotel owners will open reservations in January for the June celebrations. Book as soon as possible because everything will sell out. If you can talk someone into booking earlier, good for you! Offer to pay in full with no chance of cancelling, the market is that tight!
Look to stay in a city where there are more hotel rooms. The most desirable city to stay in when visiting the Landing Beaches is Bayeux, next is Caen, Sainte-Mère-Église, and much further away Rouen. You may have to call places.
Learn as much about the history as you can before you come. There are books, movies, look at a map, get familiar with the area.
Visit the Sainte-Mère-Eglise and Baie do Cotentin Tourist Office website and the Normandie Tourisme website. They list all the events once they are confirmed. This means that you have to check back over several weeks. They closer you get to June 6, the more events will be listed.
The tourist offices organize walking tours of the places where soldiers landed. This are walking tours where you need to be able to walk a few miles and they sell out quickly.
The British tend to have lots of ceremonies at Pegasus Bridge and the Americans tend to hold celebrations at Sainte-Mère-Eglise. You can apply for a ticket to be at the celebration at Omaha Beach from the American Battle Monuments Commission.
#NormandyVisits, #DDayAnniversary, #HistoryPodcast, #LivingHistory, #TravelPreparation, #FranceTravel, #WorldWarII, #DDayCommemoration, #HistoricalTravel, #JoinUsInFrance
FOLLOW US ON:
Discussed in this Episode
La Roche-Guyon
Giverny
Abbaye de Jumièges
Merville Battery
Marmottan Museum
Wine Museum near the Eiffel Tower
Marquis de Lafayette grave at the Picpus cemetery
Subscribe to the Podcast
Apple
Google
Spotify
RSS
Support the Show
Tip Your Guides
Extras
Patreon
Audio Tours
If you enjoyed this episode, you should also listen to related episode(s):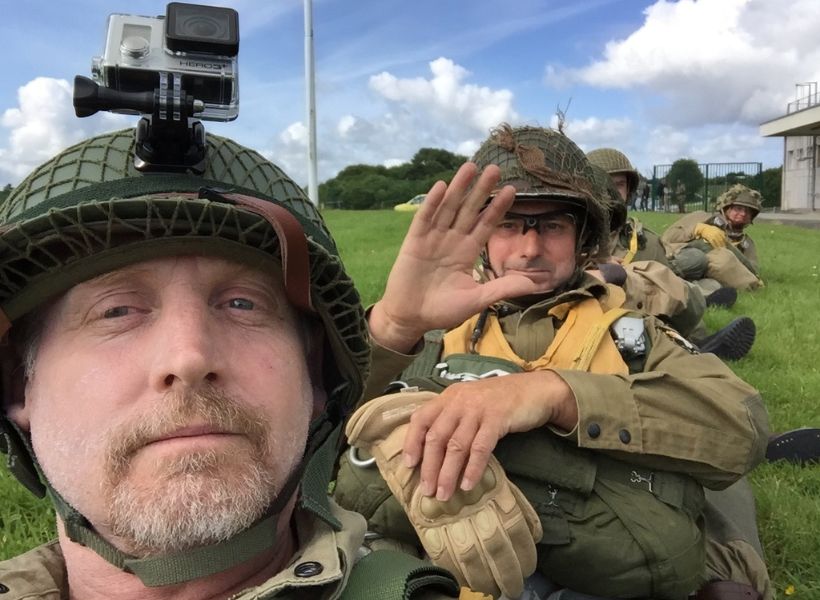 Read more about this episode
Transcript
Categories: French History, Normandy & Brittany