This post contains affiliate links, meaning I get a commission if you decide to make a purchase through my links, at no cost to you. Please read my disclosure page for more details.
Category: Paris
In this episode of the podcast, Annie Sargent brings you a conversation with Scott Toporek who went back to Paris at last! This trip was supposed to happen in 2020, but didn't happen because of the pandemic. They came back in August 2021 instead. They had air vouchers they could use up and a week of vacation, so they thought why not?
Scott has been to Paris 5 or 6 times before, although never before in August. He knew what he wanted to do and see and he was in a position to compare Paris pre-pandemic to what he experienced this time.
We talk about his favorite spots in Paris, but we also go into details about what it's like visiting Paris while this pandemic still drags on. Some of you aren't ready to leave the safety of home yet, some have plans to come soon. As you'll hear in this episode, Paris isn't scary.
If you are subscribed to the Join Us in France Newsletter, you've read Annie's advice about getting the French Health Pass and what the recent European Directive means for you.  As a recap, this is the link visitors need to apply for the French Health Pass. The process is different for students coming to a university in France.
What Is Paris Like in 2021?
In August 2021 Paris was  a lot less busy than in previous years. you could find a place to sit at Cafés easily. There were not near as many buses full of visitors. It's a fact that this year in Paris you mostly hear French, some European visitors, some Americans, and there are no Asian visitors at all.
La Samaritaine
Scott went to La Samaritaine and thought the building was gorgeous, but it feels a little empty so far. Everything on offer was expensive and it didn't feel like most people were shopping. There were people looking around the new beautiful building. They checked out the eatery on the 5th floor but it felt a little too crowded to remove masks, so they didn't eat there.
Mask Compliance in Paris
Scott felt like mask compliance was very good in Paris, somewhat better than what he sees in Los Angeles where he lives. Going into stores there were people making sure everyone had a mask on before entering and used hand sanitizer.
Since Scott's visit the health pass has come into place where everyone who enters needs to show their health pass AND wear a mask inside.
Will I Test Negative Before I Return Home?
One worry for visitors is whether they'll test negative before it's time to go home or not. This is something to consider when traveling internationally. They were cautious not to catch anything before the trip and they took extra precautions on the trip as well.
For instance they mostly ate outdoors and were careful with wearing masks. They stayed in a central area and didn't use the metro at all. When they had to go across town they used a taxi or Uber. They are both fully vaccinated as well. Each person needs to assess their personal risk level.
The Carnavalet Museum
This was probably Scott's favorite place on this visit. They didn't do it quite right because once they got past the entrance with all the signs they went up instead of down. If you want to see this museum in chronological order it's important to go to the lower levels first. A wonderful place to visit for people who love the history of Paris or people who enjoy novels set in Paris.
The Parvis de Notre Dame Is Still Not Fully Open to the Public
An important part of being back in Paris after the fire at Notre Dame is seeing the progress they've made on the renovations of the Cathedral. You can't get super close but you can see that there is a lot of activity around the Cathedral.
Classic Restaurants in Paris
Scott read an older book called Where Paris Dines by Julian Street. This American journalist described his favorite places to eat in 1929 and a lot of these restaurants are still in operation today.
He also wanted to experience the different regional cuisines of France by going to a Provençal restaurant, a Breton restaurant, a restaurant that specializes in food from the Aveyron region of France.
Unfortunately, a lot of these classic French restaurants close in August, so try it at a different time! Scott thought that maybe some of these restaurants would close in July and some would close in August. That is not the case. If a place in France is going to shut down for vacation, it'll be in August with very few exceptions.
L'Escargot Montorgeuil
L'Escargot Montorgeuil has been in Les Halles since 1832. It is touristy and everybody around them were Americans. There would have been fewer visitors in the middle of January, but you must expect that famous restaurants that have been written up for decades will attract a lot of tourists in Paris.
La Rotonde in Montparnasse
Another classic restaurant that happens to be a favorite of President Macron. The vibe was more local in La Rotonde because Montparnasse is not on top of the list for most tourists.
The Train Bleu is right inside of the Gare de Lyon but you have to go looking for it. It's gorgeous, the food is really good, but the steak was tough. The sauce that came with the steak was great, but the beef is tough. Annie's favorite is called "sauce Roquefort". They have a flare for presentation. It is also a place that is open a lot.
Chez Dumonet
Chez Dumonet is somewhat off the beaten track in Montparnasse. The food is outstanding, the souflet was incredible.
Chez Janou
In Le Marais, Chez Janou a great place for lunch. Unpretentious, small café with a reputation for serving healthy Mediterranean food.
Poilâne Bread
Poilâne bread is a classic sourdough bread. The original bakery is on rue du Cherche-Midi. This is a very hearty bread and not the typical French bread we eat every day.
How to Get a Nice Shot of the Eiffel Tower
The Eiffel Tower gets photographed a million times a day (and NO it's not a copyright violation to take a photo of it at any time). If you want a nice shot, go to go to Rue de l'Université. There's a nice building on the side, some greenery, a lovely spot.
A Nice Walk in Paris
They walked from Rue de l'Université to the Musée Rodin. They meandered around through Rue Cler and continue down to the Musée Rodin. It's a great museum experience plus the garden and the café. A great way to spend the afternoon.
A Favorite Spot on the Île Saint Louis: Place Louis Aragon
At the tip of the Île Saint Louis there is a little place called Louis Aragon. It's a great place to sit and watch the boats on the Seine, you can bring a bottle of wine, hang your legs over the river bank
Pay Attention to the Details on Your Covid Test
For the time being, you'll need to get a Covid test to get home to the US. Make sure you check the specifics before you leave the pharmacy. For Scott and Grant they got a first name wrong, they got the birth date wrong. Get these corrected so there's no problem using those tests.
Conclusion
Scott and Grant had a great time in Paris. This is a trip they will never forget because it took place in the unusual circumstances created by the pandemic. But Paris was lovely and filled their desire to travel again and enjoy life in a part of the world they enjoy so much.
Emotionally, it was good to take a chance and go away. Things worked out great for them and Paris is lovely with fewer tourists!
FOLLOW US ON:
Discussed in this Episode
What Is Paris Like in 2021?
La Samaritaine
Mask Compliance in Paris
Will I Test Negative Before I Return Home? The Carnavalet Museum
The Parvis de Notre Dame is still not fully open to the public
Classic restaurants in Paris
L'Escargot de Montorgeuil
La Rotonde
Le Train Bleu
Chez Dumonet
Chez Janou
Poilâne bread
How to get a nice shot of the Eiffel Tower
A great walk in Paris
A favorite spot on the Île Saint Louis: Place Louis Aragon
Pay attention to the details on your Covid test
Subscribe to the Podcast
Apple
Google
Spotify
RSS
Support the Show
Tip Your Guides
Extras
Patreon
Audio Tours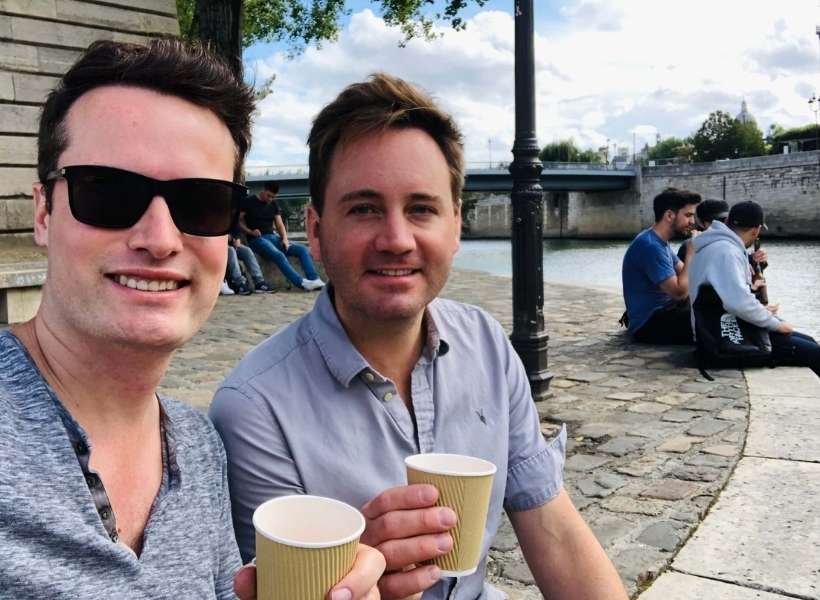 Read more about this episode
Guest Notes
Category: Paris