Category: French Food & Wine
On today's episode, Brighde Reed chats with Annie about eating vegan in Paris. As you probably know, French people are meat-eaters but things are moving fast for folks who eat plant-based diets in France!
Slowly but surely Paris is on its way to become a vegan foodie center and we list the best vegan several great choices in this episode. There are also lots of chefs eager to adapt great French foods to vegan diets, and make them delicious AND healthy!
Thank you Brighde for coming on the show! Her company is called World Vegan Travel and they specialize in vegan travel "in style".
Vegans Visiting France
So, where are the best vegan spots in Paris? Brighde lists several wonderful options for you to try and I am sure will leave you wanting to try Vegan Camembert! I definitely want to try it!
Bad News About Vegans Visiting France
There are places in France where it's difficult to find even vegetarian food because restaurant owners "are not there yet".
Case in point: in the Dordogne, they have been so successful selling cassoulet and other duck dishes that they don't see the point of broadening their menu to anything else. Let's call it what it is: they are a bit narrow-minded.
This will not be the case in large cities where restaurant owners rub shoulders with a more diverse cast of customers and dietary needs. But in more rural parts of France you might be better off planning to cook for yourself.
Top Hang-Outs for Vegans Visiting France
There are particularly fun vegan things to do in France, particularly in Paris. Here are the best  ones:
Vegan Food Tours of France is a company that offers gourmet tours for vegan and vegan-curious people.
Marché des enfants rouges where you can enjoy the vegan food stall.
Vegan leather goods store called  Arsayo.
VegOresto is a French App to find plant-based restaurants in France.
Vegan wine and cheese tasting at a place called Mon Épicerie.
Barnivore App can be used to find vegan beers and wines.
There are now wonderful vegan cheeses you can buy in France, including Camembert. Mon Épicerie is a great place to try those and also vegan salmon and vegan fois gras, vegan Nutella, etc.
Organic stores around France (we call them BIO in French). They stock vegan products alongside with non-vegan organic items.
There are now vegan grocery stores opening in many French cities, including some where you might not expect it such as Annecy and Mulhouse. The vegan grocery store in Toulouse is called Le cri de la carotte.
Vegan afternoon tea at the Shangri-La Hotel: this is a fancy event in a fancy hotel near the Eiffel Tower where the most expensive rooms can be as much as 20,000€ a night. You can go just for the afternoon tea and it's wonderful, it'll run you around 60€. This is one you should book in advance, it's full, especially on week-ends.
Vegan pâtisseries shops in Paris: VG Pâtisseries and Cloud Cakes. you'll find wonderful pains au chocolat and croissants, etc. A great place to have breakfast since your hotel breakfast will probably not be vegan-friendly.
Le potager du Marais: this place has been around for a long time. It used to be vegetarian but they've now moved to vegan. They serve classic French dishes adapted for vegans and plant-based eaters. For instance you can get vegan Boeuf Bourgignon made with Seitan. They also make Crême Brûlée and French onion soup.
Le Pain Quotidien is a great place to get breakfast also because they have almond milk and other common vegan breakfast and lunch foods.
La Recyclerie: it's a cool place to check out and has restaurants, stores, very cool and hip.
In the Marais they have Kosher and Halal stores that are vegetarian (some of them are also vegan) all over the neighborhood.
When looking for vegan items at French grocery stores look in both the refrigerated section and the frozen section because one will have things the other does not.

Land & Monkeys

pastry shop in Paris. Lovely classic pâtisserie and everything they sell is vegan.
FOLLOW US ON:
Discussed in this Episode
Marché des enfants rouges
Arsayo vegan leather goods
VegOresto App
Vegan Food Tours of France Tour company
Isinglass fish bladders used for filtering wine and beer
Mon Épicerie vegan grocery store
Vegan Camembert
Vegan Salmon
Vegan grocery stores
Vegan Nutella
Vegan afternoon tea at the Shangri-La Hotel
Vegan pastry shops in Paris: VG Pâtisseries and Cloud Cakes
Le potager du Marais where you'll find vegan Boeuf Bourgignon and Crême Brûlée and French Onion Soup
Le pain quotidien
La Recyclerie
Subscribe to the Podcast
Apple
Google
Spotify
RSS
Support the Show
Tip Your Guides
Extras
Patreon
Audio Tours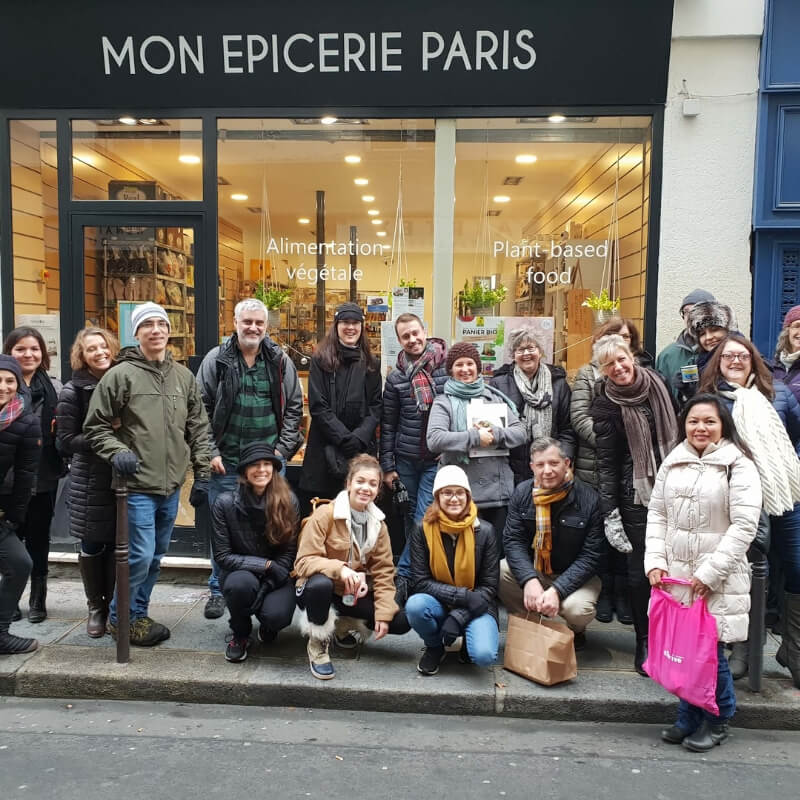 Let's Review
You don't have to be vegan or vegetarian to choose plant-based foods. As time goes by there are more and more "vegie-curious" folks and that's a good thing as I see it.
Vegan and vegetarian foods are often healthier options and they are delicious as well and you can get classic French foods made vegan!
If you are cooking vegan visiting France and cooking for yourself, look for the  more up-scale grocery stores because they have have more choices for vegans.
Food technology has come a long way and by now you can get faux meats that will fool even meat-eaters! Remember that most vegans don't go vegan because they don't like the taste of bacon. They do it because they care about animals. So there will be more and more classic French dishes available for vegans as time goes by.
Category: French Food & Wine