This post contains affiliate links, meaning I get a commission if you decide to make a purchase through my links, at no cost to you. Please read my disclosure page for more details.
Categories: Dordogne, Family Travel, Provence
Sarah had never been to France, but she found herself planning a 4-week trip around France for 7 people. Scary, right?
An Itinerary for Families with Kids
Sarah used this podcast to get inspired on what to do and where to stay. I think that her itinerary is one of the best I've ever heard of! Listen up, she's sharing a great itinerary here!
About This Trip Report
This trip took place June 2018 and they stayed the whole month going around to different places. This is a family of 7: mom, dad, twin girls (9 years old) and a son who is 11, plus grandma and grandpa who joined for part of the trip.
This was a first trip to France for Sarah and the kids, but her husband had been to France before. They mostly stayed at Airb&b and VRBO properties.
The podcast helped them decide where they wanted to go and what they wanted to see and do. They had been planning this trip for a couple of years and their itinerary was outstanding!
A Week on the Mediterranean
They looked for places that were off the beaten path because they wanted to avoid places that were too crowded or too touristy. Because they were staying so long, they also wanted to watch their budget. They started their month with the Mediterranean and didn't find it crowded in early June.
Staying in Hyeres
They wanted to stay on the Riviera but not Nice or Cannes. Hyeres was perfect for that! They enjoyed the islands near there at Porquerolles. They took the ferry from Giens, rented bikes right off the ferry and enjoyed the beaches. It wasn't fancy or crowded. It would definitely get a lot more crowded in July and August or on week-ends.
Hyeres is a lovely little town, it has an old town with a tower that's related to the Knight Templars. There's a tour for kids in French in Hyeres. There are also beautiful parks, a botanical garden called "Parc Olbius Riquier".
Great bakery in Hyeres: Boulangerie Duhaut
Le Lavandou
It's sandy beach and a little more crowded. They liked the Bistr'Eau Ryon and enjoyed a lot. Parking was tight, but doable in early June. In general the best restaurants are a little off the main drag or main attraction in a town. As soon as you walk away from the main attraction a little bit, you are more likely to find a nice place to eat.
If you can't find street parking remember to look for underground parking lots!
Sète
On their way out of Hyeres they stopped in Sète. When you drive into Sète you are driving through an industrial area that doesn't look nice at all. But once you get to the city center it's wonderful. They ate on the canal and walked around to see the little fishing boats.
One Night in Carcassonne
Contrary to Sète, Carcasonne is spectacular with you drive up to it. They decided to stay overnight at a hotel within the medieval walls. They had the city to themselves the next morning. They visited the Chateau Comtal and enjoyed the audio guide. The walked along the old ramparts.
Because Sarah's father had to use a walker several places gave them easier access via doors that are not usually open to everyone.
In Carcassonne they stayed at this hotel and loved it.
Renting a Walker for Grandpa at the Pharmacy
Because Sarah's father had been injured he needed wheelchair assistance in the airports and they rented a walker in France for him. You can do that easily at any pharmacy.
Two Weeks in the Dordogne
They stayed the whole two weeks in the Dordogne which meant a fair amount of driving. The Dordogne is large enough that it is a good idea to stay in two different places. Maybe Sarlat and Bergerac? When we go, we like to stay at a wonderful chateau on the north end of the Dordogne for that very reason.
They stayed at a place called Belvesin the Dordogne. It had a swimming pool, but they didn't use them a lot because this June was not particularly warm.
They wanted to go to La Forêt des singes near Rocamadour, but that was too far. They wanted to go to Font-de-Gaume cave, but they couldn't get in.
Favorite Places in the Dordogne
Belves: The troglodyte dwellings in Belves.
Lascaux IV: They loved their visit to Lascaux IV. Plan you visit in advance, if you need a visit in English you can't usually walk in and get one.
Castelnaud Castle: Gorgeous views!
Les Eyzies: They enjoyed kayaking on the Vézère from Les Eyzies. From there you can look up at at the Abri de la Madeleine. You can also visit the Musée National de la Préhistoire. Annie would rather not stay in Les Eyzies, it's not that scenic.
River Beaches along the Dordogne: They had a few hot days and they went to Bouisson de Caudoin where  there's a nice river beach. Great for a picnic.
Two Nights in the Loire Valley
The Loire Valley was very different from everything else they had seen on this trip. They stayed at a B&B near Blois, but they mostly went to restaurants in  Amboise.
Chateau de Chenonceau
Beautiful, has furniture. The children enjoyed it. The little farm was also nice for the kids.
Chateau Clos Lucé:  Da Vinci's Final Home
This is where Da Vinci spent the last few years of his life. It was their favorite chateau that they saw through all of this trip because of all the things you can see on the grounds. This is a hands-on chateau that will spark children's imagination.
Winery in Vouvray where they make great white wines.
Four Nights in Paris
It's only a 2.5 hour drive between the Loire Valley and Paris. They dropped their car at Gare de Lyon. They stayed in the Marais. They weren't sure they wanted to go to Paris but they were really glad they did.
They went to the Eiffel Tower in the morning, then to the Jardin du Luxembourg for a picnic and the kids enjoyed sailing the little boats. They also had a picnic.
They used the bus a lot. They showed the point where they wanted to go on the map to the driver and he would tell them yes, that's right or tell them to get on a different bus.
Needing to Go to the Hospital in Paris
They Stayed at Hotel L'Antoine one night where their daughter got electrocuted touching the magnifying mirror. The hotel reacted very proactively and called the paramedics. They decided to take her to the children's hospital where she was seen. The doctors were wonderful and helpful.
Difficulties Getting Back to the Airport
They had trouble getting to the airport because it was a busy morning because there was a World Cup game and the Pride Parade that day. The hotel where they were staying  couldn't find them a taxi (which is really unusual in Paris!). They had to pay $200 for an Uber.
Driving in France
They used Apple maps a lot on their phones and it worked great, even in rural areas of the Dordogne.
Join Us in France on Pandora
If you'd like to use your Pandora account to listen to podcasts, apply here.
Great Itinerary for Families
Sarah shared a great itinerary for families visiting France, if you want to see all her notes, visit the Guest Notes page (blue button). And be sure to thank Sarah by commenting below and sharing this episode!
Learn More: Family Travel in France
FOLLOW US ON:
Discussed in this Episode
Hyeres
Porquerolles
Giens
Parc Olbius Riquier
Le Lavandou
Sète
Carcassonne
Belves
Lascaux IV
Castelnaud Castle
Les Eyzies
Bouisson de Caudoin river beach
Aquarium/mini golf/climbing in Le Bugue
Chateau de Chenonceau
Chateau Clos Lucé
Winery in Vouvray
Le Marais
Jardin du Luxembourg
Problem getting back to the airport
Needing to visit the children's hospital in Paris
Subscribe to the Podcast
Apple
Google
Spotify
RSS
Support the Show
Tip Your Guides
Extras
Patreon
Audio Tours
Recommended in this Episode
AirBnB Sarah recommends in Belves
AirBnB Sarah recommends near Hyères
AirBnB Sarah recommends in Paris (Le Marais neighborhood)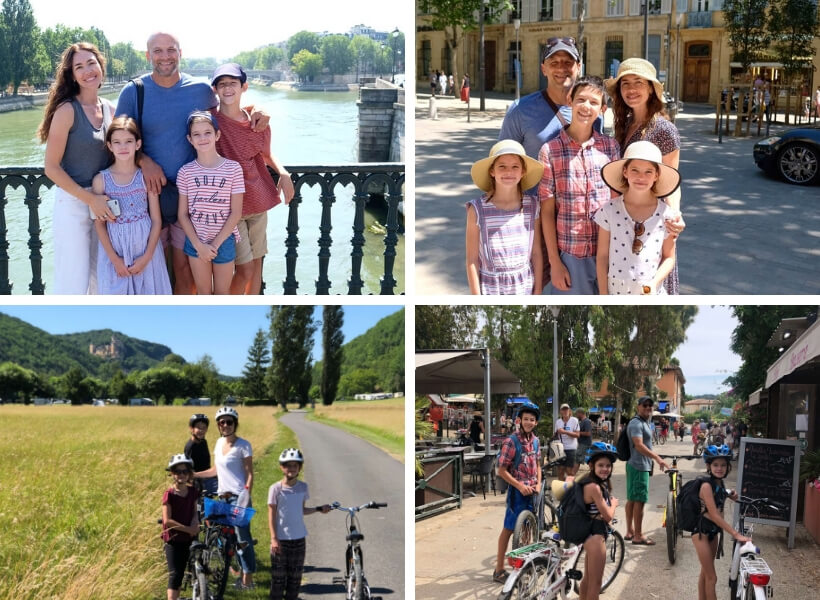 Read more about this episode
Guest Notes
Categories: Dordogne, Family Travel, Provence