Categories: Dordogne, Family Travel, Provence
Discussed in this Episode
Hyeres
Porquerolles
Giens
Parc Olbius Riquier
Le Lavandou
Sète
Carcassonne
Belves
Lascaux IV
Castelnaud Castle
Les Eyzies
Bouisson de Caudoin river beach
Aquarium/mini golf/climbing in Le Bugue
Chateau de Chenonceau
Chateau Clos Lucé
Winery in Vouvray
Le Marais
Jardin du Luxembourg
Problem getting back to the airport
Needing to visit the children's hospital in Paris
France Trip Outline 6/1-6/30 2018
-Flew into Paris, spent one night at the airport before flying to Marseille the following morning. We were originally planning to take the train, but because of the strike we scheduled a flight a couple weeks before the trip. Stayed at the Pullman Hotel at CDG- would definitely recommend.
-Landed in Marseille, rented a car and drove to our home rental (VRBO) near Hyeres. We needed to secure a walker for my father who was with us, he had a sciatic injury a few days before we flew to France. This was easy to do upon our arrival to Hyeres- most pharmacies carry a catalog to order medical supplies from, and we were able to pick it up a few hours after ordering. Fantastic- and a much different experience than it would have been in the states!
-VRBO near Carquierranne/Hyeres was great. Home on a hill overlooking the sea and Giens peninsula. Can provide contact info. Stayed there 6/1-6/9.
-Things we did in Hyeres area:
Old Town, visited the Knights Templar Tower. Kids can take a special tour which we didn't do, only in French. Climbed to the top of the tower, very cool, and had lunch in the square.
Beautiful parc/botanic garden- Olbius Riquier, had a picnic there.
Went to markets in both La Capte and Giens (within 15 minutes of our house), loved the tapenade! And all the saucisson. Mostly cooked at home with ingredients purchased from the market, did get Poulet roti from the butcher a few times. We also bought linens for the beach at the market- blankets and Tunisian towels. This was a great find, and much less expensive than if we had purchased the beach towels sold at the grocery stores.
Every morning we drove the 15 minutes into Hyeres to the bakery- the best we found until we got to Paris. Bakeries all over France were great, (how bad could a croissant be!), but this one was special. Boulangerie/Patisserie Duhaut.
Beach at Carqueirranne- nice, small beach. Restaurants and ice cream shops, rocks to jump off of.
-Ferry to Porquerolles, an island off the coast (10 minute ferry ride). Rented bikes when we arrived, biked to the beach and then back into the little village to have ice cream (so much ice cream on our trip!!) Beautiful island, we loved this adventure.
-6/8 Day trip to Aix en Provence on market day-  Very crowded, difficult to park, town itself is lovely but we found it very touristy and we had not seen crowds like this up to this point. Had an unimpressive lunch- one tip we learned was to be leery of restaurants in the main square/near touristy things like markets- in the bigger towns anyway.
-6/9 Left Hyeres to head to Carcassonne. Stopped for lunch in Sete (about halfway- drive was 4 hours). Lovely little town, a little 'funky' as we were driving in, but once we got into the town itself we were impressed! So many fishing boats, fun shops, restaurants. Ate at a great restaurant 'La Mediterannee' right on the water.
-On to Carcassonne where we stayed 6/10 at Hotel le Donjon. Great experience there, loved the cite. Good dinner at Le Chaudron. Toured the castle the following morning before heading to the Dordogne. Really neat, walking the ramparts not for the faint of heart!
-6/11 Arrived at our Air bnb right outside Belves (5 minute drive) Stayed here for 2 weeks. 16th century farmhouse, 42 acre working farm with chickens, cows and sunflower fields. Run by a Belgian woman who lives on sight. She used to run a restaurant on the property. She butchers her own animals and made us dinner with her meats! Wonderful. House had a pool and ping-pong table, kids loved the animals and we all loved the views- picturesque!
-Things we did in the Dordogne-
Lascaux 4, amazing. Did the English tour, we were able to book online the week before.
Belves troglodyte underground dwellings, very interesting! Belves itself in a small but quaint and beautiful hilltop village with amazing views of the surrounding country.
Markets almost every day- Le Bugue, beautiful town with a market on the river, St. Cyprien, one of our favorite markets, Sarlat market- big and interesting, market in Belves, small but charming.
Kayaking on the Vezere river, saw the La Madeleine cliff dwellings which were very cool.
Castlenaud, kids enjoyed this one. Fun castle to tour with the weaponry and armour. Afterward we rented bikes a few minutes from there, and rode the bike path toward Dagnan. Beautiful ride past a little creek where the kids swam. Stopped for ice cream!
Swimming at the river beach in Bouisson de Cadouin. Really nice, there is a little restaurant there but we brought a picnic.
Chateau Milandes- one of my daughters in particular really enjoyed the Josephine Baker history here. Beautiful chateau, and we stayed for the exotic bird show which was in French but very exciting and the kids loved!
Aquarium/mini golf/climbing structure in Le Bugue. This was a day for the kids! They had seen so many castles and markets, they just wanted some good old fashioned fun, and it delivered!
-We cooked almost all of our own meals in the Dordogne. We enjoyed going to various 'local producteur' stores in the nearby villages and getting meats, wines, etc. in addition to the daily markets. Amazing pork, duck, and of course the fois gras and pates here- my husband could not get enough! Breakfast was typically croissant, and with 7 of us you can imagine the order… my 11 year old son was up to 3 croissants and a half a baguette for breakfast by the time we left! We felt badly for the poor locals in line behind us in the morning just wanting their breakfast baguette while we were ordering the whole store! 😉
6/24 Left the Dordogne to head to the Loire Valley for two nights (another 4 hour drive). Went directly to Chenenceau. Very impressive and beautiful, kids really enjoyed the farm animals and gardens as well as the chateau itself.
Our bed and breakfast was near Blois, it was ok but would not recommend to others traveling with children.
The following day we went to Clos de Luce in Amboise. Kids loved the large models of Da Vinci's inventions- very cool! Chateau itself and Da Vinci history was neat also. Beautiful grounds here.
We went to a winery after that in nearby Vouvray. Domaine Vincent Careme. Great wines and lovely owners from South Africa, very kid friendly. My husband has a great interest in wine and worked in food and wine for many years so we had to get to at least one winery in the Loire!
Dinner in Amboise, restaurant was just ok but we loved the town.
6/26 Drove to Paris. Stayed in a VRBO in Le Marais for 3 nights. It was great, beautiful old building with an elevator- hard to find in Paris! We really enjoyed Le Marais. It was so quaint, and a quiet respite from all the tourist areas/neighborhoods in Paris that we visited.
Things we did in Paris-
Notre Dame, no tips here, we just waited in line and toured the cathedral. Beautiful of course, lots of people.
Louvre, my husband saved a few dollars buying tickets from a vendor on the sidewalk. We were suspicious but they worked! We ate at Angelina in the Louvre which was great for the kids after walking- the promise of hot chocolate! Kids enjoyed seeing the Mona Lisa. We probably made it through ¼ of the museum in about 4 hours and decided that was enough.
Ferris wheel in front of the Louvre kids really enjoyed.
Jardin Luxembourg- great, had a picnic here and kids sailed the little boats. Perfect afternoon.
Eiffel tower- we opted not to go in, just took photos nearby. Our kids are not big on waiting in lines, so we gave them the option and they opted out!
Jewish quarter- great to walk around, quaint boutiques and shops. Ate at a great falafel restaurant.
Our favorite thing was just to walk around the neighborhoods and stop into shops (Bastille neighborhood had great toy/kid stores!), find a playground so the kids could play for a while, have a drink in a café. We enjoyed this more than any of the 'attractions' in Paris!
Restaurants we loved in Paris:
Café les Musees, great beef bourguignan
Chez Janou- delicious food, giant bowl of chocolate mousse, all you can eat! fun for the kids
L'as du Falafel- Fun, lively, neighborhood staple
Last night in Paris 6/29 we stayed in a hotel in the Bastille neighborhood- Hotel L'Antoine. Long story but it has to do with our original plan to take the train to Marseille from Gare de Lyon, we had a credit at this hotel that we needed to use. Hotel was nice, we enjoyed the neighborhood, really lively.
Within 5 minutes of being in the hotel room, our daughter was shocked in the bathroom. She touched a small mirror and we're not sure what happened exactly, but an electrical impulse went through her arm and into her body. She was crying and her arm was very sore, of course we alerted the hotel management who thought it best to call the paramedics. The hotel manager stayed with us in the room, sent someone to get ice cream for all of my kids, and translated for us when the paramedics arrived. They checked her there, and decided that she needed to go to the hospital. This was not the way we wanted to spend our last full day in Paris, but we were very happy with the way she was taken care of. My husband rode in the ambulance with her, and they had as pleasant an experience at the hospital as one could hope. She was released after about 3 hours, and was fine. We have yet to see a bill, I think the hotel will take care of it anyway, but she received excellent care at the children's hospital in Paris- might be good for readers to hear!
Some general take-aways from our trip that may be interesting/helpful to talk about-
We found road travel in France very easy. Tolls came as a bit of a surprise- I think one day we payed $45 in tolls!
It took us a while to figure out that in the larger towns there were either parking lots, or underground parking structures to look for. We drove around quite a bit looking for parking in some of these places, better to identify where to park beforehand (especially on market days)
Sightseeing in France with an older person in a walker was fairly convenient. Most places we visited had an entrance for the mobile-impaired, and sometimes a reduced rate of admission.
We had a French teacher come to our house once a week for 8 weeks before we left. I had taken French in school, but was very rusty, and the rest of the family spoke no French. It was very helpful to give all of us a basic vocabulary for greetings, questions, directions, etc. We always attempted to speak French first, and typically people would speak back to us in English right away. I think the effort was appreciated though. It surprised us how many English-speaking visitors we heard speaking no French and expecting everyone to speak English to them. Even my kids thought that was so rude!
This is long, but we were there a month! Really such a wonderful trip!!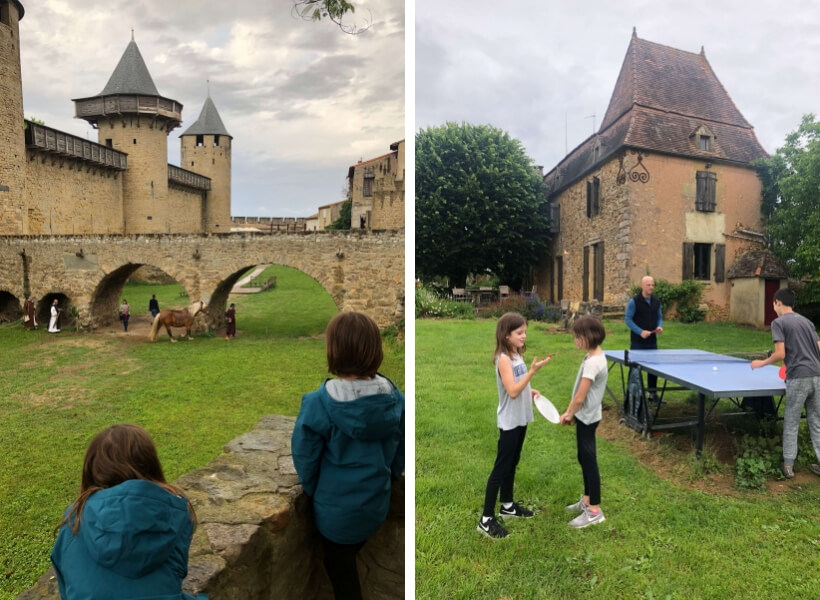 Learn More: Family Travel in France
Subscribe to the Podcast
Apple
Google
Spotify
RSS
Support the Show
Tip Your Guides
Extras
Patreon
Audio Tours
Read more about this guest-notes
Episode Page
Categories: Dordogne, Family Travel, Provence