Category: Montpellier Area
This episode features our frequent and very popular guest Elyse Rivin. If you enjoy her episodes, please consider supporting her on Patreon.
On today's Join Us in France Annie and Elyse take a detour into Catalonia because if you're going to be visiting the southwest of France, you may want to spend a few days in nearby Catalonia. This is especially true if you are traveling with children because there is nothing young children like more than a lovely sandy beach with warm water and gentle waves. France has beaches too, but the French Mediterranean is more crowded, the water is colder, and it's more expensive. So  the Spanish coast is worth considering.
Annie and Elyse Take a Detour into Catalonia
The part of the coast in the north of Catalonia is called Costa Brava. This is a place where, in July and August, you will run into so many French tourists, you may think you're still in France! The Costa Brava is famous partly due to Salvador Dali who lived in that part of Spain.
Figueras
Figueras is famous because this is where a large (and very popular) Dali museum is located.  The building is interesting to look at and Dali's art is so popular it has almost become cliché. However, he was one of the most creative and productive artists of his generation and he has certainly grabbed people's imagination and fancy. If you happen to be in the area, this is one of the must-see museums that you should not miss. Even children will enjoy it because it is so wild and unusual.
Cadaques
Cadaques is near Figueras, although it takes a while to drive between the two of them because the road to Cadaques will take you through some hills on a small road. Cadaques is a picturesque town with a small beach and no harbor. Cadaques is wonderful for mountain bikers. It is one of the most exclusive and expensive towns in Catalonia. Cadaques also has a Dali house. Dali had a big influence on the town of Cadaques because he fought tooth and nail against a plan to build a harbor in the town. Cadaques is the home of artists to this day.
La Jonquera
La Jonquera is the first town you get to when you arrive in Spain from Perpignan.  We recommend you do not go there or stop there, it has become extremely trashy in the last few years (bordellos!) We don't see any redeeming quality to it at this time. I suppose if you really need gas, but nicer towns are not far.
Begut
Jennifer Ditchburn (who was on Episode 114) mentioned Begut to Annie off mike. It is a little bit north of Barcelona and she thought it was wonderful, a great place to spend some time on the beach.
Barcelona
Barcelona is so big and such a big attraction that we probably should do an entire episode just on it, but let's try to summarize. The city of Barcelona is a big draw for American visitors who come to southern France. Most of them want to see both, and it's entirely possible. You probably need at least 3 days to do it justice.
Gaudi Architecture
Gaudi was very influenced by Art Nouveau and gave it a Catalan touch. Nothing is a straight line. Walls, pillars, doors, hand-rails, none of them are straight! Gaudi's work is visually striking and a must-see.
What Gaudi Should You See?
Sagrada Familia, plan enough time to see the inside, it is well-worth the wait and the entrance fee!
Parc Guel, Gaudi's last achievement. Annie recommends that you take bus line #24 Paral·lel/El Carmel on Placa de Catalunya, it will take you to the top entrance of Parc Guel, you enjoy the parc walking down. The metro (line 3) also stops nearby, but be warned, that hill is wicked on a hot day!
Casa Batlo
Barcelona Rambla
The Rambla in Barcelona is nice but extremely touristy. The rambla experience is much nicer in other towns in Catalonia in Annie's opinion, but spend a little bit of time there because there are other things to see on your way:
The covered food market is right off the Rambla, it is called La Boqueria. It is a lovely food market, must stop.
The Palau de la Musica Catalana is a gorgeous music hall. The building itself is marvelous and they play a lot of approachable classical music, including a lot of guitar. If you can go to a concert there, do it!
Explore some of the smaller streets to the sides of the Rambla.
Museums in Barcelona
Picasso Museum: it is very nice, has a lot of Picasso's early works which are strickingly different from his later work.
Miro Museum
Rodalies Catalonia Regional Trains
The regional trains in Catalonia are called Rodalies and they go all over the area. It's an efficient and inexpensive way to get around. What's more, the train goes right along to coast line in Spain, so you get amazing views onto the Mediterranean while riding the train.
Sitges
Sitges is a scenic town with a lot of Catalonian culture, artists, gay friendly, and overall a very fun place. The city attracts a lot of visitors, but also has a good-size population that lives there year-round. The Sitges Museum, called Museu Cau Ferrat is absolutely worth a visit, Annie spent years ignoring it, and she was missing something fun. There are festivals at various times of year in Sitges, the Carnival in Feb is superb and very popular.
Vilanova-i-la-Geltru
Vilanova is not a tourist town, there are only a handful of hotels for a population of 66,000. Vilanova is the place where you get all the culture of Catalonia without all the tourists and we both love that.
The beach in Vilanova is fantastic. Long, wide sandy beach, very clean, the water is warm (28 degrees average in the summer), few waves, the Xiringuitos are little bars on the beach. The fishing port is active and you can visit it in the morning.
Prices are not inflated in Vilanova, you can have a wonderful tapas meal with wine for $20 per person.  The three restaurants Annie and Elyse recommend are:
Genil: small neighborhood restaurant but really tasty tapas.
Celler de Cal Puput: nice decor, a bit more crowded and loud, but great fun.
La Poperia: small place where the tables invade the pedestrian street. One of the waiters speaks English!
The Bibioteca Museu Victor Balaguer is really nice, you can spend an hour or two in there and see a lot of interesting things, including works by famous artists.
Tarragona
Tarragona is a UNESCO World Heritage Site and a surprisingly lovely city. If you go by car go to the Ajuntament parking lot and you'll be in the center of it all. It reminded us of Arles because it has so many well-preserved Roman ruins. We saw the Cathedral and Cloister, walked around the amphitheater. Amazing views, pleasant, clean. Must-go!
Port Aventura
Situated near Tarragona by the city of Salou, Port Aventura is a large Universal Studios park. It is perfect for visitors 10 and up. There is a small section of the park reserved for younger children and a water park also, but there are a few major attractions that will really scare you. The Rodalies train service stops there.
---
Make this episode even better! What do you think? Did we leave anything out that you know about? Add your comments below!
FOLLOW US ON:
Discussed in this Episode
Figeras
Cadaques
Barcelona
Sitges
Vilanova-i-la-Geltru
Tarragona
La Jonquera
Begut
Port Aventura
Begut
Gaudi
Gay Travel
Port Aventura
Rodalies Catalonia RegionalTrains
Subscribe to the Podcast
Apple
Google
Spotify
RSS
Support the Show
Tip Your Guides
Extras
Patreon
Audio Tours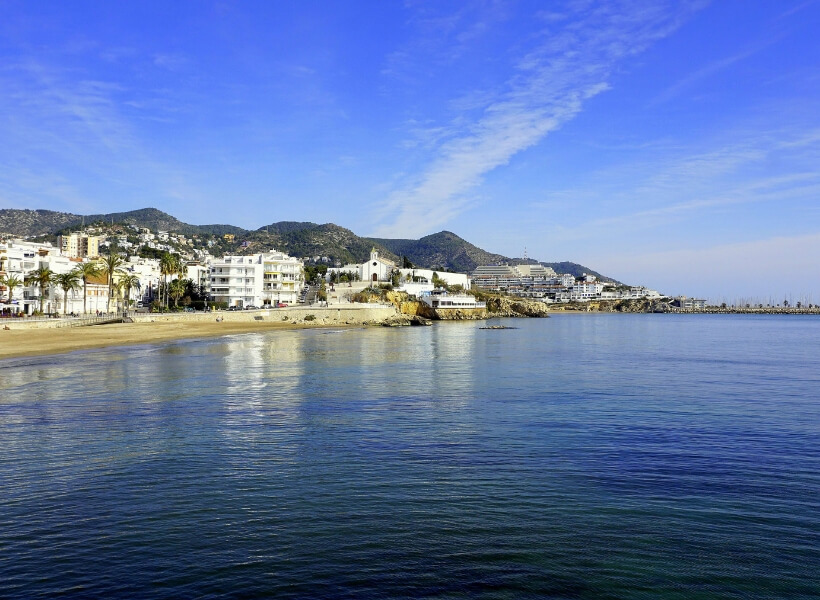 Category: Montpellier Area