Categories: Off the Beaten Track in France, Paris
This episode features our frequent and very popular guest Elyse Rivin. If you enjoy her episodes, please consider supporting her on Patreon.
The Bois de Boulogne is to the West of Paris, covers part of the 16e arrondissement and it is a large natural area. Baron Haussmann turned it into a park in the middle of the 1800s. At that time it went from a forest to an area of leisure for the upper class.
In its most recent history one part of the Bois de Boulogne is an area where there is a fair amount of prostitution, but you can take a stroll there without ever running into it. It is called "le carré".
A Brief History of the Bois de Boulogne
The name Bois de Boulogne comes from time of Philippe Le Bel. As he sent his daughter away to marry the English King they prayed in a church called Notre Dame de Boulogne. The King then decided to build another church in the woods and named it Boulogne la Petite. The area then became known as Boulogne.
King Chideric gave this large forest to the Abbey of Saint Denis and they built an abbey there and developed it. Then Philippe-Auguste bought a large part of this forest in the 1100s because he wanted hunting grounds close to Paris. Saint Louis' sister didn't want to marry and wished to be a nun. Her brother the King gave her an Abbey called Longchamp. That's where the longchamp hypodrome is today.
During the 100 year war, the English hid in the Bois de Boulogne to attack Paris.
During the Renaissance, François 1st decided to build a chateau called Chateau de Madrid in the middle of the forest. This is a place where he received a lot of courtesans for his various interludes with ladies. This might be where the prostitution started in this part of France?
The Spanish and the English also used the forest to attack Napoleon in more recent times and much of the forest burned. When Napoleon III came to power in the middle of the 1800s he decided to revive this area and turn it into a park.
What Is at the Bois de Boulogne Today?
This is a place where you'll find paths for horse-back riding, there are lakes where you can rent boats and go rowing. There are walkers, joggers, and 3 famous restaurants: The Prés Catalan restaurant is in there, it's a 3 star restaurant and fairly expensive even at lunch-time.  Le Châlet des Îles and Auberge du Bonheur.
There are also two race-tracks for horse races: Longchamp and Auteuil that attract a lot of people.
The great tennis complex of Roland-Garros is at one end of the Bois de Boulogne.
There are interesting visual features around the various lakes, but they are not as impressive as what you'll see at Parc Monceau for example.
How to get there? Metro line 1, line 9, line 10 will take you close to the forest, but there are also buses and a tram, depending on where you want to go. We recommend the free app CityMapper.
Works Inspired by the Bois de Boulogne
Books by Balzac, Flaubert, Zola, Maupassant, Daudet  are set in the Bois de Boulogne, at least partially.
Painters often got inspiration by going to this park to paint natural scenes, even if they didn't necessarily identified it by name.
FOLLOW US ON:
Subscribe to the Podcast
Apple
Google
Spotify
RSS
Support the Show
Tip Your Guides
Extras
Patreon
Audio Tours
Recommended in this Episode
Les Dames du Bois de Boulogne, a movie from 1945 by Robert Bresson
If you enjoyed this episode, you should also listen to related episode(s):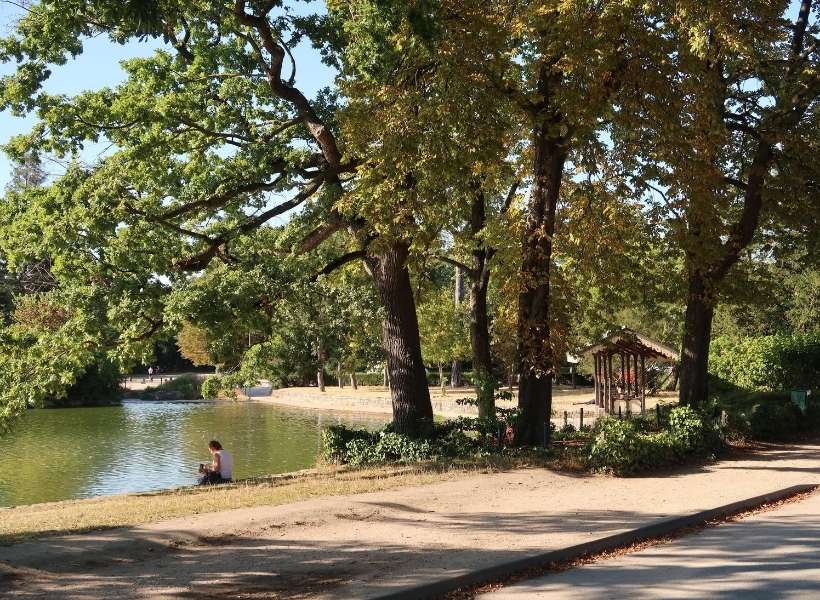 Categories: Off the Beaten Track in France, Paris