Categories: Day -Trips from Toulouse, Off the Beaten Track in France, Toulouse Area
This episode features our frequent and very popular guest Elyse Rivin. If you enjoy her episodes, please consider supporting her on Patreon.
On today's episode we discuss a circuit around 8 great places to visit in the Ariège. You can do this as a day trip from Toulouse, but if you want to give it more time, you should spend one night and go on those two hikes we  mention!
This is definitely off the beaten-track, but some of the best places to visit in the Ariège are hidden treasures. Elyse takes us to small villages, an underground church from the 700s,  and Cathar ruins. And she tells us about the history too!
#1 Tiny Village and Underground Church in Vals
This is a small village facing south, from there you can see the snow on the Pyrenees. There are only about 100 inhabitants but there is a café that's open all year there!  During the high season there's also another café and tiny museum, but that's only open some of the year.
What's striking about this village is that they have a church on several levels, one of them being under ground. And that's open all year and kept by the people of the village. There's no fee to enter but we recommend you make a donation to help the locals keep this place in good repair.
In the 1600s they built a church on top of the rock in Vals. When they were building this church they discovered another church that had been carved out of the rock. The original chapel probably dates back from the 700s. It is very small and was probably a hermitage where men lived isolated from the world.
There is a second level of this church where the walls are covered with frescos from the 900s. They are very well preserved and art historians recognized the Catalonian style by the Master of Perdret. The church was renovated several times over the centuries.
You enter the church through the underground church from the 700s and then go up some stairs to the 900s level, then up some more to the "modern" church from the 1600s.
From the top there is a gorgeous view towards the Pyrenees. You can also see archeological digs of the castle that used to be there. Legend has it that this was a sacred site for the Celts and that is why hermits went there and built the underground church.
#2 Make a stop in Mirepoix
From Vals you take the D40 road and go through the little village of Teilhet before getting to Mirepoix 12 kilometers away. Teilhet has a church with a beautiful facade from the 1200s, you can make a quick stop there too.
Mirepoix is the biggest town in the area with lots of choices of restaurants and hotels. It's a great place to stop for lunch. Mirepoix is famous for its open square and its bastide city layout. Bastides are laid out in a grid system and at the center is the covered market instead of the church.
Mirepoix is a colorful scenic little town and market day is on Monday. In Mirepoix you'll find grocery stores, pharmacy, all sorts of amenities. There are great festivals in Mirepoix, the third week of July they have a Medieval festival, the second week of September there's a marionettes festival, there are concerts in the church throughout the summer.
If you want to spend a few days in the area, Mirepoix is a good central choice.
#3 Next Stop in Camon
Camon is famous for having a church-castle and also for being one of the most beautiful villages of France. There is an annual festival of roses in Camon, usually in the middle of May. Every houses has roses in front of it, it's beautiful and makes for a lovely stop.
This village started in the 1100s and has a fortification wall still to this day. All of the houses are from the 1500s and 1600s and circle around the Renaissance castle and church. This village makes you realize how many gorgeous places there are in rural France that nobody has ever heard of!
#4 The Ruins of Chateau Lagarde
The ruins are impressive because this was a large Renaissance chateau. Started by the King of Aragon around the year 1000, rebuilt again in the 1300s, and then in the 1500s it got rebuilt and expanded into a Renaissance chateau.
It fell into ruins because of the Wars of Religion and the French Revolution. What is left is the foundation of the chateau on top of a hill. From the top you have a gorgeous view towards the Pyrenees.
This is impressive to see, you can park right by the chateau, it's not difficult to get to it. There are volunteers that belong to the local historical society that you can talk to on week-ends.
#5 Léran Renaissance Chateau
Between Mirepoix and Lavelanet is a little town called Léran. The Renaissance Chateau here is still intact and has been turned into private apartments.  You can't visit the chateau unless you know someone who lives there!
Léran has a couple of art galleries and restaurants. There are two streets with medieval houses. This is good for a short detour, but you can only see the chateau from the outside.
#6 Lavelanet, Old Industrial Town
Lavelanet is a little bigger than Mirepoix, but it is not a pretty town overall. There was a lot of industry there, famous for the production of wool. The textile industry was huge, then left, and now there are some textile industries again for automobiles and planes.
There is a small museum of textile in Lavelanet. It shows how women worked and takes you through all the steps of wool manufacturing, old machines, carding wool, etc.
You don't go to Lavelanet because it's pretty, but it's a place where you'll find stores of all kinds and if you're interested in the history of textile the museum is a great place to stop.
#7 Hike to the Montségur Ruins
Montségur is very famous and has great historical significance as the last Cathar Castle. It is up on top of a tall rock. About 500 Cathars took refuge in this castle and most of them lost their lives there. It is spectacular and it makes you wonder why anyone built a castle on top of that rock!
Going up Montségur doesn't take too long (30 to 40 minutes) but it is steep. You need good shoes. Now there are signs up there that explain the history, which didn't used to be the case. You have to pay a small fee to go up so there are opening and closing hours, which also didn't use to be the case. So it is more developed now.
In the year 1244 the King surrounded the Cathars who had taken refuge at Montségur, starved them, about half of them left, the other half stayed and died in a fire. These were martyrs to the cause of the Cathar movement.
There is a lot of lore about the Cathars and a lot of it has turned out not to be true, so it's hard to figure out what's true and what keeps being repeated because it' s a good story.
This hike will take you a couple of hours if you decide to do it. And be careful, these hikes are not
#8 La Roquefixade Cathar Stronghold
This stop is strongly recommend especially on a sunny day. The village is beautiful. You can get to the village by car, but then you have to hike up to the ruins of the castle. It is worth stopping in the village even if you don't have time to do the hike. From the village you will see Montségur and it is gorgeous.
The hike would take several hours, very fun if you are staying in the area. Foix is not too far, you could stay there. Foix also has an interesting castle, although it is closed for renovations as of June 2019 when this post is getting published.
Great Places to Visit in the Ariège
Of these 8 sites, the only 2 that are somewhat famous are Montségur and Mirepoix. But places like Vals have a lot of soul to them as well and deserve to be better known. That's why in this podcast we try to cover as many parts of France as we can, including the ones no-one ever pays attention to. We're not saying you should travel half-way across the world just to see La Roquefixade, but if you're in the area be sure not to miss it!
FOLLOW US ON:
Discussed in this Episode
Vals
Mirepoix
Camon
Ruins at Lagarde
Léran Renaissance Chateau
Lavelanet
Montsegur ruins
La Roquefixade
Underground chapel from the 700s
Frescos from the 900s
CAtalonian style
Master of Perdret
Subscribe to the Podcast
Apple
Google
Spotify
RSS
Support the Show
Tip Your Guides
Extras
Patreon
Audio Tours
If you enjoyed this episode, you should also listen to related episode(s):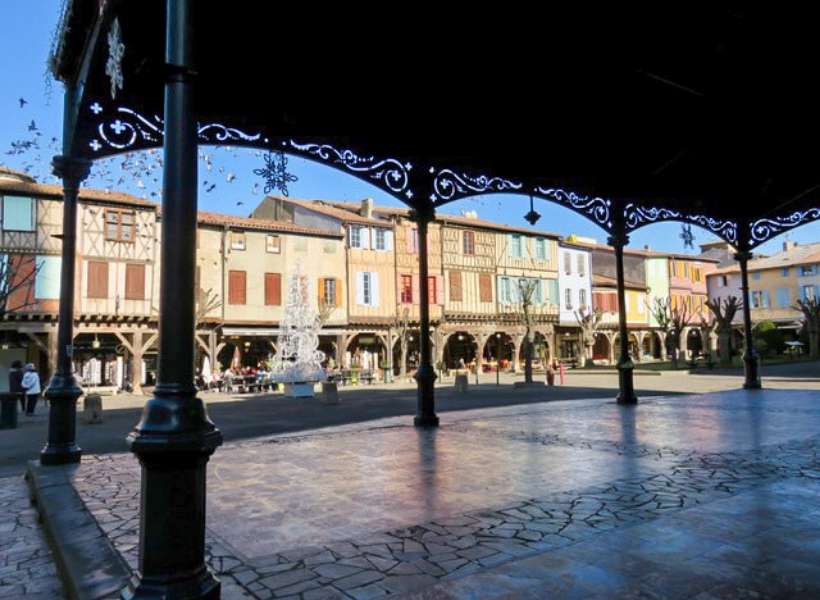 Categories: Day -Trips from Toulouse, Off the Beaten Track in France, Toulouse Area