Category: Christmas in France
This episode is brought to you by Patreon supporters and Addicted to France, the Tour Company that specializes in small group and custom tours in France. And we've a great tour coming up in May, check it out on our sister site, Addicted to France.
On Today's Episode: Christmas in France
[01:24] Bonjour, I'm Annie, and on today's show I chat with Elyse about Christmas in France. This is the 4th Christmas episode I've released, if you can't get enough of Christmas, check out our related episodes.
[02:27] And for the email newsletter I'll send you what I said I'd send last week but forgot to include and it's called How French Is Your Christmas? If you're not signed up for the Weekly Extras I recommend you do, I only email once a week and most of the time I don't forget to include the file I promised!
Christmas in France — What Do French People Do at Christmas?
[03:15] On today's episode we will be answering the question "What do French people do at Christmas that they don't do the rest of the year?
At Christmas, French People Visit Christmas Markets
[03:47] The first thing we do at Christmas that we don't do the rest of the year is that we visit Christmas Markets.
The oldest Christmas Market in France is in Strasbourg
The oldest Christmas Market in France is in Strasbourg. It has been happening since the Middle Ages, but it used to be called the Saint Nicolas Market.
Local merchants used to take over the plaza in front of the Cathedral with offerings from all sorts of artisans: pottery makers, clothes manufacturers, locksmith's, folks who sold medicinal herbs, food and groceries stalls, bread makers.
You have to understand that in the Middle Ages, all of Strasbourg had converted to Protestantism, including the folks who ran the Cathedral! In 1570 a preacher decided that this whole Saint Nicolas business was too Catholic, saints were to be out completely.

If Saint Nicholas Doesn't Bring Gifts Any More, Who Will?
[05:34] But if Saint Nicolas isn't going to bring gifts any more, who will? They decided on the young Jesus, not a baby and not a teenager. They show a prepubescent Jesus that looks very much like a girl in illustrations we still have today.
In Alsatian the say Christkindel for "baby Jesus". Thus the Saint Nicolas Market was renamed "Chrischkindelmärik".  The tradition is that a young person dressed in white brings gifts.
In illustrations from the time you can see that this young person looks an awful lot like Santa Lucia in Northern Europe where a young girl wearing a crown of candles appears. But, young Jesus or young woman, this character was important.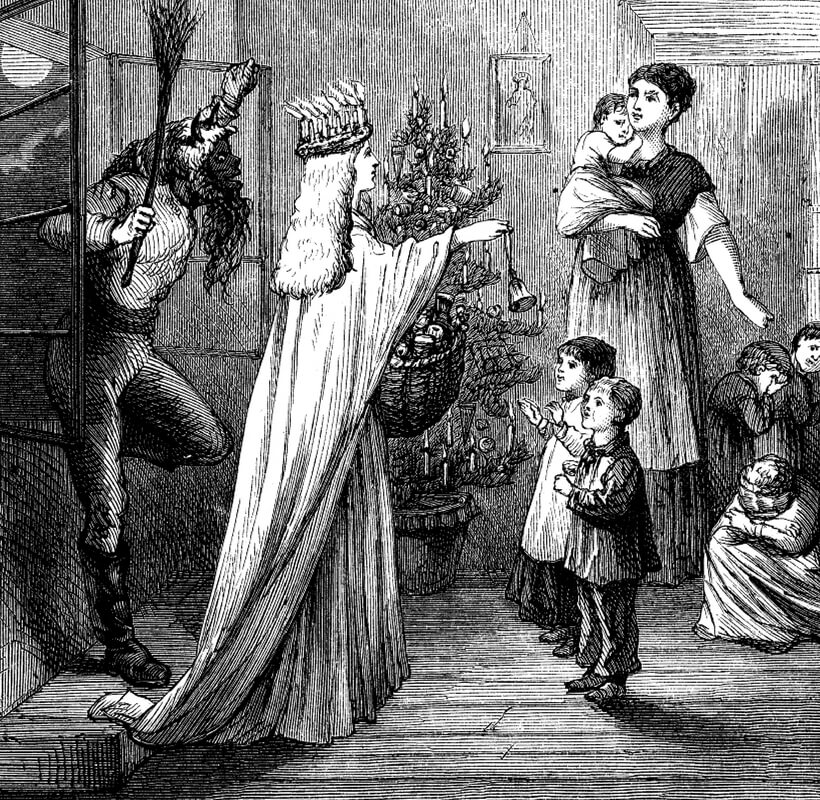 Christkindel Traditions in North America
[06:44] When the people of Alsace emigrated to America, specifically Louisiana, Arcadia and Canada, some of them brought with them the tradition of Christkindel, so you might have heard of it too.
In Strasbourg, the Christmas Market moved around from plaza to plaza so that every area of the city would enjoy the economic benefits. By now it is so big that it has sprawled throughout all city plazas, about a dozen of them, all within the historical center of Strasbourg.
The city is illuminated every night, there are folks selling candy, cookies, spice cake, mulled wine, fresh Christmas trees, crafts, everything is made locally and by artisans. It's a feast for the eyes and the belly too!
Elyse's Experience of the Strasbourg Christmas Market
[08:23] Going to the Strasbourg Christmas Market years ago was like going to Disneyland for Elyse. Weather in Strasbourg is cold in December, which goes right along with the spiced wine and the gingerbread men and everything.
The 10 Best Christmas Markets in France
[09:38] This is the list of the 10 Best Christmas Markets in France according to the French Magazine Paris Match.
Colmar is first. Colmar is a big rival of Strasbourg but is a much smaller city at the southern end of Alsace. The city center of Colmar is beautiful small medieval city center. It's unexpected that Colmar should beat out Strasbourg because it is so much smaller.
Strasbourg is number two on that list.
Montbeliard is number 3 for the best Christmas Markets in France and Montbéliard is in the Juras, not in Alsace.
Number 4 is Obernai, just a little south of Strasbourg, definitely in the Alsace.
Number 5 is Mulhouse, neither Elyse or Annie have ever visited. It's an hour south of Colmar. We're still in the North East of France.
Number 6 is Reims where the champagne is made, of course.
Number 7 is Amiens, in the North of France. The official name of that region is "Les Hauts de France". The Cathedral of Amiens is really famous.
Number 8 is Lille, close to Amiens, also in the north of France.
Metz is number 9. It's a city that few people know about but it's lovely, it has a beautiful Cathedral, it would be a good city to check out.
Number 10 is Arras in the Hauts de France.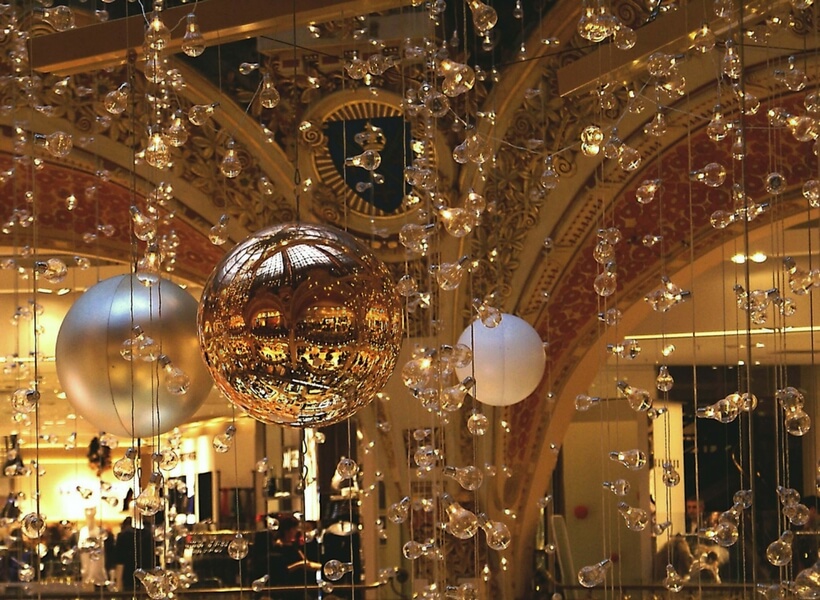 None of the Best Christmas Markets in France Are in the South!
[15:30] You will notice that none of the cities that make the top 10 list of Christmas Markets in France are in the south of France because in the South we don't have as long a tradition of Christmas Markets as they do in the north.
No Christmas Market on the Champs Elysées in 2017
[19:40] There will not be a Christmas Market on the Champs Elysées this year because the man who owned it, Marcel Campion, had his license revoked. He also owns the Ferris Wheel on the Place de la Concorde, that's going down as well.
The city of Paris says that in the future they will do another Christmas Market on the Champs Elysées, but with a very different atmosphere.  That was Episode 132. We think more French cities need to go towards Christmas Markets that favor creativity rather than crass commercialism.
Fresh Christmas Trees Are a Novelty in Southern France
[24:08] Because Christmas in France has a lot to do with the predominant local religion, fresh Christmas Trees are a novelty in southern France. To this day in Toulouse you cannot find a Christmas Tree stand that includes a water tank!
The Santons and the Crêche Are a Southern France Tradition
[27:57] Most people in France by now put up a Christmas tree, even if it's a fake tree or a live tree that will die for lack of a proper tree stand with a water tank, we do have a tree of some sort. Not as many people put up a crêche or nativity scene which is very Catholic.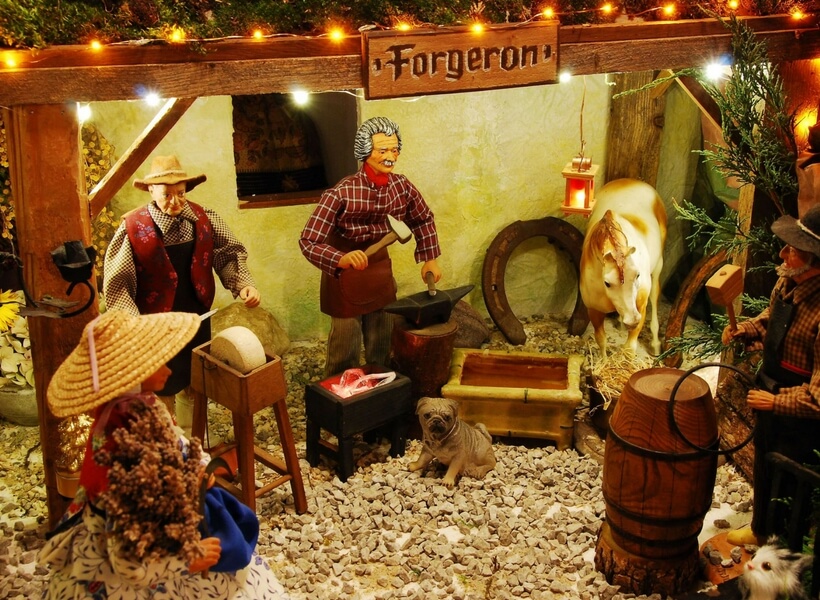 You Will Not Find Nativity Scene Displays in Public in France
[28:41] Nativity displays are not a big thing in France nowadays. Before the French Revolution there used to be live nativity plays acted out, but at the French Revolution things changed dramatically.
Before the Revolution, Nativity Scenes and Passion Plays used to be everywhere. In front of churches, on the public square, but that all stopped at the Revolution. Spain still has a lot of those to this day and we don't in France.
Individual French People Do Not Decorate the Outside of their Houses for Christmas
[30:44] French people don't put out lights on their houses very much. You'll see one once in a great while, but it's unusual. Cities do put out lights, but their purpose is clear: they want to attract shoppers to the center of cities. Paris is beautiful with the lights at Christmas time. There are Christmas Markets in different places around Paris.
The Festival of Lights in Lyon
[34:00] The Festival of Lights in Lyon is pre-Christmas, but it has been going on for many years starting on Dec 8th every year. This is a big cultural event that makes Christmas special for French people. Lyon gets 1 million + visitors each year for this event. This festival started in 1852.
How the Festival of Lights Came About in Lyon
[35:00] Lyon is a city divided in 2 parts. The part down by the rivers and the part on the big hill called La Fourvière. Starting in the Middle Ages there was a tradition of having a statue up on top of the hill lit up with a lot of candles.
After the anti-religious sentiment calmed down following the Revolution (around the middle of the 19th century), they commissioned a local artist to do a new statue. Originally, the new statue was supposed to be installed on Sept 8th, but there was flooding and bad weather that year, so the installation of the statue was put out for 2 months and happened on Dec 8th.
On Dec 8th, 1852 city cryers announced that everybody was supposed to put candles in their windows that night and they did. From that year on, it became a tradition for people to light candles in their windows on Dec 8th. In 1989 the city of Lyon made it into an official festival called the Festival of Lights.
Since 1989 the festival has grown to take up 4 days.  Last year 1.3 million visitors came to see it, lots of light artists are invited to come put on events. They project images onto buildings, and they organize 286 guided visits to help visitors get the most of it.
Christmas Caroling Is Not a Thing in France
[39:49] Christmas Carols are not as big a thing in France as they are in the US or England or Germany. We have plenty of old Occitan and Provence Christmas songs like Nadal Tindaire or Catem Nadal
Food French People Eat at Christmas that We Don't Eat the Rest of the Year
[43:11] Let's talk about the food traditions of France for Christmas!
Foie Gras
Oysters
Smoked Salmon
Caviar
Turkey
Capon
Goose
Leg of Lamb
We do NOT do ham at Christmas
Prime Rib is unusual in France
Champagne
Good wines
The Christmas meal goes on forever!
Christmas Log (Bûche de Noël) either pastry or frozen
13 Desserts of Christmas (Provence)
Christmas Mass in France
[50:28] This may sound surprising on account of what we said earlier is that French people go to Christmas Mass, Midnight Mass! Only Cathedrals will put on a wonderful Christmas Mass but small neighborhood churches are closed, so if you want to attend Midnight Mass you need to get there on time because the Cathedral fills up!
Christmas Chocolates
[53:15] French people have chocolate out to enjoy this time of year when they do not the rest of the year. We also enjoy candied chestnuts which Annie prefers to chocolates. In Provence they have more nougats.
When Do French People Celebrate Christmas?
[54:39] Whenever is convenient for everyone in the family! We are more flexible about when the celebration happens. Sometimes this means that celebrations go on for several days around Christmas.
[58:54] Don't forget about our tour in 2018, it makes for an unforgettable vacation. Check out dates and prices on Addicted to France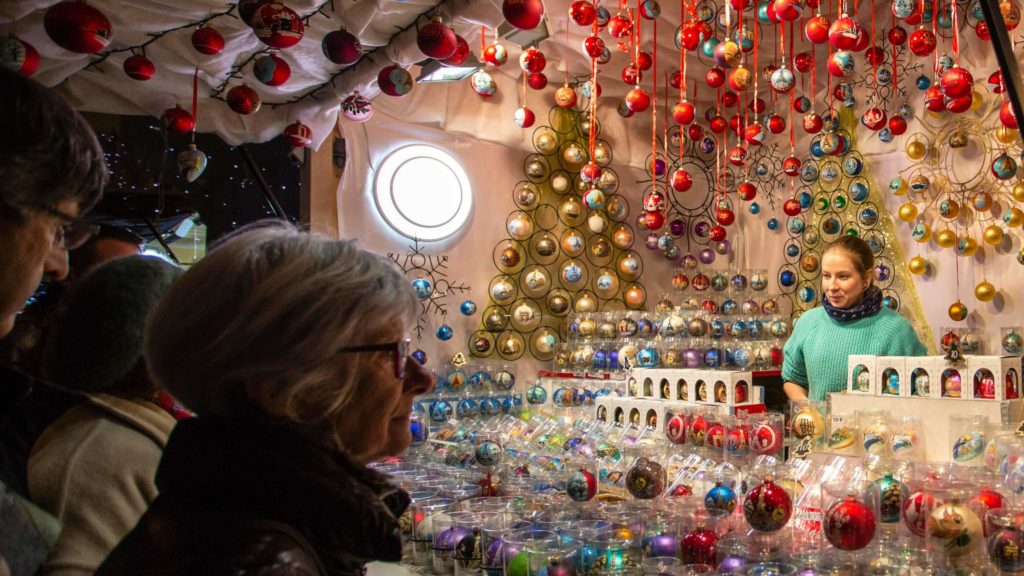 Patreon Supporters and Lunch-Break French
[59:52] Last Saturday I released a new installment of Lunch-Break French, the exclusive reward for Patreon supporters. The theme this month was The 13 desserts of Provence, les 13 desserts de Provence.
For Lunch-Break French I write a short article in both French and English and I read it to you in both languages at a normal rate of speech, and you can read along if you wish. It's great listening comprehension practice and a great test to see if you are ready for the French we speak in France rather than the stuff you hear from French teachers, which is usually too simplistic.
When you sign up to support the show on Patreon you get access to all previous installments of Lunch-Break French and I'll be announcing new rewards for patrons who support at a level of $5 per month in the next episode.
French Tip of the Week
[60:01] Joyeux Noël et bonne année !
French History Brief: The First Christmas Tree Ever Recorded in the World!
[62:00] The first Christmas tree ever documented anywhere in the world is credited to a place in Alsace called Sélestat and that was in 1521.
Sélestat is just a little bit south of Strasbourg and only 17 kilometers from the German border. It's not a village any more, there are 20,000 inhabitants in Sélestat today, it has a cute medieval center with lovely half-timbered houses.
Like most places in Alsace, Sélesta has a Christmas Market where they celebrate the first Christmas Tree, they have blown glass festivities (more about that in a moment), video projections against the façade of the church, an open air ice rink, it looks like Christmas is serious fun there.
This first Christmas tree inspired Protestants in Alsace and in Germany to do the same. They wanted to get rid of the Crèche or Nativity because that was from the Catholic tradition.
Why an Evergreen Tree?
Why did they pick a tree? Because of the idea of the Tree of Life from the Bible. They picked an evergreen tree because of the idea of everlasting life. These Christmas Trees became common over time, in Alsace, in Germany, in Poland. Wherever there were Protestants, the Christmas Tree tradition took root. It was slower to make its way into Catholic country.
At first, the trees were decorated with cloth, ribbons, candy, painted apples, and candles of course, which I don't know how they pulled that off, a plain old electric garland is dangerous enough for my taste!
In 1858 the winter was so harsh that they didn't have enough apples to decorate the trees, that's when they started to use blown glass "apples" that they used on a tree as a substitute. That caught on right away of course and we still put round ornaments on our trees.
In France, Louis XV's wife, Marie-Antoinette, who was from Poland, introduced the idea of the Christmas Tree, but it didn't catch on too well. Then in 1837, Hélène de Mecklembourg, Duchess of Orleans and step daughter of King Louis Philippe, had them plant a spruce in the Luxembourg Garden just to decorate it. And that's what launched the Christmas tree in France
Annie's Personal Update
Pick Your Christmas Town Carefully!
[65:00] Well, I went to the Toulouse Christmas Market after this recording with Elyse, actually the same day we recorded, and got there a little late— 8:45 PM— and everything was closed! Security was showing people out, all the vendors were packing up, too late lady! For as much as I love my city of Toulouse, it is not a Christmas town!
Updating the Website
[66:00] I'm going to be be taking the time I won't spend on producing new episodes the next couple of weeks to work on the new Join Us in France website. If I manage to make enough progress to launch it before I talk to you again, I'll announce it via the newsletter.
 How to Connect
[72:14] The best way to connect with me is to email me at annie@joinusinfrance.com.
All right, let's wrap this up, go enjoy your friends and families, merry Christmas or any other celebration you do this time of year. I think most people celebrate something or other in December, so whatever it may be, enjoy it and I'll talk to you again on Jan 10th, 2018! Au revoir !
Conclusion
One thing is for sure: if you attend Christmas Celebrations in France, you will eat too much and drink too much. French people who are so careful about what they eat year-round will totally let loose at Christmas, that's part of the French Christmas Traditions!
Subscribe to the Podcast
Apple
Google
Spotify
RSS
Support the Show
Tip Your Guides
Extras
Patreon
Audio Tours
Read more about this transcript
Episode Page
Category: Christmas in France