Table of Contents for this Episode
Category: Normandy & Brittany
Discussed in this Episode
Paris to Rennes on the TGV
[03:04] Phil arrived in Paris, spent one night, then took the TGV to Rennes where he picked up a rental car. That's probably the most direct way to get to Mont Saint-Michel. When returning to Paris he decided to do it the other way, driving through Bayeux.
Quick Walk-Through of Rennes
[03:45] Quick two-hour visit of Rennes, a charming city with half-timbered buildings and pretty streets. It was a sunny day and lovely. Had a nice meal there.
Stop at the American Military Cemetery in Saint James
[04:43] As a WWII history enthusiast, Phil had to stop at the Brittany American Cemetery and Memorial. It is smaller than its Normandy counterpart, but just as sobering.
That First Glimpse of the Mont Saint-Michel Will Take Your Breath Away
[05:30] Even though he had been there before, Phil was surprised how when he caught his first glimpse of the Mont Saint-Michel through the winding roads, it took his breath away.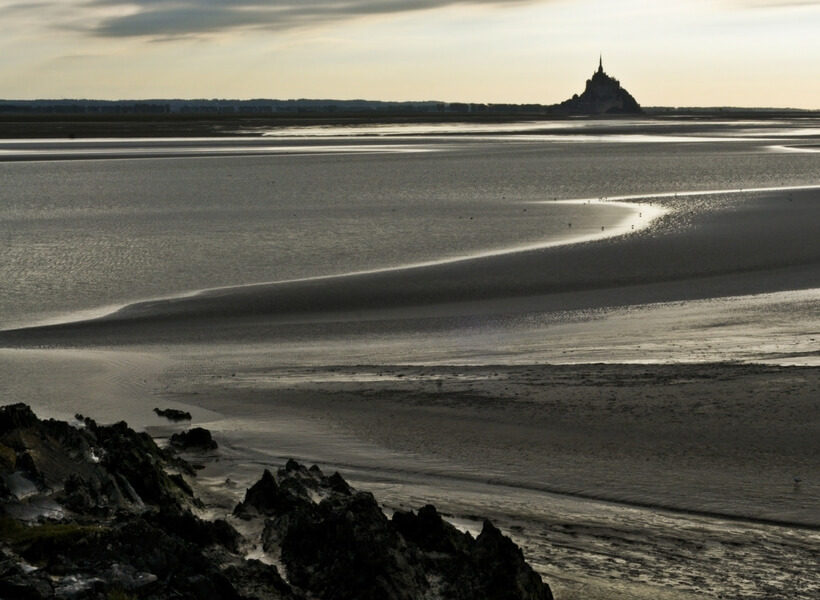 You Can't Drive Right Up to the Island
[05:45] They will not let you drive right up to the Island, not even to drop somebody off. You will be required to park and either take a free shuttle or walk. The parking lots can be 3+ kilometers away from the island.
If You Reserved a Hotel You Can Park Closer and Free
[06:15] Hotel customers have a special parking lot, but you have to arrive with the reservation information ready or they will try to make you go with everyone else. You need the code for the hotel parking lot.
What Has Changed at the Mont Saint-Michel Since 2012?
[07:36] You can't park at the foot of the ramparts any more. The bridge lets the tides do their job, and the sand doesn't get stuck around the causeway any more. It's a more natural, and more spectacular, look now.
You Have to Do a Lot of Walking on Mont Saint-Michel, Don't Bring Too Much!
[09:00] Travel light because even the buses don't drop you off right at the foot of the island. If you can, bring what you need in a backpack. Backpacks are ideal because you'll have to deal with lots of cobblestone once you get to the island. Rolling suitcases do not work well on cobblestone! The walk to the island is great in good weather, not so fun in bad weather.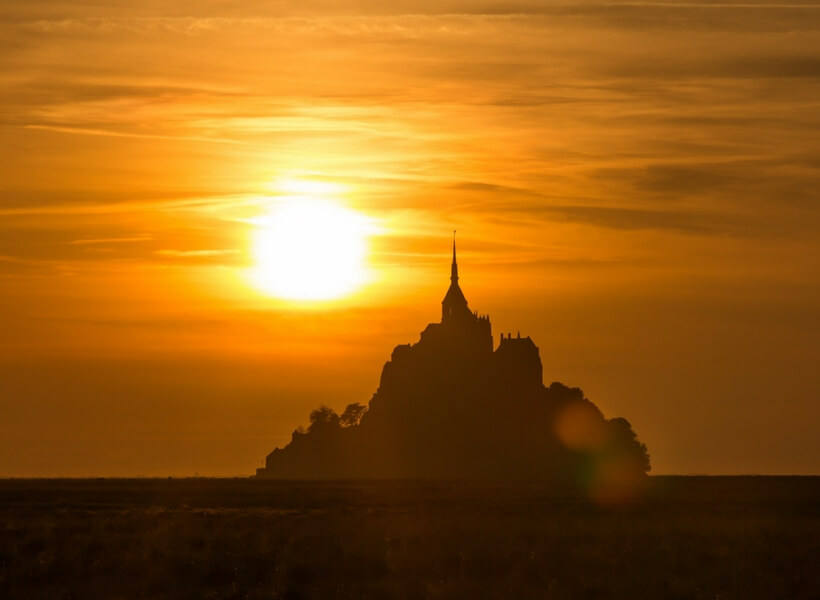 Timing is Everything at the Mont Saint-Michel
[09:45] Pay attention to the tide schedule so you can walk around the island on the sand. Bring another pair of shoes for that! Big tides are also a lot more spectacular than minor ones. Some days the water doesn't move much, others it's truly spectacular. It's all known in advance, check the schedule.
Troubles Checking in at the Hotel on Mont Saint-Michel
[12:15] Phil had a reservation at the Mouton Blanc, but when he got there, he found a sign saying he had to check-in at a different hotel and go back down the hill. That wasn't right!
Pack Light! Schlepping Your Luggage Up or Down the Island Is NOT Easy!
[13:40] Even young, fit people have a hard time with rolling suitcases at the Mont Saint-Michel
Hotels Just Outside of the Mont Saint-Michel
[15:30] There are hotels near the island where the bus drops you off at the hotel. That's a viable option as well. You'll have to walk the 3rd of a mile between the island and the bus-stop several times, but the buses run late.
How to Bypass the Crowded Road with All the Restaurants
[16:20] If you just want to get up to the Abbey quickly, you can take the ramparts path and avoid all the restaurants and shops. Phil tells us how to find it.
Find the Little Chapel to Get to Quiet Areas
[17:15] From the "Eglise Saint-Pierre" you can get access to paths where there are a lot fewer tourists because they're not on the main drag. There's a small cemetery there too.
The Poulard Story
[18:50] It's everything Poulard on the Mont Saint-Michel, we don't know if it's a racket or a conglomerate or what, but it seems they have the corner on everything!
[Addendum: The original hotel and restaurant Mère Poulard developed was bought by the mayor of the island in 1986 and he turned it into what it is today. But "La Mère Poulard" had modest beginnings a housekeeper and a great cook. She was welcoming and motherly and attracted famous people to her hotel and restaurant. She also had great business sense even though she didn't seem to care about money. She died in 1931 and is buried in the tiny cemetery of the island along with her husband.]
The Mont Saint-Michel Is Definitely a Touristy Place
[20:30] There are no businesses on the island that don't have to do with tourism. But, despite that, it is still worth a visit because it is so beautiful.
Food Specialties of the Mont Saint-Michel
[21:47] Omelets, shortbread cookies and mussels with cream are the specialties nowadays. There were other local specialties before the Poulard empire, but you have to go elsewhere in Normandy to enjoy them.
It Stays Light Late in Normandy in September
[23:35] The sun doesn't set until around 9 PM in France in September, this gives you time for great visits and photography.
Photography Talk
[24:42] Annie and Phil talk photography gear for a minute, specifically how to protect your camera gear from rain damage.
Le Mouton Blanc Hotel Review
[26:30] The hotel was OK, but nothing special. Phil didn't spend much time there, so he didn't care, it was adequate. Some rooms have an ocean view, his didn't unless you craned your neck just right!
Is It Worth Staying on the Island?
[27:25] Yes. You have to pick your poison: you either deal with the luggage on the cobblestone and up-hill, or you deal with walking back to the bus. There are inconveniences to both. If you want to stay on the island, book far in advance if you're going in high season (May thru August)
Is Mont Saint-Michel Doable for People with Limited Mobility?
[28:35] Not really. There are stairs everywhere, up-hill cobblestone, not possible for a wheelchair user. For people with other types of limited mobility, it depends. Plenty of people who suffer through it. Our frank discussion on this podcast can hopefully help you decide.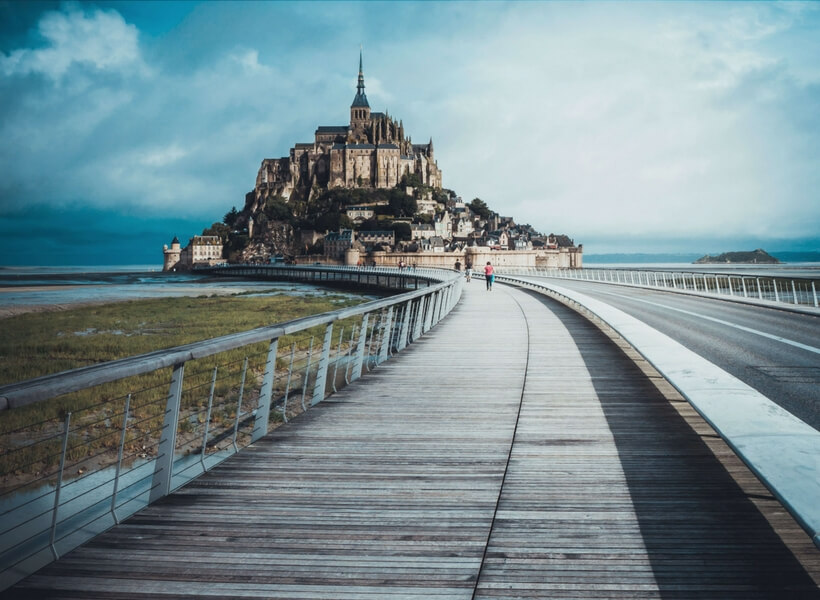 Visiting the Abbey at the Mont Saint-Michel
[30:43] The Abbey opens at 9:30 and closes at 5 PM most of the year. Check on times. Phil was one of the first ones at the opening which was good because otherwise it's mobbed.
No Signage in the Abbey, Take the Audio Guide!
[33:05] The audio guide will tell you a lot about the architecture and the history. You really need it because there are no signs explaining anything. Check out the models of the development of the Abbey over time at the entrance, it's impressive. The views from the top are amazing, a must-see.
Some Things You Will See Inside the Abbey
[35:20] Large dining rooms, meeting rooms, tiny cells for the monks, the pillars that hold everything up. Massive fireplaces and the manual crane they used to bring goods up to the top of the Abbey.
Finishing Your Visit Just As the Massive Crowds Arrive
[38:27] You don't want to start heading up the hill at 10 or 11 AM, that's when it's mobbed.
Never Travel with Just One Pair of Shoes
[39:39] Annie argues that point and Phil, being a polite gentleman, doesn't dare contradict her too much!
Leaving the Mont Saint-Michel, Gorgeous Country Road!
[41:08] To get great views, don't stay on the N road (route nationale) and go to the smaller roads. You want the D275 and the D75 (same road, changes names in the middle because of arcane French naming conventions).
A Stop at Avranches
[42:24] Avranches is great for a quick stop, could even be a good Plan B if other hotels are too full. It's possible to get great views on to the Mont Saint-Michel from there when the weather is clear.
The Scriptorial in Avranches Is Worth a Visit
[44:34] As Elyse explained in Episode 175, Avranches is where the monks of Mont Saint-Michel were attached to. Their writings are kept at a museum in Avranches and it's worth a visit.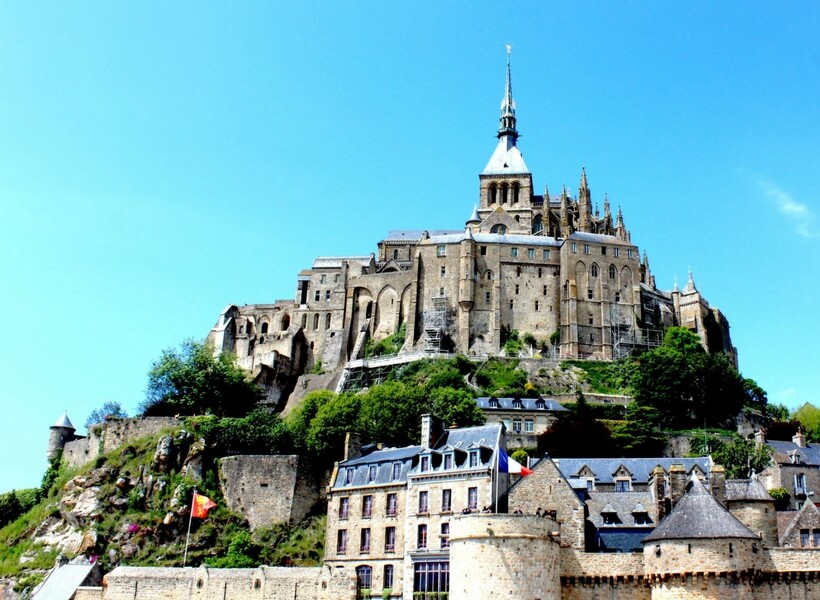 How Much French Do You Have to Know in Get By in France?
[45:51] You have to know the niceties (bonjour, au revoir, merci) and it's good if you can struggle through a sentence or two because it makes the person you're talking to less worried about their English. But you can visit France with hardly any French at all.
Fans of WWII and D-Day Must Listen to Episode 116 with Phil!
[49:03] Episode 116 with Phil on WWII history and D-Day is a must-listen to for anyone preparing to visit Normandy. It is informative and super helpful.
[51:50] Show Updates
Thank you Patreon supporters!
What's new with the show this week.
The answers to the question of the week and things that will chance in 2018.
Join Us in France is now on Spotify.
The show will soon be on the Amazon Dot or Amazon Echo.
You asked for it and it is here! You can get Join Us in France Merchandise on TeePublic.
Email: annie@joinusinfrance.com.
[60:00] French Tip of the Week: c'est bientôt Noël
[60:45] French History Brief: La Guillotine
Next week's show is going to be on Saint-Bertrand-de-Comminges.
Thank you for listening, if you heard something in today's episode that someone you know would enjoy, find this episode on Join Us in France on Facebook and tag them!
Have a wonderful week, and I'll talk to you next Wed!
Subscribe to the Podcast
Apple
Google
Spotify
RSS
Support the Show
Tip Your Guides
Extras
Patreon
Audio Tours
Read more about this show-notes
Episode Page
Category: Normandy & Brittany