Table of Contents for this Episode
Categories: Family Travel, Normandy & Brittany
Discussed in this Episode
TGV train station at CDG
Tours
Amboise
Chenonceau
Chambord
Mushroom Cave
Dinan
Monterfil
Mont Saint-Michel
Cancale
Fort la Latte
Saint-Malo
Sculpted Rocks in Saint-Malo
Gulf of Morbihan
The Itinerary for this Trip to France
[03:36] This was Matt's 4th time in France, and his second big trip with the kids. This time they spent 2 days in the Loire, 6 days in Brittany, a week in the Dordogne, a week on the Mediterranean and Catalonia part of France and one day passing through Paris.
Driving in France: Watch Out for Speeding Tickets!
[04:46] You drove all the way across France, north-west to south-west, from Brittany to Perpignan. Driving was great, safe, orderly, not that much traffic (Matt is used to Boston traffic) and Episode 16 on Driving in France was very helpful. They took the highways (we call them "autoroute" France and they are toll-roads). They went through Nantes and Bordeaux. When you drive in France, be mindful of your speed, because they will catch you and they will mail you the ticket all the way to your home in America or Canada or Australia because your car-rental company will forward your information to the authorities.
Visiting France Is Like Time Travel
[07:00] Why they like coming to France with their children and why they chose this route: 1. Matt gets by OK in French. 2. Every region of France is its own country. 3. The span of history you encounter on a trip like that in France is tremendous. 4. Matt's daughter Nora is severely allergic to eggs and in France they can handle that without taking too much risk.
How to deal with a Food Allergy in France
[08:26] Dealing with a severe allergy in France: hand your waiter a printed card that says what you're allergic to in French. Everyone was super accommodating.
Be Warned: Kids Love the Beach and the Mediterranean!
[09:11] For as much as Matt enjoyed visiting Brittany with kids, for this trip they wanted to keep what was successful about their previous trips and build off it. They knew the kids love the beach and the Mediterranean. As always, they  rented a house so they could do their own cooking, and they like to have a swimming option or a more engaging option that the kids will enjoy at each place. The kids wanted to go to the beach and Matt decided on Collioure (see next episode) on the Mediterranean.
French Regions Each Have their Own Culture
[11:16] French regions have a strong local culture. Brittany is very different from Perpignan and the Catalan country! As soon as you get out of Paris you will see that France is made up of a patchwork of cultures. The two most pronounced cultural identities that you will find in France are Brittany and Basque Country. Next are Alsace, Provence, Occitania.
The TGV Train Station at CDG
[12:15] The flew into Charles de Gaule (CDG) and got on the TGV right there to go to Tours. You don't need to go to Paris first, the TGV train station is located beneath Terminal 2 of CDG. This is where they took the TGV to Tours, it's a quick and inexpensive ride and much easier than battling Paris traffic.
Great Place to Stay near Amboise
[13:17] Their Bed & Breakfast near Amboise was one where they had stayed before. It is called La Rocheline in La Chevalerie in La-Croix-en-Tourraine. It's a beautiful place on a farm. Everyone says they want to feel like a local, and going back to a place you've been before that you enjoyed is a great way to feel like you're going home!
How to Burn Off Jet-Lag
[14:16] It takes Matt and his family 2 days to burn off jet-lag (that's FAST!) When they arrived around noon they did some grocery shopping, then went on a walk along the Cher River. They saw Chenonceau from the outside, their point was to spend time outside and keep moving. It's brutal when you land in France at 8 AM and you haven't slept all night. You need to keep moving, preferably in the sun. The worst thing you can do is stay in your hotel room!
French Cheese!
[15:39] Matt loves French cheese, and the first thing they bought was his favorite on this trip. The way you find the gems is you go to a cheese shop (fromagerie) and ask for a great local cheese. The person will suggest something you've probably never heard of, but it'll be tasty and it'll be local! It's great to ask for people's opinions on what cheese they recommend because then you get to talk too, which is always fun. And while in Brittany with Kids, maybe ask them to pick out some scary-looking cheese!
A Visit to Chambord
[17:30] The next day they went to Chambord, the drive was easy and lovely, they ate a picnic lunch. Chambord is one of the largest Loire Castles with the famous stair-case. Parking is easy, it's inexpensive and lovely.
First Off the Beaten Track Place: the Mushroom Cave
[18:43] From Chambord they went to their first "off the beaten track" place. They like to go to places everybody goes to and others where nobody seems to go as well. They stopped at a mushroom cave called Cave des Roches. It's a cave you can visit. It used to be a limestone quarry, but now the space is used to grow different varieties of mushrooms that they sell to restaurants and visitors. The tour was nice, but they also carved a mini city into the limestone, complete dogs and cats, doors, lamp-posts and trees. It's bizarre but really cool. The tour was in French, but the tour guide explained some things to them in English as they walked from place to place.
Second Off the Beaten Track Place: Breton Festival
Matt rented a house in Dinan, but en route they stopped at a village called Monterfil for a Breton Traditional Festival. It was about 4 hours between the Loire Valley and Brittany. The festival was Breton music and dancing and impromptu bar and grill and a pig-roast. They were the only foreign tourists there, there was no English spoken at all. French oddity: no regular sodas, only Breton sodas there! And they served a classic Breton: sausages wrapped in a galette.
Visiting Dinan
[25:33] They rented a house near the port. Dinan is great for a home-base. It's a pretty medieval town, has everything you could need, it's very Breton, you can easily find Kouign-amann. Lovely town, nice house rental. It's sometimes difficult to find a great place to rent with lots of positive reviews that doesn't have a 7 day minimum, and this one had a 4 day minimum, which was perfect.
Public Swimming Pools and "Proper Bathing Attire"in France
[28:13] They went to the public swimming pool and when they walked in they noticed a big vending machine where the only thing they sold was bathing suits, which they thought was strange. They soon found out why: at a public pool in France you have to wear a tight-fitting bathing suit. At a spa with pools they'll usually be more lenient, but not necessarily.
French People Hold on to Customs
[30:20] French People Hold on to Customs, sometimes for no good reason at all. That can be irritating, but that's also what makes up keep our regional and national identity alive. French people like to do things a certain way and don't like to change. This makes French people come across as stubborn. It's both a blessing and a curse.
Tips for Visiting the Mont Saint-Michel
[32:15] Mont Saint-Michel is one of the biggest sites they saw on this trip, and if you're in Brittany with kids, don't skip it (even though it's technically in Normandy). This was an A-level tourist site and it didn't disappoint. They arrived around 4 PM so as they arrived there were people leaving and it wasn't very crowded. You want to arrive when day visitors are going, which happens late afternoon. It's also wonderful to spend the night on the Mont Saint-Michel, but the least you should do is get there after the tourists leave. And if you go around the back at low-tide, you'll see some of the most peaceful scenery you've ever seen.
Quick Stop at Cancale
[35:24] Cancale is along the coast, they ate oysters right there along the beach for 5€ per dozen and they'll open them for you and they're the best ones Matt's ever had!
Fort la Latte
[36:12] Change of plan because of heavy rain. They went to a castle right on the cliff edge right on the ocean, a place called Fort la Latte. They've filmed a lot of movies there (although not Game of Thrones yet!) because it's very Viking, barbarian, very picturesque. Photographers must stop there!
Saint-Malo
[38:01] We talked about Saint-Malo on a previous episode on Saint-Malo and the book All the Light You Cannot See. Matt feels like it was a nice place but doesn't have much to add to what we already said. They went to the Sculptured Rocks, only about 10 minutes away from Saint-Malo. A monk spent most of his life carving it and it's wild and amazing.
Gulf of Morbihan
[40:00] They had a 2 night Bed & Breakfast on the Gulf of Morbihan and saw some Celtic sites. The saw the stones at Carnac (10,000 BC), but it was rainy, and the experience was really standing in the rain looking at rocks, so the kids weren't impressed. That's one of the joys of visiting Brittany with kids. It rains a lot and that can put a damper on their enthusiasm.
The next day they went to burial tombs at Locmariaquer and Gavrinis. They are tombs but they were designed by the engineers of the day to have the light hit them just so at a certain time on Dec 21 and the light would shine on the back wall. This is 7000 years before the Pyramids were built. Elyse talked about this the Gulf of Morbihan on Episode 123
Crêpries in Brittany
[44:00] Crêperies in Brittany are mostly family-run, they work hard, and they put a lot of creativity into it. Eating at a crêperie is one of the best things you can do in Brittany with kids! Mostly at a crêperie you order one savory crêpe and one sweet crêpe and they are big enough that it's a full meal. The hard cider is fantastic too. They call the savory crêpe a "galette". Crêpe Normandie is a dessert crêpe with Calvados lit on fire. Calvados is an apple brandy, very dry is very strong. It was a little bit like pouring a shot of whisky on a pancake! Calvados is a super strong liquor, but it's definitely local and you should try it if inclined.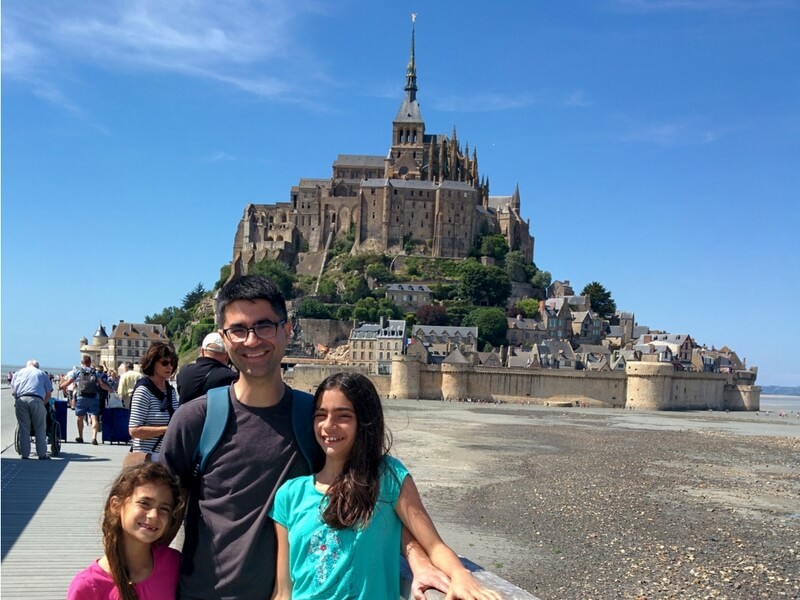 Subscribe to the Podcast
Apple
Google
Spotify
RSS
Support the Show
Tip Your Guides
Extras
Patreon
Audio Tours
Read more about this show-notes
Episode Page
Categories: Family Travel, Normandy & Brittany