Table of Contents for this Episode
Categories: Family Travel, Normandy & Brittany
Discussed in this Episode
Arromanches
Lion-sur-Mer
Luc-sur-Mer
Beuvron-en-Auge
the Cider Route in Normandy
Gold Beach
Port Winston aka Mulberry harbour
Pointe-du-Hoc
Longues-sur-Mer
Do They Speak English in Normandy?
[03:50] Knowing only basic French is not a hindrance to having a great time in France, so long as you know a few tricks. More and more French people speak English anyway, particularly in Paris.
[05:00] They chose to visit Normandy because they are history buffs, WWII history in particular. It is easy to go from Paris to Normandy, then loop back to Paris through the Loire Valley.
What Happens on D-Day in Normandy Today
[05:41] They happened to get there on D-Day, June 6th. They got to see some ceremonies in Arromanche, a few veterans, many people in uniform.
[06:59] They considered hiring a guide , but didn't. Instead, they drove around a lot of charming towns along the coast, most of them are called Something-sur-Mer, such as Lion-sur-Mer, Luc-sur-Mer. These are great to see what how the people lived and what the towns were like. They also went to Beuvron-en-Auge, a town on the cider route, then to their gîte in Asnelles which they loved (on Gold Beach with a view on "Port Winston" aka Mulberry harbour). They had to get the key to the gîte at at tiny town called Crépon and that was a great little detour, the roads around there are very scenic.
Must-See WWII Sites in Normandy
[11:00] The next day D-Day which they spent in was Arromanches, they toured the American Cemetery at Colleville-sur-Mer and there was a lot of active military that day paying respects and it was very moving.
[12:10] They went to Pointe-du-Hoc and the boys particularly enjoyed the German gun batteries at Longues-sur-Mer. They also thought the movie called Arromanches 360 was worth it, particularly for kids (in Arromanches). The Pointe-du-Hoc movie was at the Utah Beach Landing Museum which was a totally worth seeing.
[14:53] One of the problems with visiting Normandy is that there are so many museums and sites you could visit, it's hard to narrow it down. You also have to take the time to experience the scenery which is beautiful.
A Car Debacle and Getting to the Mont-Saint-Michel Anyway
[15:55] The little car debacle. Nancy's husband got confused by the colors of French gas pumps and put regular unleaded gasoline in a diesel car. In the US green = diesel and that works in most US states. But in France we don't have the same color-coding. In France, diesel is usually yellow (not always!) and unleaded is usually green and it says gazole and not "diesel". Pump nozzles are also all the same size in France, so if you make a mistake, the size of the nozzle will not stop you. Siphoning the gas out will not work, don't even try it. "Têtu" means stubborn. The car rental company called them a taxi to take them to Mont Saint-Michel.
[19:03] They got to Mont Saint-Michel in a cab that got them there very late, 10 minutes before the last shuttle. You cannot drive yourself up, you must use the shuttles. This turned out to be a lovely way to do it because it is beautiful at night and there is not a soul around. They stayed at a hotel called Mouton Blanc at the Mont Saint-Michel. The hotel was a little bit run-down, but the view was great and the staff was fantastic to help them deal with the rental car situation.
The Best Way to Visit the Mont-Saint-Michel
[22:00] How to get the most of the Mont Saint-Michel: arrive early enough to check-in to your hotel and have a couple of hours to look around before the golden hour. The golden hour is the time an hour before sunset and an hour after. It matters a lot to photographers, but it's beautiful light for anybody. Then the next morning get up really early to get be in place for the sun-rise. If you can explore through the Mont Saint-Michel when all the tourists are gone, it is heaven. Check the opening hours for the Abbey and visit it as soon as it opens in the morning and then get out before the bus-loads of tourists trample you over!
[23:52] Next stop Loire Valley and a canoe ride under Chenonceau Château. The canoe trip under Chenonceau didn't happen because of the car troubles.
[27:00] Cider farm in Beuvron-en-Auge called Manoir de Grandouet, self-guided tour with cider tasting.
[32:13] Advise for people who are considering going to Normandy. Spend 2 or 3 days for people with kids. She wishes they had more time in Bayeux, where they just saw the gift shop for the Tapestry museum.
[33:00] When you visit the Bayeux Tapestry, you are on a conveyor belt and your audio guide tells you about what you are looking at and it takes maximum 30 minutes.
Movies You Should Watch in Preparation for Your Visit to Normandy
[34:45] Learn as much as you can about the history as you . Watch Band of Brothers and Saving Private Ryan where you can see where it all happened. See as many of the museums as you can. D-Day activities happen the entire month of June, you don't have to be there on June 6th. There were military vehicles everywhere and that was fun to see.
[36:00] Most of the villages around Normandy have at least a little booth where you can go get information. There are activities you can add for kids, fishing or horse-back riding. There are options for that if you research it a little bit.
[37:30] Honfleur would have been a great place to go boating or spend time around the harbour. They talked about staying in Rouen and go along that route, but they chose the cider route instead.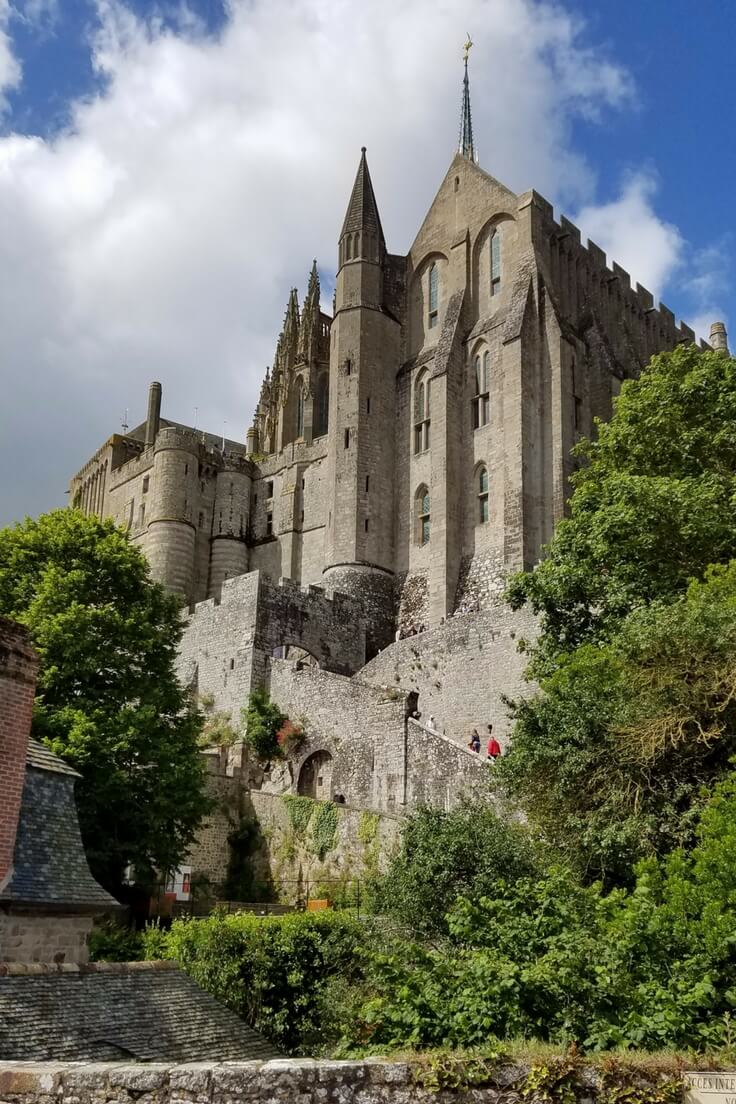 Subscribe to the Podcast
Apple
Google
Spotify
RSS
Support the Show
Tip Your Guides
Extras
Patreon
Audio Tours
Read more about this show-notes
Episode Page
Categories: Family Travel, Normandy & Brittany