Table of Contents for this Episode
Category: Montpellier Area
Discussed in this Episode
Artignoc-sur-Verdon
Moissac-Bellevue
Moustiers-Sainte-Marie
Cassis
Hiking the Gorges du Verdon
Open Air Market in Riez
Carcassonne
Auberge de Jeunesse in Carcassonne
Restaurants in Carcassonne
Active Vacations in France
Young Couple in France
Artignoc-sur-Verdon
Their first stop in Provence was at an AirB&B called Maison des Voyageurs, and was a renovated pigeon tower in Artignoc-sur-Verdon. Very much off the beaten track, the village did not even have a restaurant! Katie and Nathan loved this place, recommend it highly!
The owners were a Belgian couple who made them feel very much at home. Michel, the owner is an astronomer and owns a large telescope. He's also a watercolor artist and decorates the home with original works.  The woman, is also a watercolor artist and a scrapbooker in the European style. That means that she cuts pictures into geometrical shapes and uses them almost like a puzzle with watercolor in between.
Moissac-Bellevue
The first night they directed them to Moissac-Bellevue to the nearest open restaurant. [1'05"] Nathan was adventurous and ordered "bulots" which are sea snails served with aioli, and he liked it! The name of the restaurant they liked so much is Bellevue.
Moustiers-Sainte-Marie
After this lovely dinner they went to Moustiers-Sainte-Marie. It's a town built into a cliff and there is a watery ravine going right through it. It's beautiful at night when it's all lit-up. There is a pilgrimage site up the hill with a cross and a little church. There are stations of the cross going up too. The chapel is open at night, which is not common, so people can wander in if they want to. The town overlooks the Lac de Sainte-Croix.
Walking around this town is truly a hike. It is very steep and it is cobblestone paths.  The stone was very slippery also. People with limited mobility should not try to walk up the path to the church. Wear good walking shoes too!
Cassis
In Cassis they walked to the Calenque de Port Pin (easy hike), but once there they realized that they could have also rented a sea kayak in Cassis and made  their way there in 1/2 hour.
There are plenty of people who swim in the Calenques. The water is very cold, but you can lay out on some rocks to dry off. This area is mostly French people. You can go topless if you wish, just like most  other beach in France.
That night was Fête de la Musique (June 21 every year in France), on the recommendation of their Air B&B host, they went to a vineyard called Château Fontainebleau du Var (in Le Val). This is a "high class joint" (Nathan's words), they had a duet who were doing covers of American pop songs, they had Tapas, and more "stinky cheese".   Katie shares her French Munster story. French Munster is very smelly, it is not a cheese that travels well. The atmosphere at the Château was a little more stuffy than they thought it would be, but it was still enjoyable.
Hiking the Gorges du Verdon
Katie and Nathan drove to the town of Quinson where they followed the road down to the water in the town, and just on the other side of the bridge there is a wonderful trail. There is a canal right next to the Gorges (it is called Ancien Canal du Verdon). The canal is not in use any more, and most of the path that workers used to build this canal have reverted back to their natural state, but there is a 3.3 km area around Quinson that was reclaimed and is one of the most popular areas of the Verdon Gorge. Locals call it the Canal de Garde.
This area is gorgeous because you are in the Verdon Gorge and you have the dry canal on one side and the river on the other. At the Lac de Quison you can rent small electric boats, but there are other places that will rent regular paddle boats in the area. Type "locations bâteau quinson" in your favorite search engine to find several offerings.
You hike around the gorge going west, then you hike up out of the gorge and back down. It's a nice length, some of it in full sun, bring lots of water. If you know it's south of the bridge you can find the trail-head if you're looking.
Open Air Market in Riez
The market in Riez features a lot of lavender products, including lavender soaps, lavender honey. Olive wood souvenirs, lots of great food. Wherever you are in France, ask where and when the local market is, those are always worth checking out!
Carcassonne
They visited the Château Comtal inside of the Cité de Carcassonne. It is interesting but it is pretty much empty other than architectural pieces that were brought in to preserve them from the elements. Also, when you tour the Château Comtal you get access to more of the Walls of Carcassonne.
Auberge de Jeunesse in Carcassonne
They stayed at the cheapest place they could find inside of Carcassonne, the Auberge de Jeunesse. It is extremely well situated within the city walls. When they went, the place was almost exclusively rented to a student group of 10 to 12 year olds, and that was not ideal. If you are visiting France while school is still in session but near the end of the school year, you will often run into school trips. They offer private rooms with shower. The sheets were disposable and felt like they were made out of paper. Bad mark there.
If you are going to stay at an Auberge de Jeunesse, because levels of service vary so much from one to the other, you should probably bring a couple of sheets (large enough that you can wrap around various size mattresses) and pillow cases. That way you won't have to deal with the disposable sheets. Also bring your own bath towel and toiletries because they will not supply any.
Do not miss the church within the walls in Carcassonne, it is gorgeous and there is often a group of male singers from Russia who sell their CDs and sound really good.
Restaurants in Carcassonne
The local specialty is Cassoulet, must try if you go to Carcassonne. It's a bean and duck/pork dish. There is nothing wrong with the restaurants in Carcassonne, but you have to know that in touristy cities like Carcassonne, it is hard to find a restaurant that cares at all about repeat customers. The restaurants know they will feed you once and you'll never come back. So, they all serve the dishes tourists have heard about (in this case Cassoulet) and don't worry about developing their brand.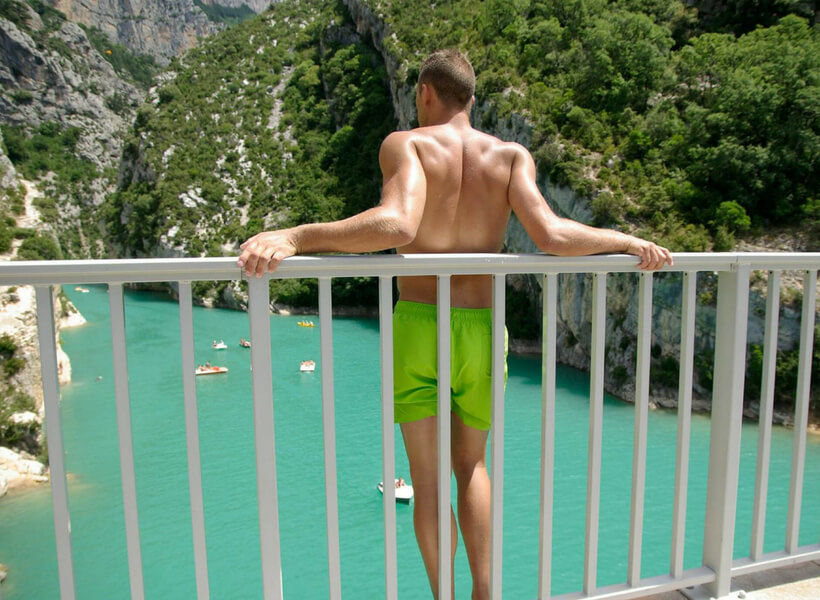 Subscribe to the Podcast
Apple
Google
Spotify
RSS
Support the Show
Tip Your Guides
Extras
Patreon
Audio Tours
Read more about this show-notes
Episode Page
Category: Montpellier Area