Category: Provence
Discussed in this Episode
Goult
Gordes
Ménerbes
Roussillon
Bonnieux
Lourmarin
L'Isle-sur-la-Sorgue
L'Atelier Cuisine de Mathilde
Le Lubéron à vélo
Villefranche-sur-Mer
Èze
Budget Hotel recommendation
Trip purpose: Tom and I visited the Luberon Valley in 2017 and loved it. It was part of a 2 weeks trip to France. We so enjoyed the area we wanted to share it with our children. So we rented a villa.
Rental process: First we researched villages. On our prior trip we had visited several, and wanted one that was not just a tourist village. Rather a village where people lived, worked, shopped, etc. as we wanted to experience French country living in Provence. I made a list of criteria, narrowed the village options then began searching for villa. I used HomeAway. I emailed owners, set up Skype calls, read reviews, checked location on Google maps, etc. and finally selected a villa in October 2017 for a June 2018 visit.
Roussillon merits: picturesque, historic, unique, natural beauty (ochre cliffs), towns people and everyday activity, local boulangerie, butcher, market, local tractor parade, St Jean Baptiste festival, historic home, etc.
Area attractions: Pont du Garde (per your podcast suggestion), Château La Coste Winery, cooking school in Aix en Provence (I will send link), Ochre cliffs park, nearby villages of Gordes, Bonnieux, Goult, etc.
Most memorable: shopping for local provisions, cooking in our villa's lovely kitchen and dining together as a family, sharing the Provençal experience.
Pre and post villa: Prior to Roussillon, Tom and I visited Loire Valley and Burgundy based on traveler suggestions in podcasts. Afterward, we stayed in Villafranche sur Mer – stunning! Our travel consultation with you was so helpful. Abby and Ben (our daughter and son in law) visited in Paris, and afterward, Eze and Chamonix based on your recommendations during a travel consult. Son Andrew and wife Amanda also visited Paris and Eze before returning to Paris for once last night.
It was a magical holiday for our family which we will always treasure!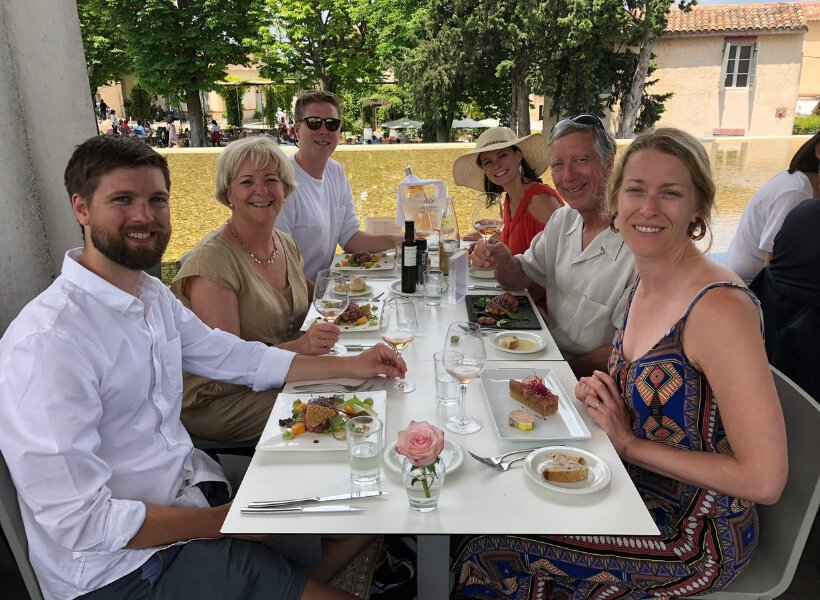 Subscribe to the Podcast
Apple
Google
Spotify
RSS
Support the Show
Tip Your Guides
Extras
Patreon
Audio Tours
Read more about this guest-notes
Episode Page
Transcript
Category: Provence