Categories: French History, Loire Valley
Discussed in this Episode
Chinon
Loches
Sainte-Cahterine-de-Fierbois
Orléans
Azay-le-Rideau
Loire Valley with Joan of Arc focus from early May 2022 – 7 nights
With so many châteaux and lovely towns and villages, having a theme such as Joan of Arc helped us focus on which places to go and which ones to save for another time! Not every place we went to was related to Joan of Arc such as Chenonceau, Azay-le-Rideau, and Chambord, but they were places we wanted to visit. Travelers could choose another "theme" to plan their trip such as certain types of châteaux and their gardens, or châteaux related to one of the other kings of France or those related to women like Chenonceau. This website provides information about 103 chateaux and monuments and I found it very helpful in addition to your itinerary review.
In May 2021 you did an itinerary review with me, which also helped me realize we were just not going to see everything on my list and enjoy the pace of the trip. There is a lot to do in this part of the Loire Valley – we had to skip a number of other châteaux and towns, as well as skip taking a hot balloon ride over the valley (but they came over the B&B which was a gorgeous thing to observe). There are also wineries around Blois and Vouvray that are built into the rock and we almost changed our plans to include an overnight stay there at one of these two B&B that were highly recommended by friends who had been: https://www.laperluette.fr/en/ or https://www.la-rocheliere.com/en/.
Below are just a few of the other places that one could easily also visit from this area:
Châteaux – Amboise, Chaumont, de Sully, Cheverny, Ussé, and Villandry
Joan of Arc sites in Tours, Patay, Poitiers, Jargeau, and a few others
Before Loire week, I was in Paris for six nights by myself. On May 2 my husband arrived, and we picked up a reserved rental car at CDG and drove to Loire Valley which is not a long drive. Just getting from CDG to outside of Paris is the longest due to congested traffic. My focus on this trip was to visit a number of sites related to Joan of Arc and to find sculptures, public monuments, and commemorative plaques related to her.
Our itinerary:
We stayed 2 nights at Sans Souci B&B in Luzille. Breakfast was included and is a divine affair, owners/hosts are extremely hospitable and take great pride in their B&B and hospitality.
In route to Luzille from CDG, we explored Blois – there is a château (was told that this is the chateau to visit because many furnishings are original period), cathedral, a bridge across the Loire River (very scenic), shops, and restaurants. There is also an evening light and sound show on the chateau, which we did not stay for because we had a private dinner scheduled at the B&B. That dinner was our best dinner while in the Loire by Chef Matthew at Sans Souci B&B.
During our one full day from the B&B, we made four stops:
Muides-sur-Loire/we stayed 1 night at Le Brame de Sologne
On the way to Muides-sur-Loire we visited Château de Chenonceau – it was a gorgeous day and easily managed the self-guided tour and strolled through numerous gardens and along river.
In Muides, we went down to the Loire River to walk and found a riverside "food truck" where we enjoyed a beverage and watched the locals visit with each other
Dinner at La Salamandra in Thoury, a small village, was delicious! Peter enjoyed an artisan ale called 1515; said it was chocolaty.
In route to Orleans, we made three stops:
Château de Chambord – This place is huge! We spent the entire morning here doing a self-guided tour and lunch on the terrace (I sat down, Peter walked with a sandwich).
Beaugency – Notre-Dame church, Dunnois Castle, clock tower, 16th-century townhall, Caesar Tower, timber frame houses, long bridge over the Loire. Joan of Arc led the troops to take back this town and Meung-sur-Loire from the English.
Meung-sur-Loire – Château de Meung, St. Liphard church, covered market hall, gardens, timber frame houses, bridges (there's a hôtel that I would stay at next time right on the river). We were also told about a traditional boat operated by the association, 'Coeur de loire'.
Orléans/stayed 3 nights at Hôtel de l'Abeille
Orléans:  There is a lot to do in and around Orleans. We timed our trip to enjoy the Fetes de Jeanne d'Arc – which is a 10-day celebration. We were there for the last three days of it. Each year a young girl is chosen to portray Joan of Arc, and she attends a lot of different events during this festival. This year, Clotilde Fouguet d'Arc, was chosen and she is a many times great-niece of Joan of Arc through Joan's brother, Pierre! It was so cool to see her.
St. Croix Cathedral, Notre-Dame des Miracles, St. Marceau Church
We walked across the bridge to the Les Tourelles area where Joan was hit by a crossbow arrow and the French beat back the English.
Hôtel Groslot – gorgeous architecture and small exhibits related to Joan of Arc and others. A number of historic events happened here as well.
Military Tribute Parade to Joan of Arc and the Joan of Arc procession – this is quite an affair complete with military jets flying over!
Light and Sound Show – this was spectacular! The recording is here: https://www.facebook.com/orleansactu/videos/569600361232475/
Medieval Fair – so fun – kids played games, petting zoo, food and crafts stalls, etc.
The Hôtel de l'Abeille was a wonderful boutique hotel in an ideal location. It is a locally owned (opened in 1903) and managed hotel, complete with antiques of which many feature Joan of Arc. Their breakfast was delicious, and the staff was gracious.
One day, Peter rented a bike to explore along the Loire bike trial. He came upon a club, so it seemed, where teams were jousting in boats! He also noticed a lot of bikers who were set for camping along the trail. He was very impressed with the trail and the beauty of it right along the river. Discover the Loire on our bikes… at your own pace! – Détours de Loire
On our last night, we had dinner at Assiette Gourmande – halal dishes, no alcohol, favorite: chicken and mushroom sauce.
Then our final full day was mostly about driving back to CDG and returning the rental. We spent the night at CDG Ibis (we will not stay there again as it was just not that comfortable a room, instead I recommend Hilton CDG which is also nearby). Dinner and breakfast at the hotel. Peter flew home the next day, and I went back to Paris to wait out COVID-19 at a Hotel Opera Folkestone. My last night was at Hilton CDG – dinner at the hotel was excellent!
Websites (I've listed the ones that I used most frequently in addition to the links above)
https://www.leschateauxdelaloire.org/
https://www.touraineloirevalley.com/
https://www.tourismeloiret.com/fr
https://www.tourisme-terresduvaldeloire.fr/
https://sanssoucibedandbreakfast.com/loire-valley-attractions/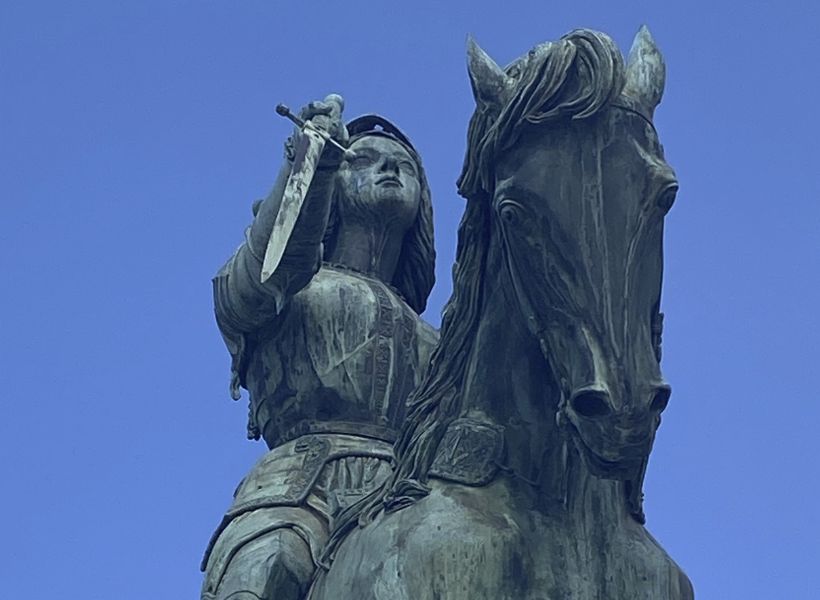 Subscribe to the Podcast
Apple
Google
Spotify
RSS
Support the Show
Tip Your Guides
Extras
Patreon
Audio Tours
Read more about this guest-notes
Episode Page
Transcript
Categories: French History, Loire Valley