This post contains affiliate links, meaning I get a commission if you decide to make a purchase through my links, at no cost to you. Please read my disclosure page for more details.
Categories: French History, Loire Valley
On today's trip report, my guest Kim Loftus explains how she went on a sort of treasure hunt in search of Joan of Arc in the Loire Valley. This trip took her to the wonderful towns of Chinon, Loches, Sainte-Cahterine-de-Fierbois, Azay-le-Rideau, and Orléans of course.
Chinon and a Visit with a Histopad
Chinon is the place where Joan was introduced to the future Charles VII and story has it she recognized him because of inspiration from Saint Catherine. For today's travelers it is important to note that besides the chateaux, you can also visit wineries in this area. Chinon is on the Vienne river. They also had histopads available at Loches as well.
Chinon might be a good place to stay for a few days. They stayed at a B&B called Sans Souci  in Luzillé a small place in the country. It is on the western end of the Loire Valley.
Loches, the place where Joan went asking for horses
Loches was a wonderful surprise, it's a small place and there were a lot of seniors in the village when Kim visited. As a prisoner during the later stages of her extraordinary journey, Joan found herself confined within the imposing walls of the Château de Loches. This fortress became a crucial backdrop to Joan's story, serving as a testament to her unwavering resolve and unyielding faith. Exploring the ancient halls and corridors of the castle, visitors can catch a glimpse of the conditions she endured and gain a deeper appreciation for the indomitable spirit that guided Joan throughout her remarkable life.
Sainte-Catherine-de-Fierbois and the story of the sword
Sainte-Catherine-de-Fierbois holds great significance in Joan of Arc's story. It was in the historic church of Sainte-Catherine-de-Fierbois where Joan famously acquired her legendary sword, which she believed had been miraculously revealed to her. This event marked a pivotal moment in her journey, solidifying her belief in her divine mission. The church stands as a testament to Joan's profound spiritual connection and unwavering conviction. Today, visitors can explore this sacred site, gaining a deeper understanding of Joan's faith and the pivotal role that Sainte-Catherine-de-Fierbois played in shaping her remarkable legacy.
A Day at Chambord
They used the self-guided tour and did not attend any events, but there were a lot of different activities you could attend. You can bring a picnic or buy lunch there. You can rent bikes to explore the vast grounds at Chambord.
Orléans and the Fêtes de Jeanne d'Arc
The Fêtes de Jeanne d'Arc is a 10 day celebration late March / Early May each year. Each year they choose the choose a young lady to represend Joan in the parades. They retell the story of what Joan did and how she led the troops over the Loire Bridge. When it gets dark they start projecting images over the Cathedral and they have speakers all over where you hear the narrative.
Joan of Arc in the Loire Valley Recommendations
Sans Souci B&B in Luzillé
Le Brame de Sologne very close to Chambord and also close to Chinon
La Salamandra restaurant in the village of Thoury
Hôtel de l'Abeille in Orléans
Hotels near CDG in Paris
Kim and her husband like to stay at the airport before they fly home. They've stayed at the IBIS and it was too basic. The much prefered the Hilton. Here are more hotels you can book near CDG:
Mercure Roissy Charles-de-Gaulle: A good choice if you are looking for a hotel close to the airport that doesn't cost a fortune. There is a free shuttle between the terminals and the hotel that runs about every 20 minutes. Then it's a 20 minute drive in the shuttle. So, you need to plan on an hour to get between the hotel and the airport, but the accommodations are comfortable and the rooms are bigger than what you'll find in Paris city center. We've used it and think it's a good option!
Sheraton hotel at CDG: this hotel is located in Terminal 2, perfect for early morning flights with the comfort you expect from a Sheraton hotel.
Holiday Inn Express CDG: this hotel is within a couple hundred meters of CDGval, the free train into the airport. Easy access to the airport and comfortable rooms.
CitizenM CDG: All you have to do is walk across the street to the airport. The rooms are small and the decor very modern, but you have everything you need for a peaceful night before your flight.
Novotel Parsi CDG Airport: also really close to the CDGVal, easy access to the airport early flights.
Hyatt Place CDG: A little bit further than the previous hotels but there is a free shuttle to the airport and IMO Hyatt Place beds are PERFECT 🙂
Ibis Paris CDG: This is the no frills yet comfortable option. There is a free shuttle to the airport and a restaurant on-site.
#JoanOfArc, #LoireValley, #FrenchHistory, #HistoricalJourney, #MedievalTimes, #HistoricalExploits, #ExploringHistory, #TreasureHunt, #TravelThroughTime, #InspirationalFigure, #HistoricalSites, #UncoveringThePast, #EnchantingDestinations, #HistoryUnveiled, #IconicHeroine, #RemarkableJourney, #ExploringHeritage, #CulturalHeritage, #UnforgettableAdventure, #TimelessTales
FOLLOW US ON:
Discussed in this Episode
Chinon
Loches
Sainte-Cahterine-de-Fierbois
Orléans
Azay-le-Rideau
Subscribe to the Podcast
Apple
Google
Spotify
RSS
Support the Show
Tip Your Guides
Extras
Patreon
Audio Tours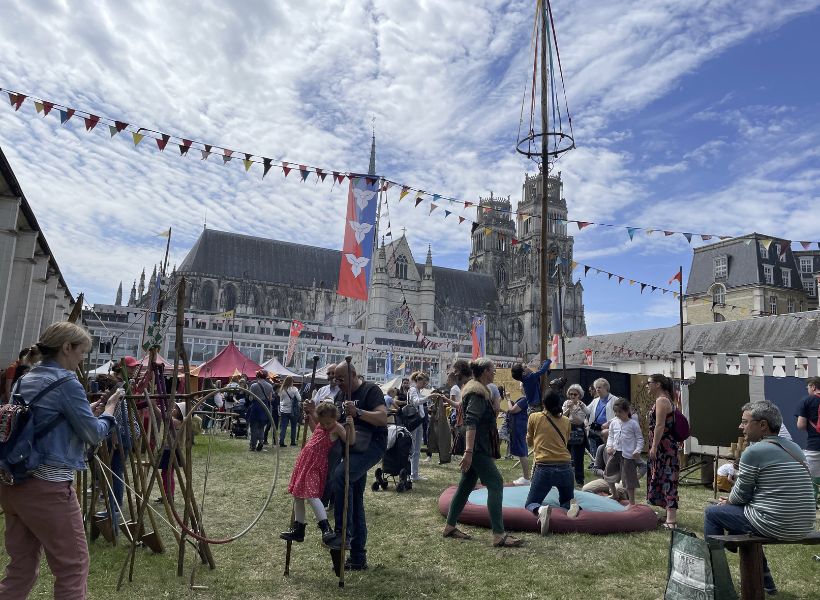 Read more about this episode
Transcript
Guest Notes
Categories: French History, Loire Valley