Category: Bordeaux Area
Discussed in this Episode
Saint-Émilion
Pomerol
Médoc
Surfing
Cadillac
Saint-Macaire
Rions
Castelmoron d'Albret
Abbaye de la Sauve Majeure
Bassin d'Arcachon
Dune du Pilat
Plage de Pereire
Plage du Moulleau
Cap Ferret
Cabanes à huitres
I'm Ira, originally from Israel, I currently live in Bordeaux with my husband and my two kids. I moved to Paris with my husband almost 9 years ago. A year prior to our move we traveled in France and completely fell in love with everything here so we decided to come study in France. Initially, it was supposed to be a fun experience of 3-4 year but somehow France became home and after 6 years in Paris, life brought us to Bordeaux.
I knew almost nothing about Bordeaux before moving here, except that it's the world capital of wine and that it's really beautiful. I moved here at the end of my second pregnancy so I knew that I would have about a year to enjoy my maternity leave and discover the city. And that's what I did, I met a few English speaking moms and together we enjoyed the chic coffee places in Bordeaux and went to exhibitions.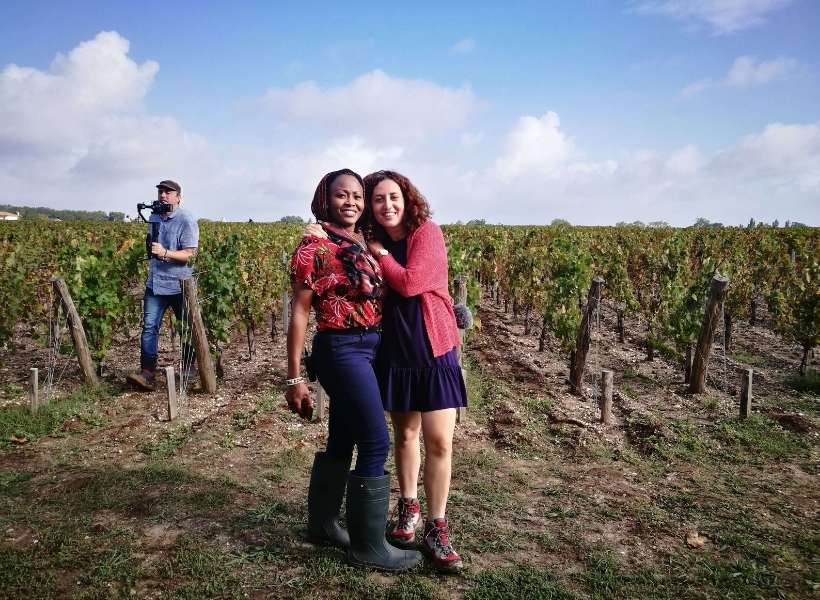 I remember that there were two things about Bordeaux that were surprising to me. First, the fact that there is a large English speaking community in this region. And that despite Bordeaux's rising popularity as a travel destination, there was almost no good information about things to do in this region in English. I started following local French bloggers and talking to a lot of locals that have been living here for years and that helped me discover amazing places that you simply couldn't find online in English. So I decided to write a blog about it. I named it Lost in Bordeaux, as writing it was my way to feel less lost 🙂
There's an enormous amount of events here. We have different wine festivals, art weeks, open doors events in every wine appellation and basically every agricultural product that is produced here gets its "fete" so at the beginning my blog was mostly about the events taking place in Bordeaux and generally in the region. But as it grew and as I gained more and more knowledge about the region I started writing mostly about places to visit here. I write a lot about interesting heritage sites, beautiful villages, beaches, wine chateaux in the region and more.
Since then it grew quite a lot and I have a nice community of followers who either live or visit here and I even created a Facebook group called "Travel in the Southwest of France" to help guide travelers in the region.
The podcast
I discovered the Join Us podcast at the beginning of the confinement in France. I was guiding food tours in Bordeaux before the lockdown and obviously all my tours were canceled so I decided to take this time to learn more about places to visit in France and that's how I found this amazing podcast. Now I have a long list of places I want to go to 🙂
Day trips from Bordeaux
There's quite a lot of articles dedicated to visiting Bordeaux, including one episode on your podcast. So today I want to share a few recommendations for amazing day trips you can do from Bordeaux.
How to get there – There's an airport in Bordeaux which until recently at least had an impressive number of international flights arriving here. If you don't have a direct flight to Bordeaux from your country you can take the fast train from Paris (it takes only 2 hours). Once here, I recommend renting a car as many of the places on my list are hard to reach by public transport. If you stay only in Bordeaux, you don't need a car.
Before we start, I want to emphasize that Bordeaux itself should not be missed. It's one of the most beautiful cities in France and since the massive renovation project that took place during the late 90s, it became also one of the most pleasant cities to travel to. Generally, when tourists come here for a long weekend they tend to spend only one day in Bordeaux, but I would really encourage you to spend at least 2 days here, if possible of course. There's just too much to discover.
However, if you're limited in time or not a city person I can suggest plenty of day trips around Bordeaux and in my opinion, the main advantage of Gironde is the diversity of things to do, there's something for everyone.
I want to offer four ideas for day trips in the Bordeaux region, each one is very different in its nature and will take you to a different direction in Gironde.
1.    Wine routes
Bordeaux is known as the wine capital of the world so a wine-related day trip is almost mandatory.
The most famous wine day trip is Saint Emilion. What I think many people don't know however is that Saint Emilion itself is also a beautiful medieval town with a historic importance to this region. I don't want to get into too many details here as I know you have an excellent episode about Saint Emilion on your podcast. If you don't want to rent a car for the trip this would be one of the only wine routes you can do by public transport.
There's a direct train from Bordeaux to Saint Emilion so it's fairly easy to get to. If you want to visit a winery I strongly recommend booking the visit in advance. However, here's a little tip – the tourist office in Saint Emilion publishes a daily list of 3-4 chateaux that are open to visits without prior reservations.
Saint Emilion is quite a big wine region and to visit most chateaux you will need a car, but there are a few wineries close to the city center.
I want to stay a bit longer on wine-related tourism. Most people are not aware of it, but there are actually five regions of Bordeaux wine and each one makes for a great wine trip. So Saint Emilion is the most famous one, but if you're looking for something a bit less touristy you can do one of the following wine tours:
Medoc – located north to Bordeaux, on the left side of the Gironde Estuary – a huge wine region that is especially admired by avid wine lovers. For those who have some time, I recommend going for a weekend to Medoc as there's a lot to see apart from wineries.
Graves and Sauternes – South to Bordeaux, the left side of the Garonne – Graves is known as the birthplace of Clairet – the British listeners will probably know what it is. Sauternes is a very famous sweet white wine. On the way you'll pass through some small cute villages. Really great atmosphere.
Entre Deux Mers – Located east to Bordeaux – the white wine region of Bordeaux and actually the biggest wine region of Bordeaux. We will talk later about all the amazing places you can visit in this region.
Blaye – Located north Bordeaux, on the right side of the Gironde Estuary – the least known one but for sure a wine that needs to be discovered and an amazing citadel.
For those who prefer not to leave the city, there's also one beautiful winery located in Bordeaux Metropole. The winery is called Chateau Pape Clement and it's one of the oldest wine properties in the region (14th century), it's located in Pessac and you can reach it by bus from the center of Bordeaux.
2.    Bassin d'Arcachon
Now let's move from vineyards to beaches. The Arcachon Bay is located on the Atlantic ocean about one hour drive from the center of Bordeaux. The bay is a big area with a lot of places to visit and a dozen beautiful beaches so it's always better to know where to go before going on a day trip here. Arcachon is also an important region for oyster farming which was actually set up by Napoleon 3rd during the 19th century. The first oysters' parks in France were in Arcachon and were called les Parcs Impériaux. Today there are many oyster farming ports all over the Bassin d'Arcachon and you can spot many oyster cabanes where you can have a plate of oysters with white wine directly from the farmer.
So let's talk about specifics, where to go there?
If you don't have a car and you're planning to travel by train your destination is Arcachon city. It's a resort town in the southern part of the Bassin which tends to get very busy during the summer, so if you want to go to the beach, you would probably want to avoid the central one. From the center, you can continue by bus (or rent a bike) and go to Plage Periere or continue to the more southern beaches Plage de la corniche or Plage de Petit Nice. There's one thing you absolutely shouldn't miss and that's Dune du Pilat – the biggest sand dune in Europe. The view is absolutely spectacular.
The other side of the bay is the Cap Ferret Peninsula.  In recent years, Cap Ferret (the town) became a getaway for rich Parisians. It does get extremely busy during the summer but it somehow still holds an authentic feeling of a fishers village. It's also one of the main oyster farming ports with plenty of oyster cabanes. One of my favorites is La Cabane du Mimbeau. My favorite village on the Peninsula is definitely L'herbe, a tiny village that is entirely dedicated to oyster farming. There are also plenty of beautiful and very kids friendly beaches along the bay side of the peninsula. However, you should always check out the tide hours as the water can be quite far.
3.    The villages of Entre Deux Mers
Entre Deux Mers is a sub-region of Bordeaux located between the Garonne and the Dordogne rivers. It's rich with heritage, nature and excellent wine and is a bit overlooked which is a shame as it's one the most beautiful parts of the region. Apart from wine, this region is known for some of the most beautiful bastide towns in the region. There are quite a few bastide towns in this part of Gironde as well as the neighboring departments of Dordogne, Lot et Garonne and Gers. Bastide towns were built under the British rule during the 13th and 14th centuries and were then called "ville neufs", the new cities. Among the most interesting Bastide towns in Entre deux mers you can find, Monségur, Sauveterre-de-Guyenne and Cadillac. You can also continue east and visit the beautiful Eymet village in Dordogne which is one of the most famous bastide towns in the region.
Cadillac is one of my favorite villages in this region. It has an impressive chateau, that was originally built for the Duke of Épernon. However, since the French Revolution, the castle was used as a women's jail and was supposedly a very cruel one with high suicide rates. Today, the upper floor of the chateau is a museum dedicated to the jail and you can see how the women there used to live.
Another beautiful village is Saint Macaire which was a very important town under British rule and was declared the "ville royale d'Angleterre" (The English royal city) in 1341. During the 13th and 14th centuries, it was one of the most prosperous cities in Aquitaine due to its significant agricultural and trade activities.
Today it's still surrounded by its original defense walls and it's worth a visit, especially if you arrive in the last week of August – there's a medieval festival there (not this year of course).
You can also continue east and visit the smallest village in France – Castelmoron d'Albret
4.    Nature– our last trip is dedicated to hiking lovers. There are many options for hiking in the region, one of my favorites is Hostens. Domaine des Lacs d'Hostens is located at the heart of the Landes de Gascogne forest (50 km from Bordeaux) and offers some of the best hiking trails you can find near Bordeaux. There are five lakes in the Domain with plenty of water activities as well as hiking trails, mountain bike trails, and more. There are three trails in the Domain of Hostens:  8, 11 et 16 km long so there is something for both fit walkers and people who just want to enjoy a relatively short walk in nature. The best part of it is that there's also a beautiful beach next to one of the lakes, which is a perfect way to end a hike.
Some final tips/things I wish I would have known
If you're coming in the touristic season and you're planning on going to Saint Emilion – book your restaurant in advance
This one is pretty important – all the restaurants, even in the center of Bordeaux are closed from 14:30 until 19:30 so unless you want to finish at Mcdonalds, think about what you will eat for lunch.
Arcachon gets very busy when the weather is good – go early to avoid traffic!
Oysters cabanes in Arcachon – oysters are the only food you can order there as that's the license they have so if you want more than that you'll have to find a normal restaurant.
Subscribe to the Podcast
Apple
Google
Spotify
RSS
Support the Show
Tip Your Guides
Extras
Patreon
Audio Tours
Read more about this guest-notes
Episode Page
Category: Bordeaux Area