Categories: French Culture, French History, Toulouse Area
This episode features our frequent and very popular guest Elyse Rivin. If you enjoy her episodes, please consider supporting her on Patreon.
What do most people do when they hear about a lesser known city like Moissac? I fear they move on and never find out that while Moissac isn't the star of the show on Instagram, it has a lot to offer:
A major city for people interested in Medieval history
An important stop on the Chemin de Compostelle (what many people call the Camino)
The Moissac Abbey is a Unesco world heritage site because it played such an important role in the Compostelle Pilgrimage
The area is a major food producing area where they produce delicious fruit
The whole city of Moissac worked to save Jewish children during WW2 and, sadly, not enough French cities did the same thing
So, yes Annie and Elyse think Moissac is worth a visit. It probably won't take more than half a day, but if you enjoy Medieval church art you really shouldn't miss it!
General Information About Moissac and its Abbey
Moissac is a small town, of about 13,000 people in the Tarn and Garonne department. It is about 1 hr from Toulouse by car, a little more than 30 mn from Montauban, and is also about an hour from Castelsarrasin. It is reachable by car, or train, on the line that goes from Toulouse to Bordeaux.
Moissac is largely known for the ancient abbey that is there and the fact that it is on the Pilgrimage Route to Compostelle. It is also known, among the people who live in the southwest, for being a major agricultural city in the center of a huge fruit growing region.
There is a special table grape called the 'Chasselas de Moissac' which is highly prized everywhere in France: a sweet, pale colored, special table grape that is very fragile, and which has an AOC label, just like wines do. Sometimes Moissac is called the 'city of Chasselas". Over 73 % of the local economy derives from the production and shipping out of fruits grown nearby: grapes, plums, apples, pears and kiwis.
But in fact, most visitors come to Moissac not to eat the fruit!! But to visit the famous Abbey and church of St Pierre.
Weekly Updates from Annie
After my chat with Elyse (starting at around 45 minutes) I'll tell you how the health pass is making it possible for French associations to get back to normal at last. As you can guess, all soccer clubs, choirs, theater groups, sewing groups, have had to cancel everything since March 2019. Well, they're back thanks to the health pass and I'll let you in on how that works in France.
I'll also update you on new rules for Americans visiting France (at around 60 minutes).
To read the summary of the history of Moissac as discussed by Elyse, click on Show Notes below.
Visiting Moissac and Local Gastronomy
There is a parking area just above the monastery and there is some parking on the street as well. It is possible to walk to the monastery from the train station but it is a bit far.
There are many little cafés and places to eat on the long esplanade leading up to the monastery and there are a few restaurants on the large central square with a covered market at the other end of the esplanade.
And, if by some chance you go to visit Moissac in the Fall, you can taste the delicious fruits that are grown locally, especially the sweet Chasselas grape!
Moissac is an incredible stop for those interested in architecture, sculpture, and history. And also for anyone contemplating doing all or part of the Pilgrimage Route to Compostelle.
More places to visit in the Toulouse area
FOLLOW US ON:
Discussed in this Episode
Saint Jacques de Compostelle
The largest library in France and a major scriptorium
The golden age of Moissac
Moissac during the war against the Cathar heresy
Moissac during the French Revolution
The Abbey of Moissac becoming a historic monument
Moissac protecting Jewish children during WW2
Visiting the abbey today: the remarkable architecture of the doorway
Church and cloister
The cloister of Moissac: the first capitals that tell stories
Walk around the capitals with the list in hand
The romanesque doorway
The tympanum of the Moissac cathedral
A gothic church in the south of France
Visiting Moissac and local gastronomy
How life in France can resume thanks to the French Health Pass
New travel rules are implemented in September 2021 but vaccinated visitors still welcome in France
Subscribe to the Podcast
Apple
Google
Spotify
RSS
Support the Show
Tip Your Guides
Extras
Patreon
Audio Tours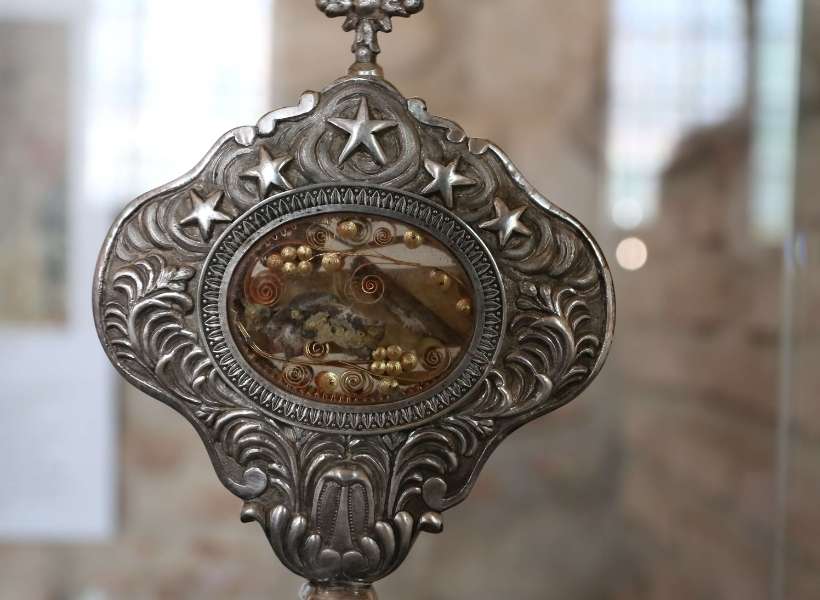 Read more about this episode
Show Notes
Categories: French Culture, French History, Toulouse Area