This post contains affiliate links, meaning I get a commission if you decide to make a purchase through my links, at no cost to you. Please read my disclosure page for more details.
Categories: France How To, Health & Safety
Are you eager to go back to Paris but the latest wave of the pandemic is holding you back? My guest on today's episode of the podcast, Whitney Szypula, certainly didn't let the pandemic stop her. She got vaccinated and made a plan to come immediately.
But what is it like to travel to France in Covid times? Did it feel risky? Are there restrictions? What are they like? Is it even worth it? What happens if you don't wear a mask in the Paris metro?
What is it like to travel to France in Covid times?
Americans were welcome back in France on June 9th, 2021 and she landed on June 10th! This is the first day Americans were allowed to enter France after several bouts of covid-related lock-downs.
Whitney was in France for 3 weeks with her partner who is French. They explored Paris together and then went to visit Provence and Savoie where he lives. She shares some wonderful suggestion Let's talk about it!
Travel to France in Covid Times: Health Considerations
Americans who are vaccinated don't need a negative test to enter France, but right now they need one to return to the US.
Any pharmacy in France can give you a Covid test, but the timing is important. Americans can do a rapid test.
Covid test are not free in France: 29€ for the rapid test and 49€ for a PCR test. Pretty soon French people will need to pay for their Covid tests too.
Some venues in France ask for the Heal Pass PLUS identification.
Mask compliance is very high in France
You can get fined for not wearing a mask on the subway in Paris, Whitney did and tells us about it (8 minutes into the episode).
Vaccination rates are high in mainland France.
Martinique and Guadeloupe are back on lock-downs because their vaccination rates are too low.
Whitney's First Trip to France
Here are the things Whitney particularly enjoyed on her first visit to France.
The Greenhouse at the Jardin des Plantes in Paris
Plant nerds would love the plants at the Jardin des Plantes in Paris. The rose garden is very large and beautiful. The greenhouse is really stunning. You have to pay a small fee to get in, but it's amazing. There is a tropical section, dessert plants, a tropical garden (like New Caledonia). Extremely fun for people who love plants.
Canal Saint Martin
They stayed at this hotel not far from the Canal Saint Martin near Place de la Bastille. This is a value hotel with no frills but a good location. It is not anything fancy, but it is clean, friendly staff, you're near the Canal Saint Martin and it's a nice place to hang out in the evening. Not touristy. The further you go along the Canal, the more likely you are to run into unsavory characters. Stick where all the locals are!
Place de la Contrescarpe
This is near the Pantheon and Saint Etienne du Mont and place de la Contrescarpe is really close by. In times of Covid this lovely plaza is full of locals, it's busy and lovely. She happened to be there during a big soccer competition and it was a lovely and lively.
Paris Parks in General
There are a lot of parks in Paris where you can enjoy some shade and get away from the noises of the big city. Some of these parks are tiny, but they are great for picnics and relaxation.
Favorite Picnic Foods
They went to the bakery every day and to small grocery stores. She loved the bread and a cheese like cream cheese called Saint Morret. It's a little bit saltier and very creamy. She also liked citronnade (the French version of the lemonade), saucisson, cheese, wine. Paris is great for picnics in the summer and the small parks are great for it.
Be careful with your food leftovers, Paris birds get fed by people too much and there are rats at night.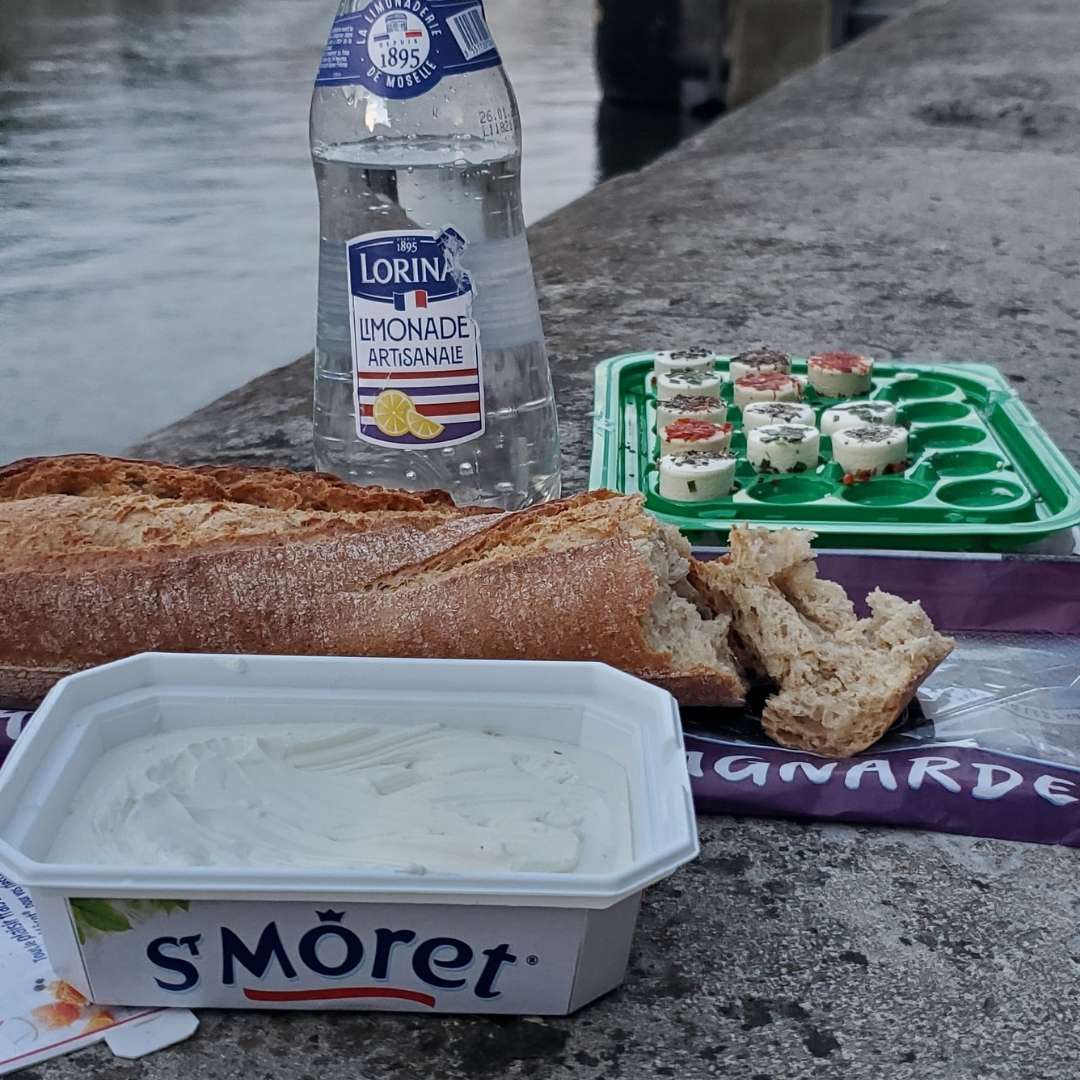 Martigues
They took the TGV to Marseille where they rented a car. First stop: Martigues a cute beach town. It's a great stop and really popular with French people. They couldn't find an Airbnb for that night so they decided to sleep on the beach. Ah, youth!
They check for masks on the train and now (a few weeks later) they also check for the health pass.
Arles
Arles is a must-see for Roman ruins, but unlike Paris there aren't a lot of small parks everywhere. The one park in Arles is loud and busy. It's hard to find a place to relax and get away from the heat in Arles.
Pont du Gard
The 3 hour float under the Pont du Gard was wonderful, the river feels great, lots of places to hang out on the banks too.
Camague
They were there on a day when the weather wasn't great,  so it wasn't as nice as it could have been. She didn't think it was all that spectacular for a national park, more of a marshland area. They didn't do any activities there, that would certainly have made it a better experience.
One Night Stays Are Not Appropriate on Airbnb
Whitney confirms what I've been saying for a long time: Airbnb is not the right choice for 1 or even 2 night stays. They had a hard time getting reservations accepted on Airbnb when just asking for 1 or 2 nights in Provence. We recommend you only book an Airbnb for stays of 5 nights or more.
Calanques
The Parc National des Calanques was wonderful. You can pay to park a little closer to the trailhead or park for free a 45 minutes walk away. Beautiful hike along the Mediterranean on the limestone cliffs. It is hot and dry and you can see the water but it's hard to get in it!
Be aware that this park gets closed a lot in July and August to limit fire risk. May, June, September and October have more open days. This is a sweaty and hot hike, you probably don't want to be there is the hottest days of the summer.
Wine Tasting in Provence
Whitney did a wine touring experience on Airbnb. It was at the Domaine Lou Capelan in Bandol, it was inexpensive and very nice. The tour was an hour long + tasting. The tour was in both French and English and the person giving the tour was very knowledgeable.
Mont Faron near Toulon
You can either drive (very narrow roads, no guardrails) or take a cable car. There is a restaurant at the top, it looked like an expensive place, but it looks great.
Île de Porquerolles
They took a boat between Toulon and the island of Proquerolles, there are a lot of companies that offer this from different places, this site lists all of them.
Savoie with a Local
Whitney's partner lives in Savoie and she particularly enjoyed Annecy. It is really picturesque, the water in the Annecy lake is super clean. It is a must-see. They stayed at the Hotel du Palais de L'isle, which she really enjoyed. Right on the canal, friendly. They were in Annecy for Fête de la Musique and it was a lot of fun.
They hiked to La Cascade du Rutor near Thuile in Italy. Cool site, lovely waterfall with a bridge that goes over the waterfall. The hike is steep but doable if you take your time.
The Feeling in France is Optimistic Right Now
Whitney had always heard about how rude Parisians were, but she didn't experience any of that. She could tell that everyone in Paris was really happy to finally be able to go out and go to restaurants. 70% or more of French people approve of the measures Macron has put in place. We have a loud minority who protests loudly against any public health measures, but most French people are optimistic.
More French people are spending time in France than ever before and we're enjoying it. This is the case in many countries where people are looking around their own backyard and having a good time with it. What is certain is that if you travel to France in Covid times, you'll have a good time and you'll be welcome.
On French People Not Being Allowed as Visitors in the US
It is unfortunate that travel to France in Covid times isn't always as straightforward as we'd like. But French people are not allowed to visit the US right now at all and it is frustrating for a lot of people. Whitney's partner would like to visit her, but he can't.
This might be one of the reasons why the US put France on the Do Not Visit list. That way our diplomats stop bugging them about reciprocating.
FOLLOW US ON:
Subscribe to the Podcast
Apple
Google
Spotify
RSS
Support the Show
Tip Your Guides
Extras
Patreon
Audio Tours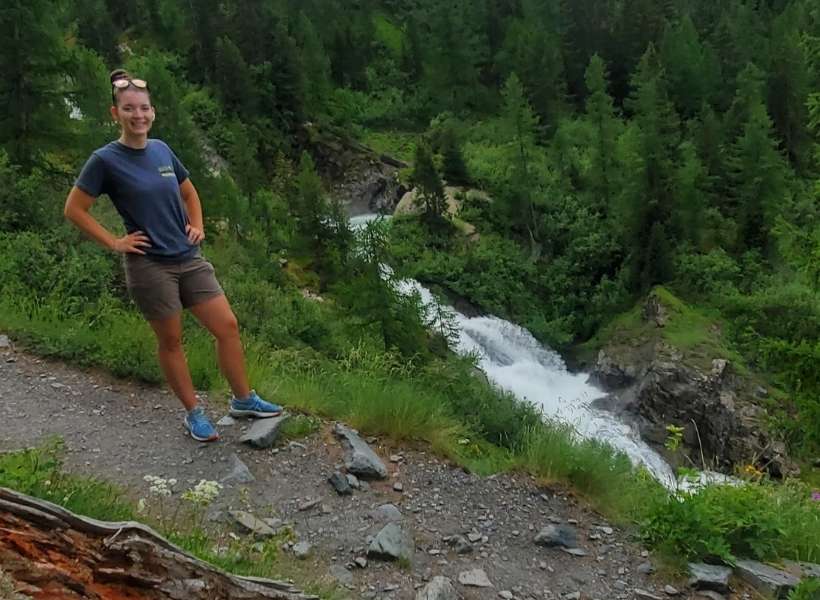 Categories: France How To, Health & Safety