Categories: Family Travel, Museums in Paris, Paris
This episode features our frequent and very popular guest Elyse Rivin. If you enjoy her episodes, please consider supporting her on Patreon.
The Musée des Arts Forains, with its collection of vintage carousels, fair stalls, and carnival artifacts, is a treasure trove of stories and history. Join Annie Sargent and Elyse Rivin as they discuss this hidden gem in the heart of Paris.
A Brief History of Fairs in France
The history of fairs in France, with roots dating back to the early Middle Ages, reveals a fascinating evolution of these events from essential trading and cultural gatherings to the entertainment-focused fairs of today.
In France, the concept of a fair, or "foire," originated in the Northern regions, particularly in Champagne during the 900s. These early fairs were crucial trading hubs for merchants from across Europe, serving as convergence points for products from Germany, the Netherlands, Belgium, and more. The Counts of Champagne were instrumental in formalizing these fairs, offering security and setting regulations to ensure fair and safe trade. Unlike markets, which were more frequent and local, these fairs were grand events, occurring a few times a year, drawing craftspeople and traders from great distances.
Key to these fairs was not just trade but also the exchange of ideas and knowledge. They featured a variety of goods, including exotic spices from southern Italy and luxurious silks. Entertainment was also a significant aspect, with performers like jugglers, contortionists, and saltimbancs (akin to clowns or acrobats) attracting large crowds.
The French Revolution marked a turning point for these fairs. With their association with the monarchy and the church, fairs were viewed unfavorably, leading to a decline. However, they resurged in the 19th century, particularly during the Belle Époque, transitioning more towards entertainment. This period saw the introduction of merry-go-rounds and the influence of street theater and puppet shows from the Comédie de l'Arte tradition.
One of the oldest and most authentic fairs today is the Foire du Trône in Paris, a direct descendant of these historical fairs. Modern fairs in France, while still offering various goods, are now heavily focused on amusement rides and attractions, aligning with the motto "Higher, Faster, Crazier, more Original." They remain an integral part of French culture, drawing huge crowds and evolving with technological advancements.
The history of French fairs reflects a rich tapestry of cultural, economic, and social evolution, from medieval trading posts to contemporary entertainment venues, mirroring broader societal changes over the centuries.
Le Musée des Arts Forains in Paris
The Musée des Arts Forains in Paris is a unique and vibrant museum dedicated to the world of fairgrounds and carnival arts. Situated in the Pavillon de Bercy, near a shopping mall and the river, this museum offers a journey into the past, showcasing vintage amusement rides, games, and theatrical arts.
Although there are no restaurants on the museum site, plenty of dining options are available nearby. The museum experience is immersive, filled with colorful decorations and artifacts mostly from the 19th and early 20th centuries, including stages for puppet shows and merry-go-rounds. One of the key attractions is a human-powered carousel where visitors pedal to make it move.
Visiting the museum requires a guided tour booking, costing 18 euros, and lasting about an hour and a half. The tours are primarily in French, but foreign visitors receive descriptive cards in English. The museum also offers a more premium experience with a comedian tour guide and a cocktail for 35 euros.
The Musée des Arts Forains comes alive particularly during the Christmas special week, known as Le Festival du Merveilleux. This event features jugglers, dancers, singers, and various acts in costume, bringing the museum's collection to life. It's a popular destination for families, especially those in the Paris area.
The museum was founded by Jean Paul Favant, a collector passionate about fairground and carnival memorabilia. He began his collection in the 1960s, amassing a vast array of items including carousels, organs, carnival games, and theatrical props. The museum's design is unusual for a museum, being somewhat dark with spotlights highlighting the exhibits, creating a dramatic and immersive experience.
Interactive and hands-on, the museum allows visitors to engage with many of the exhibits, including operating mechanical musical instruments and playing carnival games. The Musée des Arts Forains is a celebration of the art of theater and stage, showcasing beautifully painted objects, sculptures, and the heritage of street theater and Comédie de l'Arte.
Recognized as part of France's Immaterial Heritage, the museum plays a crucial role in preserving the cultural history of entertainment and fairground arts. The museum's location, in a revitalized area of Paris, adds to its appeal, offering a chance to explore a less-known part of the city.
Visitors planning to go should book their tickets close to their intended visit date, as tickets are typically released only a few weeks in advance. The museum also offers a chance to explore the surrounding Bercy neighborhood, making it an ideal outing for those looking for an alternative Parisian experience, particularly for families or those with an interest in historical entertainment and theatrical arts.
Le Festival du Merveilleux around Christmas Time
During the festive season, the Musée des Arts Forains in Paris transforms into a magical wonderland, especially for its special event, Le Festival du Merveilleux. Around Christmas, typically from December 27th to January 7th, the museum opens its doors for a unique experience that aligns with the French school holidays. This period is the only time of the year when visitors can explore the museum without the need for a guided tour.
The museum bursts into life with a dazzling array of entertainers - jugglers, dancers, and singers, all adorned in vibrant costumes, performing amidst the whimsical backdrop of vintage carnival rides and games. The atmosphere is electric, as each corner of the museum offers a new surprise, from interactive displays to enchanting music echoing from antique organs.
Families are particularly drawn to this event, making it a popular holiday outing. The array of attractions, from human-powered merry-go-rounds to old-fashioned carnival games, ensures a delightful experience for all ages. It's a rare opportunity to not only witness but actively participate in the joyous spirit of traditional fairgrounds, creating a memorable end to the holiday season in one of Paris's most unique and enchanting museums.
Table of Contents for this Episode
#MuséeDesArtsForains, #ParisChristmas, #FestivalDuMerveilleux, #VintageCarnival, #FrenchFairs, #HolidayMagic, #ParisianWonderland, #AntiqueMerryGoRounds, #CarnivalArts, #HistoricEntertainment, #FamilyHolidayFun, #ParisFestivities, #CulturalHeritage, #AmusementHistory, #TheatricalArts, #FrenchTraditions, #HolidayInParis, #UniqueMuseums, #FairgroundMagic, #WinterInParis
FOLLOW US ON:
Subscribe to the Podcast
Apple
Google
Spotify
RSS
Support the Show
Tip Your Guides
Extras
Patreon
Audio Tours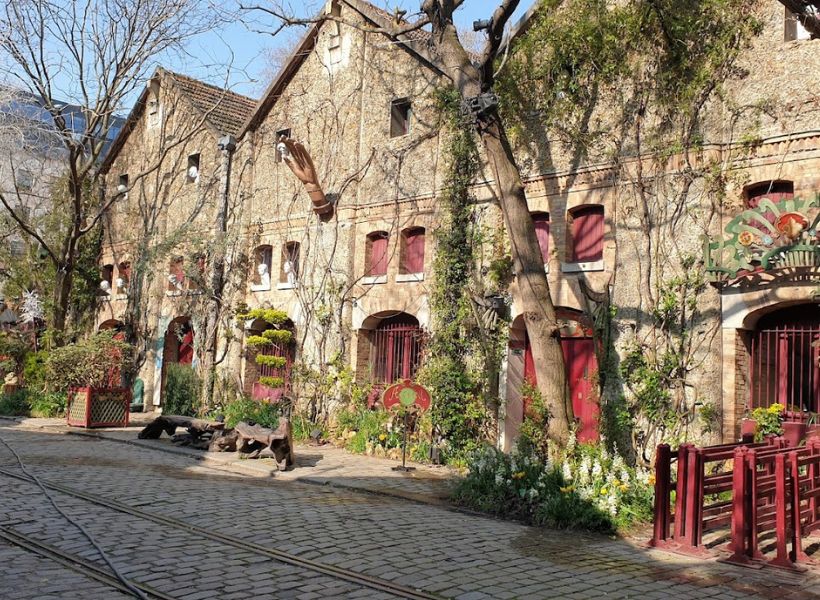 Read more about this episode
Show Notes
Transcript
Categories: Family Travel, Museums in Paris, Paris