This post contains affiliate links, meaning I get a commission if you decide to make a purchase through my links, at no cost to you. Please read my disclosure page for more details.
Categories: Dordogne, French History
This episode features our frequent and very popular guest Elyse Rivin. If you enjoy her episodes, please consider supporting her on Patreon.
Josephine Baker, performer, entrepreneur, mother and war heroine was a force to reckon with. She rose from poverty in America into fame and success by the time she was in her mid-20s in France.
On this episode of the podcast, Annie Sargent and Elyse Rivin talk about her amazing life and why you should visit the Château des Milandes in the Dordogne where she lived for 20 years.
If you're going to visit, we recommend you stay at the Domaine du Chateau de Monrecour, not far from Les Milande.
About the Pantheon in Paris
The Pantheon (in the 5e arrondissement) was built in the 1700s by Jacques Germain Soufflot and the avenue that leads to it is named Soufflot. It was built as a church to honor the patron saint of Paris, Sainte Geneviève.
The French Revolution turned it into a place a memory for the great men of France. There are over 70 people resting at the Pantheon today. Rousseau, Voltaire, Madame Curie, Jean Moulin, André Malraux, Victor Hugo, Alexandre Dumas, Emile Zola, Jean Jaurès, Germaine Tillion, Simone Veil, etc. How are people selected for the Pantheon?
The idea is to select people about which there is no doubt that they deserve the honor. BUT, half of the heroes who are in the Pantheon today were selected between 1806 and 1815 and that was the reign of Napoleon I who sent a lot of his favorite soldiers and generals to the Pantheon. Nobody remembers any of these people today. They helped Napoleon a great deal but their names have not stood the test of time even though they are in the Pantheon!
Moving forward in time, under the 3rd Republic (Napoleon III) it was mostly authors and scientists who were honored at the Pantheon. Since the Second World War major figures of the French Resistance have been honored.
More recently, thanks to the efforts of feminist groups, it occurred to French Presidents that no women were in the Pantheon. The first woman to enter the Pantheon on her own merits was in 1995 and that was Marie Curie. All she had to do to be recognized was discover a new element and win two Nobel Prizes. The bar was clearly higher for women than for men but they only realized that in 1995.
In 2015 two new women entered the Pantheon and they were both heroes of the Resistance. It is possible you've never heard of them so let me mention them: Germaine Tillion, and Genevieve De Gaulle Antonioz. We should do an episode about each of them at some point.
Very recently, Simone Veil entered the Pantheon. She was a survivor of the Concentration Camps and political leader who fought tirelessly for the establishment of the European Union and women's rights. One of my heroes.
I should note that Mirabeau and Marat (who were major figures of the French Revolution) were taken out of the Pantheon. On second thought, they didn't belong there. So it's possible to both enter and exit the Pantheon.
A few people were invited into the Pantheon but their families opposed it so it didn't happen: that's the case for Romain Roland and Albert Camus.
It may seem like Josephine Baker is an odd choice for the Pantheon, but I see it as the opening of a new era: Emmanuel Macron, the youngest President we've ever had in France, selected a woman of great talent and vision who didn't let much get in her way. Could it be that he's not afraid of strong women? That would be a nice change, wouldn't it?
Josephine Baker, an Unlikely Heroine
Josephine was born in Saint Louis into a difficult family situation, raised in poverty and a victim of the racism that prevailed in 1906 America. She took a number of jobs as a dancer until a French woman noticed her and offered her a job in Paris. She rose to fame very quickly in France and was a star in her own right by her mid-20s.
She learned French and gained French citizenship through marriage. She married 4 times and had many affairs, including some with women. She kept the name of her second husband, Willie Baker.
Josephine was never able to have her own children and had to have a hysterectomy in her early 40s. But she adopted 12 children and purposefully created a "rainbow family"with children of all ethnic and religious backgrounds. She made a point to raise each child the religion of his/her birth. Her kids loved her and report that she was a caring and sometimes strict mother.
Josephine Baker was fiercely loyal to her new country, France. When WW2 broke out she volunteered her services as a spy. As a major star she was invited into a lot of situations where she heard conversations pertaining to the war, the positioning and movement of troops. She relayed the information to French intelligence at great risk to herself.
As a performer, she made a lot of money but also spent a great deal. She had the spirit of a great entrepreneur, selling dolls, outfits and beauty products. What was missing was someone to run the numbers and keep her business profitable.She was trying to do too much.
Her chateau, Les Milandes, was transformed into a luxury tourist attraction. At times there were 120+ people working at Les Milandes to run the park and hotel. Like many artists and famous people, she had a lot of great ideas but wasn't great at handling money. And she was busy with her career and children! She tried to be everything to everyone, and that rarely works.
A lot of people took advantage of her generosity. Ruthless local artisans billed her for work two or three times because she wasn't good at book-keeping and they knew they could get away with it. Josephine Baker ran out of money in her mid 60s when singing and dancing also became more difficult.
Several of her artist friends came to her rescue, but this only helped her delay inevitable bankruptcy for a couple of years.  She died at age 68 of a stroke. When she died she was performing to a sold-out retrospective of her life and career at the Bobino in Paris. One night after the performance she felt unwell and never recovered. Her funeral procession was followed by 20,000 people in the streets of Paris.
Josephine Baker dedicated her life to her new country and it is fitting that she is now being recognized at the Pantheon, only the 6th woman to receive this honor, and the first black woman.
FOLLOW US ON:
Discussed in this Episode
Château des Milandes in the Dordogne
Subscribe to the Podcast
Apple
Google
Spotify
RSS
Support the Show
Tip Your Guides
Extras
Patreon
Audio Tours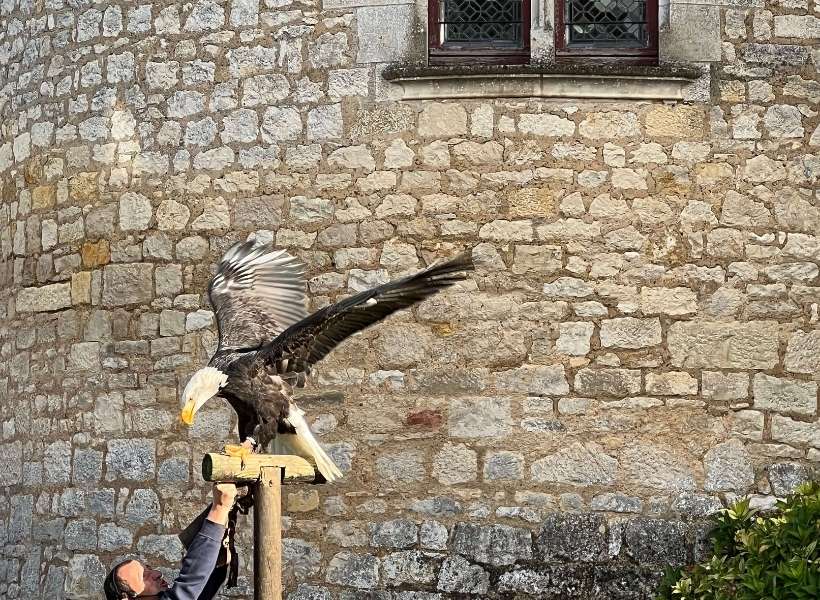 Read more about this episode
Show Notes
Categories: Dordogne, French History