Category: Christmas in France
This episode features our frequent and very popular guest Elyse Rivin. If you enjoy her episodes, please consider supporting her on Patreon.
Today I bring you a conversation with Elyse Rivin about how to best enjoy the Christmas Season in Paris. We'll talk about the best areas of Paris to visit, the best streets for Christmas shopping in Paris, Christmas markets in Paris, Christmas Concerts in Paris, where to attend Christmas Mass in Paris, Christmas meals in Paris (what you can expect and why you need to reserve), where to see Christmas decorations in Paris, and the museums and venues that are open in Paris on Christmas Day. Christmas spirit all the way!
Where to go to enjoy the best of Christmas in Paris
If you're going to be hanging out in the Louvre area, la Bourse area, the Opera area, Saint Germain des Prés, the Marais and the Latin Quarter (arrondissements 1 thru 8 more or less) you will enjoy Christmas decorations everywhere.
A few streets that are stand out
Rue du Faubourg Saint-Honoré which changes names to Rue Saint Honoré between the Elysée Palace and Place Colette is famous for fashion and high-end items. This is the street parallel to rue de Rivoli.
Rue de Rivoli is highly decorated and prices more accessible. This is the Target price range area.
There is usually a Christmas market in the Tuilleries Garden.
Champs Elysées. We're back to fashion and expensive items. There is no Christmas Market on the Champs Elysées as we record this episode. It stopped a couple of years ago, we don't know if and when it'll be back.
Rue du Bac between the Orsay Museum and Le Bon Marché. Perfect for antiquities and high-end items.
Galleries Lafayette and Printemps Haussmann.
Covered Passages: Start A la Mere de Famille (35 Rue du Faubourg Montmartre, 75009 Paris) then Passage Verdeau, Passage Jouffroy and Passage des Panoramas
Rue Mouffetard between Place de la Contrescarpe and Saint-Médard church then on to Place Monge (a lot of food items)
Christmas Markets in Paris
To enjoy the best of Christmas in Paris you have to go to Christmas markets!
Small one near Shakeaspeare & Company in the little park near Saint Julien le Pauvre
Near Saint-Germain-des-Prés church
Trocadero
La Défense
Village de Bercy
Christmas Concerts in Paris
To enjoy best of Christmas in Paris you might want to attend a concert. This is a sampling of christmas concerts in paris churches 2021. Please check for prices and reservations in other churches as the smaller churches fill up very quickly.
In the Latin Quarter and in the St Germain area there are several churches that have lovely concerts close to or on the day of Christmas.
 In the 5th arrondissement
Saiut Séverin
One of the loveliest places to listen to music is in the church of St Severin, in the heart of the tourist part of the Latin Quarter on place St Severin. This is a lovely flamboyant gothic church with a partial cloister – it dates from the 1200's. Inside it is all arches and peaked ceiling, and white stone
Concerts will be held there on:
December 25th at 20:45
December 31 at 20:30
Saint Julien le Pauvre
In this lovely ancient church, just across the river from Notre Dame, built in the 1100's, and dedicated to the Greek Byzantine rite, there are very often music concerts, especially piano concerts.
There will be a concert on December 25th at 17:00. Do make sure to get your tickets in advance as the church is not big. 23 euros
Saint Etienne du Mont
Just behind the Pantheon is the small and lovely church of St Etienne de Mont (where the patron saint of Paris, Saint Genevieve, is buried). Here there are concerts for Christmas. The times and the exact dates have not yet been announced.
Saint Médard
This parish church at the bottom end of Rue Mouffetard has choral music at Christmas time. Again, as it is small, please check for reservations and the exact time of the concerts.
In the 6th Arrondissement
Saint Germain des Prés
In this ancient and impressive church, one of the oldest in Paris, there are often concerts. And at Christmas time, there are organ and choral concerts. No specific program has yet been established, so check on the website for further information. This church is surrounded by a small Christmas market and a mini park.
Saint Sulpice
Close to the covered market of St Germain.
St Sulpice is a huge baroque church that is very famous. Impressive in its architecture and known for being in the DaVinci Code because of its mysterious gnomon it is a wonderful place for concerts. There will be several concerts before and during Christmas time.
Dec 8 – a Choir and Orchestra concert at 20h30 (27 to 70 euros)
Dec 10 – the same concert
Dec 23 – Orchestra Helios: Traditional Christmas songs and chants 20h30
(20 to 40 euros)

Dec 31- Choir and Orchestra 20h30 (44 to 66 euros)
Sainte Chapelle (Ile de la Cité)
Christmas eve through to December 26 – Baroque music: song, violin, piano
22 euros
Saint Eustache 2nd arrondissement
December 31 at 20h30
January 1 at 16h and at 19h: Choral and music concerts
La Madeleine  8th arrondissement
The Madeleine Church is known for having concerts all through the year. For the Christmas season this is what is scheduled
Dec 17 20h – Choral music and instruments (20 to 40 euros) need to reserve
Dec 19 16h – Choral music - FREE concert
Dec 22- 20h30 Traditional Christmas songs and chants – Choir and orchestra (15 to 40 euros) need to reserve
Dec 25 – 16h Christmas concert – FREE organ and chorus
Dec 25 – 20h Christmas concert
Dec 26 – 19h30 Christmas concert
Dec 27 – 19h30 Choral and instruments
Dec 31 – 20h Baroque music Choir and instruments: Bach, Vivaldi, Corelli
ALL OF THE ABOVE (20 to 40 euros)
Christmas Mass in Paris
La Madeleine
Saint-Sulpice
Saint Eustache
Saint Paul Saint Louis
Saint Germain des Près
Saint Etienne du Mont
Christmas Meals
Book on La Fourchette or dedicated website? Small restaurateurs don't want to manage bookings from different places). Christmas Eve and Christmas dinner are pretty easy to find but there's a special menu and it's more expensive. Must reserve. Christmas lunch is hard to find because people want to spend Christmas morning with family.
Christmas decorations and lights
Lots of places are decorated, but the Jardin des Plantes does an animal themed light show not free.
Open on Christmas Day in Paris
Espace Dali (Montmartre)
Musée de Montmartre (Montmartre)
Sacré Chœur (Montmartre)
Tour Eiffel
Musée Jacquemart-André (8e arrondissement)
Jardin d'Acclimatation (Bois de Boulogne)
Tour Montparnasse
Parc Zoologique de Paris (Bois de Vincennes)
Centre Pompidou (Le Marais)
Institut du Monde Arabe
Musée d'art et d'histoire du Judaïsme
Musé Maillol
Musée Grévin
L'Atelier des Lumières
The ice rink on top of La Grande Arche de la Défense
French Expression of the week
"Il me court sur le haricot" Is he really running on your bean? And what does that mean?
FOLLOW US ON:
Subscribe to the Podcast
Apple
Google
Spotify
RSS
Support the Show
Tip Your Guides
Extras
Patreon
Audio Tours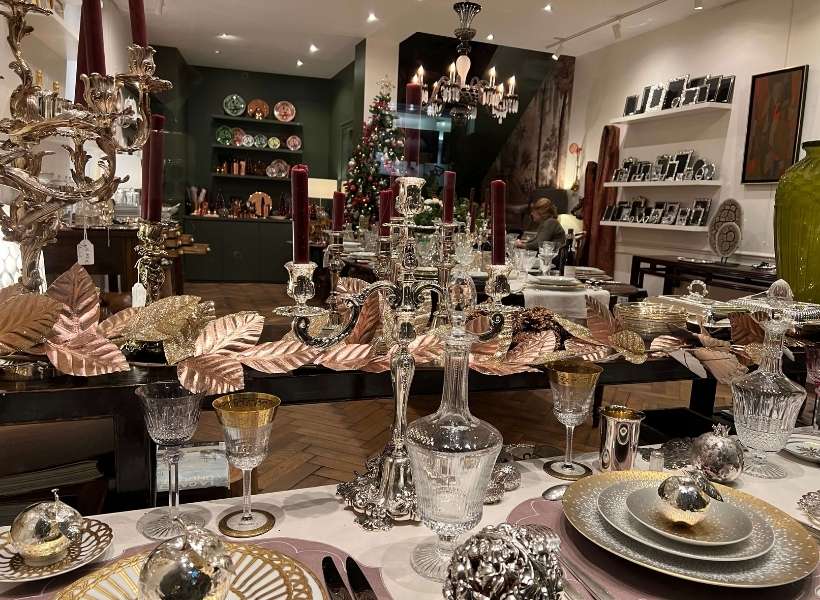 Category: Christmas in France