This post contains affiliate links, meaning I get a commission if you decide to make a purchase through my links, at no cost to you. Please read my disclosure page for more details.
Categories: Occitanie, Off the Beaten Track in France
This episode with Bernadette and Steven Fernandes is all about letting the day happen and taking the back roads. They've been visiting France for years and mostly avoid big cities because they like the small things that give flavor to the experience. We share a few laughs and talk about cannelés, rillettes, going to the wrong Roquefort, enjoying a couple of chateau accommodations, going into the chicken coop, sharing a lunch break with a horse, the way to enjoy a day in Marseille AND two speeding tickets. We keep it real on this podcast! This episode contains great recommendations for accommodations listed below.
From Bordeaux to Marseille via Andorra Favorite Moments
Waitress and dinner at Chai Pascal in St. Emilion
Andorra surprise
Tours of Monolithique church and bell tower in St. Emilion
Picnic lunch in St. Emilion at Les Cordeliers and discovering rillette
Fresh eggs at Chateau La Motte
Mirepoix
Great glass of wine at great price in the afternoon at an outside café
Market and windy lunch in Saint Pierre la Mer
Templar church in Luz Saint Sauveur
Meeting fellow travelers from UK
Scouting Thermal baths and ski areas in Pyrenees
Food shopping at Intermarche and cooking dinner
Marseille Old Port walk
Relaxing time at Chateau La Motte
Les Halles in Narbonne
Walking through Lourdes and having lunch at café
Wine tasting at the Cave in St. Emilion
Bayonne Chocolate
Terrace garden at Abbaye de Fontfroide
Family with Bernese Mountain Dog
Seeing horse at rest area
Seeing sky jumpers near highway on the way to Lourdes
Little towns along the Canal du Midi
Daily baguette
Morning sausage
Street food Market in Marseille
Accommodations on this Trip
Saint-Émilion, Clos 1906. Booking.com reviews were accurate.  The 20 minute walk into town was pleasant, the host Eduard had excellent recommendations and the room was superior.  Great place to start our trip.
Bayonne, Villa La Renaissance. Great views of Bayonne from our room and best breakfast of the trip.
Luz-Saint-Sauveur, 2-bedroom apartment,  "Magnifique appartement 100m² hyper centre Luz". Good location in middle of town.  Kitchen was superior.  However, the advertised washing machine did not exist.
Ax-les-Thermes, Domaine de la Vallée d'Ax. This was the craziest place we have ever stayed!  We had to "rent" our sheets and towels.  Do people really bring their own sheets and towels to a condo?  In addition, we had to take inventory of all the furniture, equipment and utensils in the condo using a checklist.  Initially the checklist was provided in French but Steve went back to front desk to get an English version of the checklist.
Near Narbonne, 3 bedroom apartment in a Chateau, Chateau de la Motte, in the town of Marcorignan. We had discovered this accommodation on a previous trip and loved the gardens, privacy and full service kitchen in a beautiful location near Narbonne.
Marseille, Hotel room with a view, Grand Hotel Beauvau Marseille Vieux Port – Mgallery. I treated ourselves on the last night of our vacation in Marseille and got a room with a vieux port view.  We were not disappointed.  The front desk reserved a taxi for the morning for our ride to the airport which was very helpful.
#SaintEmilionSips #BayonneBound #LuzSaintSauveurAdventures #AndorraEscapades #RillettesDelight #CannelésCravings #FreshEggFrenzy #BagesDiscovery #FontfroideAbbey #NarbonneExploration #ElectricBoatRentals #AirTransatAdventures #LevelAirlineJourneys
FOLLOW US ON:
Discussed in this Episode
Saint-Emilion
Bayonne
Luz-Saint-Sauveur
Andorra
Rillettes
Cannelés
Fresh eggs
Bages
Abbaye de Fontfroide
Narbonne
Electric boat rentals in Narbonne
Air Transat and Level Airline.
Subscribe to the Podcast
Apple
Google
Spotify
RSS
Support the Show
Tip Your Guides
Extras
Patreon
Audio Tours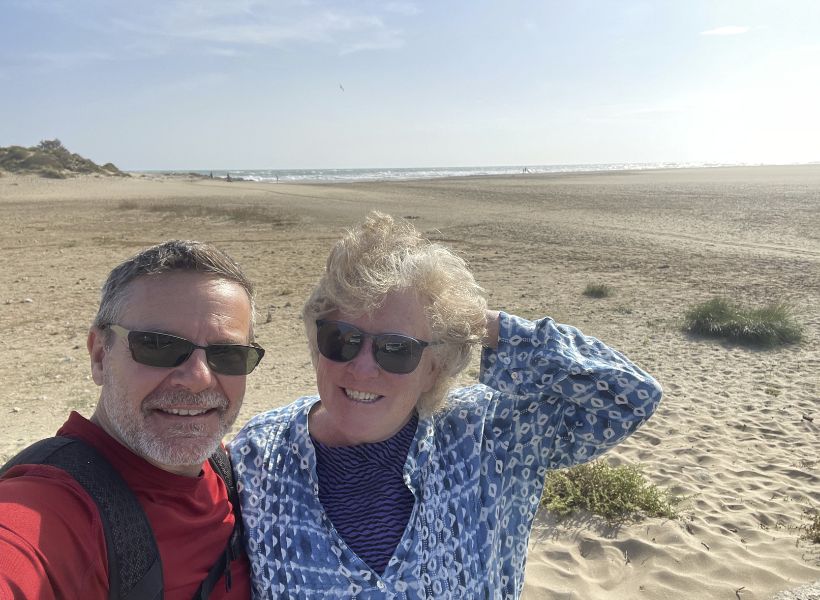 Read more about this episode
Transcript
Categories: Occitanie, Off the Beaten Track in France