This post contains affiliate links, meaning I get a commission if you decide to make a purchase through my links, at no cost to you. Please read my disclosure page for more details.
Category: Toulouse Area
This episode features our frequent and very popular guest Elyse Rivin. If you enjoy her episodes, please consider supporting her on Patreon.
The Join Us in France 2023 language bootcamp held in Toulouse was big hit. In this France Bootcamp 2023 you'll hear participants explain why they had such a great time.  Here are the points that stand out:
Language learning: The bootcamp allowed participants to improve their French language skills in an immersive setting. Many appreciated the effective language classes with Langue Onze which strengthened their foundation in French.
Cultural immersion: Participants enjoyed a deep dive into French culture and local life in Toulouse. They appreciated the city's walkability, beautiful sites, clear signage, and the mix of historical sites and museums. Trips to other cities such as Albi and Carcassonne were also highlights for many.
Community: Despite some attendees traveling alone, they felt comfortable with other participants, fostering a sense of inclusivity and camaraderie. The diversity of the group also added to the richness of the experience.
Food: French cuisine was a major highlight for almost everyone. Whether it was dining at a Michelin-starred restaurant, visiting street markets, or simply sampling local produce, they thoroughly enjoyed the culinary experience.
Tours and Activities: The tours and activities organized during the bootcamp, including the visit to Carcassonne and the sing-along, were highly appreciated. Elyse's expert tours and informative presentations on sites like the Albi Cathedral enhanced the experience.
Accommodation: The wide range of accommodation available in Toulouse catered to different needs. Many found their chosen lodging to be comfortable and convenient.
Convenience and organization: Many attendees found the organized itinerary more manageable than planning a trip on their own. This included city tours and activities after language classes, which provided a balanced and enjoyable experience.
Supportive environment: The bootcamp fostered a supportive atmosphere where attendees could learn and explore at their own pace. Participants felt comfortable and were reassured about the experience.
Will there be more Bootcamps? Yes, but you'll have to wait to find out more
Suggestions for future tours included spacing out long excursions to avoid fatigue, ensuring all language lessons are completed without overlapping with tours, and considering the physical intensity of the bootcamp which requires a good amount of walking. Despite a few minor logistical issues, the bootcamp was considered well-organized and most attendees would be willing to do it again.
Recommended in this episode
#LearningFrench, #ToulouseAdventures, #CulturalImmersion, #TravelExperience, #HistoricalSites, #FrenchCuisine, #LanguageLearning, #LifeEnFrancais, #FrenchCulture, #FrancophilesJourney, #ImmersiveTravel, #FrenchBootcamp
FOLLOW US ON:
Subscribe to the Podcast
Apple
Google
Spotify
RSS
Support the Show
Tip Your Guides
Extras
Patreon
Audio Tours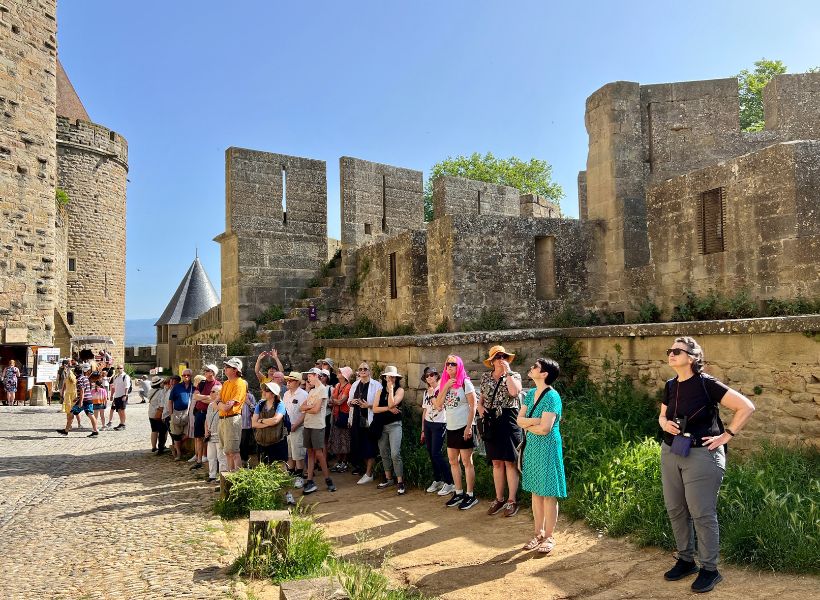 Read more about this episode
Transcript
Category: Toulouse Area