Categories: Family Travel, Provence
It's the age-old question that comes up all the time in the Join Us in France Community. What is the best place to stay on the French Riviera?
Imagine you want to visit Cannes, Antibes, Nice, Villefranche-sur-Mer, Monaco (aka Monte-Carlo), and Menton. Let's say you would rather use public transportation because traffic and parking is a nightmare in those towns. Does it matter where you put down your suitcases and branch out of?
Yes it does! Ali Rodriguez, my guest on today's episode, explains what his experience was going around those towns using the train system. Some towns are easier than others and we explain why!
So, click play and let's talk about it!
What Is the Best Place to Stay on the French Riviera?
Like most things, the answer is "it depends". The best place to stay depends on your needs, your family size, age range, how many days you have, if you have mobility issues, etc.
These towns all have great things to offer. Let's review a few of them and then you'll have the tools to decide what's right for you.
What About Nice, France?
Nice is a good choice because it's a train hub and it has an international  airport. Nice is also a good size city, so you always have lots of things going on.
Nice is also a family-friendly place where there are lots of things for kids to do, very often for free. But the beach in Nice is nothing but large rocks and the water is quite cold. Beach lovers need to consider that!
Not to Miss in Nice
Place Massena, Promenade du Paillon (great with kids!), Promenade des Anglais, old town, cours Saleya market where you have to try a local specialty called socca.
If you can only see one museum in Nice you should see the Chagall Museum. The Matisse Museum if fine too, but not as impressive.
Is Villefranche-sur-Mer a Good Choice?
Villefranche-sur-Mer is excellent if you just want to relax and enjoy the beach. You have the old town with colorful houses on the one side, the bay on the other. And it's a place where if you choose your AirBnB carefully (close to the train station) you could walk to everything.
In Villefranche-sur-Mer you'll have a sandy beach with small pebbles. It is situated on a bay so the water warms up faster than on wide-open waterfronts like Cannes or Nice. There are also areas where the water is shallow, which makes it easier for kids.
As soon as you step off the train in Villefranche you can see the beach, there's no taking buses or trams, you're right there. And there are places to get food and drinks nearby.
Villefranche-sur-Mer is not too far from the airport either (maybe 5 minutes by train?) so it wouldn't cost a lot more in terms of taxis or Uber to and from the Nice airport.
Menton on the Border with Italy
Menton also has a beautiful beach with two different stretches. One long stretch when you first get off the train with hotels, casinos, restaurants, etc. Then you have the old town going east. There's a beautiful cove, great turquoise water, a beautiful port with yachts, and a great view  of the hills with pastel colored homes. Great shopping in the old town as well.
The beach in Menton is also small pebbles mixed with sand. Menton is about 35 minutes away from Nice by train. The train ride is quite spectacular along the coast there! Menton does not have the beach resort feel. It is a city where regular people live.
Cannes on the West Side of the French Riviera
You've heard of Cannes from the Film festival and all the glamorous activities that take place there. But Cannes is also a great place to visit and stay. The train station is about a 5 minutes walk from the beach, but it's an easy walk.
Cannes has a lovely sandy beach with lots of yachts, just like the rest of the Riviera. And, of course, you can visit the film festival area, see the red carpet and the hand prints of the stars.
Juan-les-Pins
If you're looking for a small resort beach town, Juan-les-Pins is a good choice. It's much smaller than Nice or Cannes. Sandy beach, a casino, you can rent some chairs at a beach club. The Mediterranean in the summer is pretty placid, kids can play on the edge of the beach with plastic toys and it's very safe.
Not a lot else to see in Juan-les-Pins, it's a great place to visit for a beach day and only 10 minutes by train from Nice.
The Old City of Antibes
Antibes is a lovely town with a medival wall. It was the old haunt of Picasso in his older years and there is a Picasso Museum there. Many people will list it as a must-see, but all of the French Riviera is so nice, it's hard to rank these towns!
Antibes also has a sandy beach, the old walled city is lovely and has some nice shopping. There are lovely restaurants with patios, great pizza to be had.
Antibes is great for a half-day visit, maybe an afternoon or evening. Ali didn't think it would be a great place to base yourself out of, but he can see why people love it.
Saint-Jean-Cap-Ferrat and the Rothschild Villa
For this visit they decided to take an Uber (cost them about $25 that day) to save having to do train and buses. This was not a beach day, they decided to do the Rothschild Villa and Monaco on the same day.
They visited the Rothchild Villa and enjoyed the marvelous views. The tour of the villa is nice, it's like a tiny little Versailles. There's a good audio guide.
Monaco, Alcatraz for the Super Rich
They have a gorgeous train station and elevators to take you everywhere you want to go because it's really hilly.
You can see the castle and the changing of the guard, the aquarium, the Grand Prix area. The church where Grace Kelly is laid to rest is also worth it, it has a gorgeous organ. You can spend the day looking at the biggest collection of yachts you'll ever see.
It's worth spending a few hours there, but if you're not a millionaire you may not feel quite a home.
Beach Etiquette in France
French people are very open-minded when it comes to being half naked on the beach. If you child wants to run around naked on the beach, nobody will bat an eye. Women can also go topless if they wish to. French people are not as open-minded when it comes to Muslim women who want to cover up on the beach, but that's another story for another day.
Food on the French Riviera
Provençal food is one of the healthiest and most wonderful diet anywhere in the world. You will find a lot of fresh salads and vegetables because the growing season is long in this area. Lots of pizzas. Great fish. Great local wines, especially rosé.
Eating Vegetarian or Vegan on the French Riviera
Eating mostly vegetarian and/or vegan is not difficult on the French Riviera.  One of the local fool specialties is salade niçoise with tuna fish and sometimes anchovies for those who eat fish.
Restaurants  Are a Great Value on the French Riviera
Restaurant prices are remarkably good in Nice, average for lunch is 16€ -20€, dinner 25€ - 30€.
Wine on the French Riviera
It's unusual to pay more than 20€ for a bottle of wine in France and if you ask for a "pichet de vin" you'll get the house wine for around 5€. Local wines are often great rosés, but you will also find wines from all over France.
Vegan and Raw Restaurant in Nice
Ali particularly enjoyed a place called Coco Green Vegan and Raw. Only open on Fri, Sat and Sun. They make great dishes you won't find anywhere else. They went back twice they liked it so much! Frittes City was also a nice place because he enjoyed interacting with their toddler.
Buying Food at the Supermarket on the French Riviera
Supermarkets are also great in France and you'll find a great selection of organic food for a good price.
FOLLOW US ON:
Subscribe to the Podcast
Apple
Google
Spotify
RSS
Support the Show
Tip Your Guides
Extras
Patreon
Audio Tours
If you enjoyed this episode, you should also listen to related episode(s):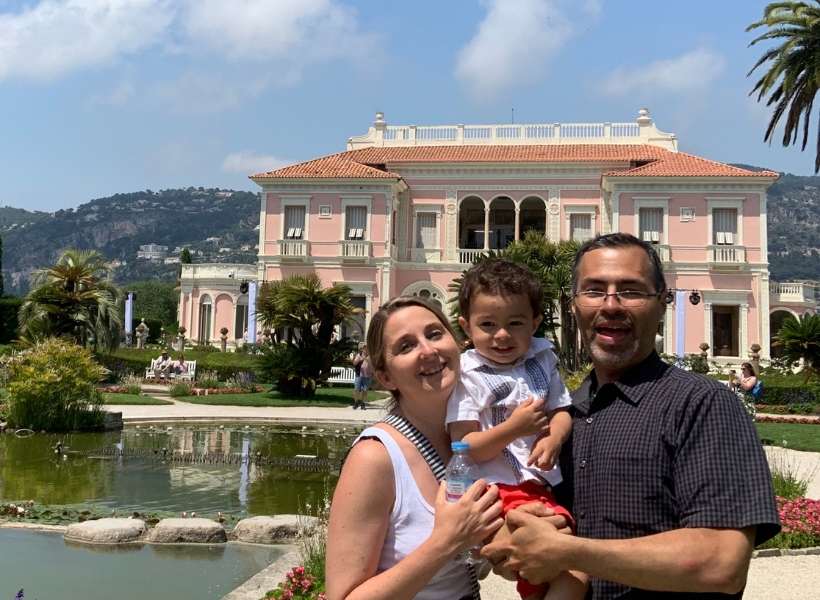 Read more about this episode
Transcript
Guest Notes
Categories: Family Travel, Provence