This post contains affiliate links, meaning I get a commission if you decide to make a purchase through my links, at no cost to you. Please read my disclosure page for more details.
Categories: Day -Trips from Toulouse, Off the Beaten Track in France, Toulouse Area
This episode features our frequent and very popular guest Elyse Rivin. If you enjoy her episodes, please consider supporting her on Patreon.
Today Elyse and Annie take you on a day-trip to the Gers from Toulouse. This is a scenic area to the north-west of Toulouse and this whole circuit will take a full day to complete.
The Gers is a rural department with rolling hills, agricultural lands, quaint villages and amazing gastronomy! It doesn't seem to ever be full of tourists, but there are plenty of people who love the place and stay for a week or more.  We think the Gers is especially suitable for people who enjoy slow travel.
In the episode Elyse lists the towns in the wrong order because they had to re-route due to some Gilets Jaunes road closures, so follow this order:
Start in Toulouse, then drive north to Moirax (actually in the Lot-et-Garonne department, not in the Gers), La Romieu, Larressingle, Flaran Abbey, Lavardens, Auch, possibly a quick stop in Gimont, and then back to Toulouse.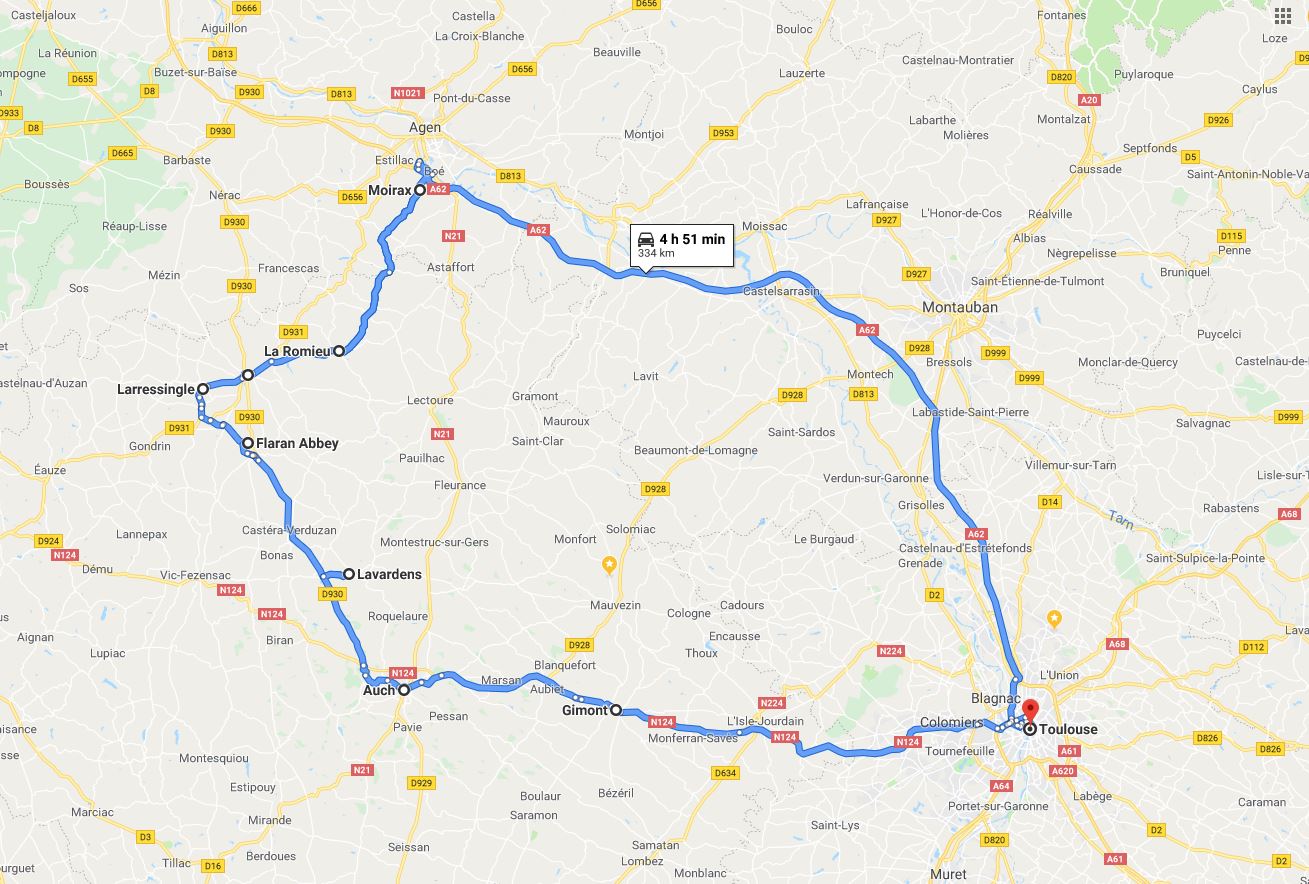 Gastronomy in the Gers
No matter where you go in the Gers you will LOVE the food and gastronomy. This is duck and goose country, foie gras, duck breasts, Armagnac country, Madiran wine, Pacherenc wine (can be dry or moelleux), and croustade of apples.
This is heaven for foodies, so long as they eat meat. We have to admit that visitors who don't eat animal products at all would find it difficult to eat in restaurants in the Gers because they put duck in everything. Not necessarily in big quantities, but duck is always on the table.
The Three Musketeers Were from the Gers!
We call them the 3 musketeers, but there were in fact 4 in the original story. In French they are called d'Artagnan, Athos, Porthos, and Aramis. They were from the city of Condom in the Gers. Yes, the town is called Condom!
The Musketeers were a private guard for the King. It started with Henri IV who was from the south and his son Louis XIII continued the tradition.
A Day-Trip to the Gers from Toulouse
If you don't have a whole week to spend, you can have a wonderful visit to the Gers as a day-trip from Toulouse and we hope you love it as much as we do!
There are so many gorgeous villages in the Gers that you couldn't possibly see all of them even if you spent a month. So we've decided to pick a few for you to get you started.
Condom in the North of the Gers
When you visit the city of Condom (and take the obligatory photo of yourself by the city sign) you'll see the statue of the Musketeers on the plaza in front of Saint Pierre church.
Condom used to be a much more important town in the middle ages. By now Condom is mostly a city of tourism and armagnac, but it also has a museum of the condom developed for the American visitor! In French the word "Condom" means nothing, it is just the name of that city. But, of course, locals know what it means in English and it makes them chuckle also.
Fortified Village of Larressingle
Larressingle is listed as one of the Plus Beaux Villages de France and Elyse found it wonderfully charming.  The fortifications around the village are almost intact, there's also an old chateau, and an old church on the Saint-Jacques-de-Compostelle pilgrimage.
Near Larressingle there is also a museum of military machines and equipment called Les machines du Moyen-Âge de Larressingle just outside of the village. The museum is not open year-round, but they sometimes have demonstrations. Check their website for dates.
Moirax, Lot-et-Garonne
This little village in a nearby department called the Lot-et-Garonne isn't well-known, but it has a beautiful simple Romanesque church. The stone houses are beautiful.  Like every village in France, this one has a WW1 memorial, and they had a photo of each of the men from their village who gave his life in the Great War.
La Romieu
This village is famous because a famous stop on the Saint-Jacques de Compostelle pilgrimage. It has a a beautiful abbey and cloister. The little town was built up around the cloister, it's really cute.
Abbey de Flaran
This Cicstercian Abbey is very famous. Inside the walls are plain and white. This Abbey was rebuilt many times since the 1100s. By now there are no monks left at the Abbey de Flaran, the space has been transformed into a concert hall and art exhibit space. There are many concerts in this space starting in May and all during the estival period.
It is worth noting that the Abbey de Flaran is the most visited site in the Gers, definitely worth a visit. Another Cistercian Abbey that's very famous  is called Abbey de l'Escaladieu, but that's much further south near the Pyrennées.
Lavardens, Plus Beaux Villages de France
This is another gorgeous village that Elyse loves. For a village to get this certification it has to be well-kept and meet many requirements. They are often busy on week-ends in the summer months, but if you go in the winter they are often empty.
The chateau at Lavardens is a very large Renaissance chateau on top of a cliff, it's very beautiful. It was built for the Dukes of Armagnac in the 1100s. It has since been rebuilt into a Renaissance chateau.
This was a castral village in the Middle Ages, which means that at first they started with the fortified castle and then came the village. A part of this chateau is also used as an exhibit space.
The chateau, cafés and restaurants are not open year-round, be mindful of that when you visit. This is true of a lot of places in the Gers!
The City of Auch
Auch is the biggest city in the Gers, it's only about 70 kilometers from Toulouse. Auch is famous for it's Cathedral, it is about the same size as Albi, but it has a large Cathedral.
The city is on two levels. If you arrive from the north you are on the upper part of the city. If you arrive from the south you will see a massive (and long) staircase leading you to the top part of the city. There is also a shuttle bus if you can't do the stairs.
The city got its name from the name "Augusta Auscorum". The Cathedral is an important religious center as a stop on the Saint-Jacques-de-Compostelle pilgrimage. The Renaissance stained-glass windows are gorgeous and have been renovated recently. The woodwork of the stalls are also impressive. The church is a Unesco World Heritage Site.
Where Should You Stay in the Gers?
Auch has a lovely Cathedral and the stairs are impressive, but besides that is not a city of much interest. We don't recommend you stay in Auch if you're going to be in the Gers for several nights.
Lactoure would be a better choice, so would Fleurance, Cologne, or even Condom. These are large enough towns to have hotels and a few choices of restaurants. If you want to stay in a B&B you'll have many choices in villages.
Marciac is a town in the south of the Gers and it has become famous because of its jazz festival. It is a very popular festival and it's hard to find accommodation for when the Jazz festival is on a Marciac.
You Cannot Do this Day-Trip in the Gers Without a Car
You can't visit the Gers without a car. There is public transportation, but not to those villages and abbeys we've mentioned.
Renting an automatic car is not as difficult as it used to be in France, but if picking up a car in the Gers they probably won't have an automatic for you unless you reserve it. Shop for your rental car in advance!
Le Marché du Gras in Gimont
Every Wed morning from 9:30 until 10 they have a duck auction. This is a time mostly for restaurateurs. But all the producers bring in their meat and serious chefs will also go and there's a longer market on Sunday mornings.
Gimont is not otherwise a scenic town. It has some medieval streets, but if you have no interest in the duck market, it's a good one to skip.
There Are Great Restaurants in the Gers
In the Gers if you find a restaurant that has menus at around 30-35€ for lunch, Annie can pretty much guarantee that you will eat very well. It is safe to go by the price in this instance because the Gers is not a touristy place where restaurants fill up no matter what. To stay in business over 30€ for lunch in a rural place, you need to be good and get lots of repeat customers!
Want to Visit the Gers with Elyse?
Check out Elyse's website to book a tour with her in Toulouse or for any of these day-trips we've talked about in this area.
Book Recommendation
Duck Season: Eating, Drinking, and Other Misadventures in Gascony by David McAninch
FOLLOW US ON:
Discussed in this Episode
Duck and goose country
Foie gras
Duck breasts
Armagnac country
Madiran wine
Pacherenc wine (can be dry or moelleux)
Croustade of apples
d'Artagnan
Athos
Porthos
Aramis
3 Musketters
Condom in the Gers
Museum of condoms
Larressingle Plus Beaux Villages de France
Subscribe to the Podcast
Apple
Google
Spotify
RSS
Support the Show
Tip Your Guides
Extras
Patreon
Audio Tours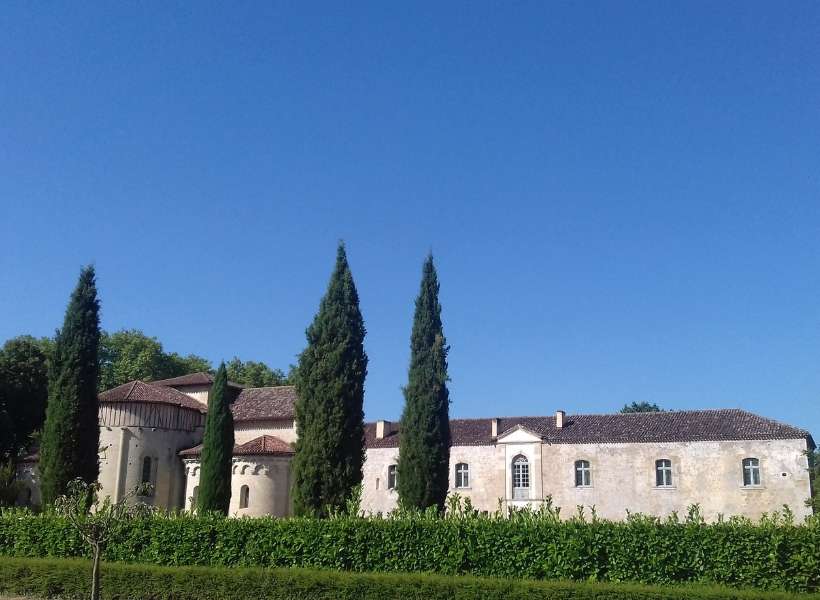 Categories: Day -Trips from Toulouse, Off the Beaten Track in France, Toulouse Area