I've very excited about my new collaboration with Redbubble.com to provide "merch" for me to sell. It's a fun way to support the show and get a fun souvenir for you and/or any other fans of the podcast in your life. Redbubble makes lots of different items, and they create them on demand. So if you see something you like but want a different color or style or wording or anything, let me know because I can probably add it to my collection for you.
Here are a few samples of what they have to offer with the podcast logo and my husband's silly jokes.  Click on any of the photos to be taken to its product page on Redbubble, or check out the links below for other categories of products you can choose from.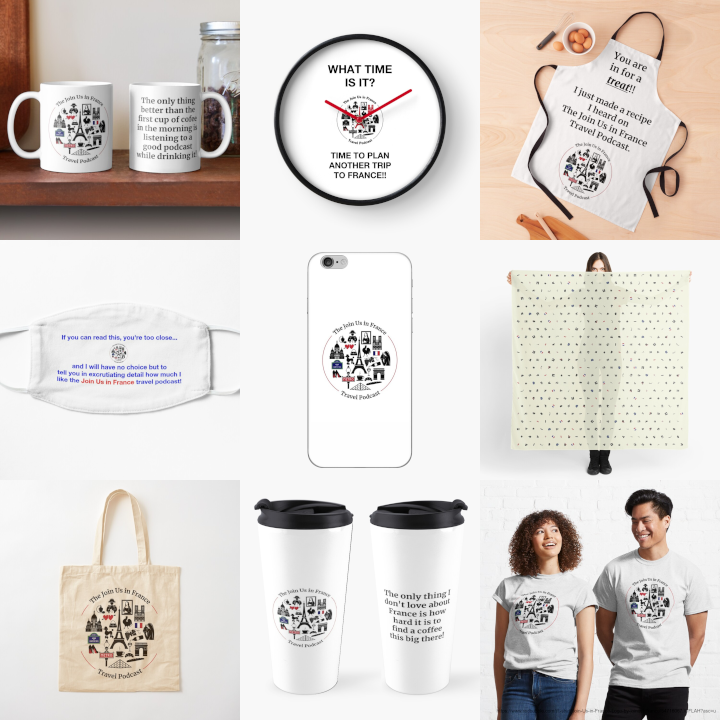 Categories
Aprons
Backpacks
Bedding
Clocks
Drawstring Bags
Dresses
Hardcover Journals
Leggings
Masks
Mugs
Onesies and Kid Clothes
Pillows
Puzzles
Scarves
Shower Curtains
Smartphone Cases:  iPhone / Samsung
Spiral Notebooks
Sweatshirts
Tank Tops
Tee-Shirts
Tote Bags
Water Bottles
If you have any questions, suggestions or problems with any of my merch, please send a message to merch@joinusinfrance.com, and I'll answer as quickly as possible.
Subscribe to the Podcast
Apple
Google
Spotify
RSS
Support the Show
Tip Your Guides
Extras
Patreon
Audio Tours
Merchandise