-Brianne Cunningham, elementary teacher and design/travel lover from Kansas
-I traveled with my husband, Josh, from July 14-July 24th
-It was our first trip to France and Europe! It was to celebrate my 40th birthday in May and we were there on our 15th wedding anniversary.
-I love to travel because I believe we always bring the beauty we experience back to our everyday lives. Whether it's the physical beauty or the beauty discovered in other cultures, we leave enriched and filled with inspiration and appreciation. It naturally shapes us as people. To me, to travel is to live!
-blog: xobrianne.com
-I discovered the podcast right after the New Year and listened to every episode that pertained to our trip.
-favorite episodes that helped me prepare- driving in France, the Paris Flea Market, all Paris episodes, museum episodes, and food episodes!
Landed at CDG in the morning and had a driver take us to our hotel in Paris (Relais Christine) where our bags could be stored. We spent 4 days in Paris, then took a TGV to Avignon where we picked up a rental car. Our home base in Provence was Le Saint Remy hotel in Saint Remy de Provence. We were there for 3 days and explored a lot of villages, then stayed in an Airbnb near Antibes for 2 days to explore the Riviera. Then we returned our car and flew out of Nice. We chose the train to get to Provence because it was inexpensive and fast. We rented a car so that we could be in control of our itinerary and go where we wanted when we wanted throughout the South. I personally wanted to spend more time in Paris and Provence. I wish we could've stayed in France for longer than 11 days, but we had kids at home and my husband couldn't be gone from work for much longer.
Detailed list of places:
Paris – Relais Christine hotel in Saint Germain, Musee d'Orsay, Arc de Triomphe, Bateaux Parisien Seine Cruise, Les Ombres Anniversary dinner, Tuileries Garden, Musee de l'Orangerie, Ile de la Cite (Saint Chapelle, Notre Dame), Ile Saint-Louis (Berthillon), Rue Cremieux, Breizh Cafe for lunch, Picasso Museum, Eiffel Tower, Les Antiquaires for dinner, Louvre, bouquinistes along the Seine, Shakespeare & Company, Odette, Catacombs, O Chateau Wine Bar for a tasting with a sommelier, Champs Elysees shopping, Louvre & Seine at night, Marche aux Puces, Hardware Societe for lunch, Place du Tertre, Sacre Coeur, Cocorico for dinner
Avignon – TGV station & rental car
Pernes Les Fontaines – shopping at La Maison Pernoise
Isle Sur La Sorgue – Le Jardin du Quai for lunch
Fontaine de Vaucluse – made the trek to the chasm of the river Sorgue
Uzes & Pont du Gard
Saint Remy de Provence – Le Saint Remy hotel, Le Moulin de Sophie for dinner,
Gordes/Senanque Abbey – Market Day!, La Bastide de Gordes for buffet breakfast
Moustiers Sainte Marie – Les Tables du Cloitre for lunch
Gorges du Verdon – rented a pedal boat
Rousillon – Ochre Trail
Menerbes – Chez Auzet for lunch
Bonnieux – Vieille Eglise, Chateau la Canorgue tasting
Lourmarin – L'Insolite for dinner
Cassis 
Grimaud – castle ruins
Saint Tropez 
Antibes – La Petite Escale, Le Sentier du Littoral on Cap d'Antibes
Eze – Le Nid d'Aigle, Jardin Exotique
Saint Jean Cap Ferrat – Villa Ephrussi de Rothschild
Saint Paul de Vence 
Favorite Moments I'd do again and again- Sorry the list is long, but we did and saw so much!  Waterlilies rooms at the Orangerie, the Louvre, the Eiffel Tower, Moustiers Sainte Marie, pedal boating the Gorges du Verdon, Gordes on Market Day, shopping at La Maison Pernoise, hiking at Le Sentier du Littoral (Cap d'Antibes), Eze Exotic Gardens, Saint Paul de Vence, and taking a TGV.
Favorite Meals I'd do again and again- Les Antiquaires, Berthillon, Creperie Little Breizh, Hardware Societe, La Bastide de Gordes, Les Tables du Cloitres (Moustiers Sainte Marie), La Petite Escale (Antibes), La Nid d'Aigle (Eze)
Things that didn't go so well that I wouldn't do again- Our Michelin star restaurant experience was an over-priced disappointment.
What I wish I had known- That the Tour de France was coming through on our last day in Paris. Many streets were closed and the ones that were closed were gridlocked, making it impossible to get anywhere that wasn't within walking distance. I also wish I would've taken the time to figure out the Metro.
General tips & Advice:
Paris: Carefully select the neighborhood you stay in, have tickets for everything you want to do in advance, visit the Louvre first thing in the morning, do some research about where you'd like to eat beforehand, and be open to Ubers/taxis/metro even when you could walk if you're trying to maximize your time and see as much as possible. It may seem obvious, but it also helps to plan your days around the arrondisements you'll be in.
Provence: If you're using GPS, make sure that navigation is taking you to a parking area which should be near the entrance. Otherwise, it may take you to the center of town (where there likely isn't any parking) using backways, where you miss the main entrance and parking altogether. Be prepared for very narrow streets. DO visit on Market Days, but get there early to avoid parking issues. Don't forget to charge your travel charger if your car doesn't have GPS!!
Riviera: shuttle from parking lot to town w/ a free garden pass
Everyone was incredibly kind to us. We didn't encounter any rude service and many waiters and waitresses joked and engaged in chit chat with us!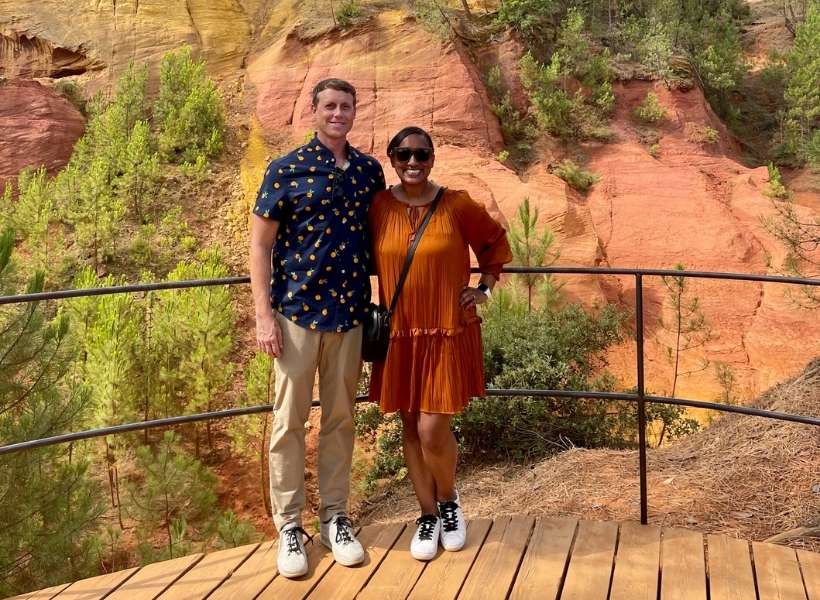 Subscribe to the Podcast
Apple
Google
Spotify
RSS
Support the Show
Tip Your Guides
Extras
Patreon
Audio Tours