This post contains affiliate links, meaning I get a commission if you decide to make a purchase through my links, at no cost to you. Please read my disclosure page for more details.
Category: Lyon Area
Thinking about visiting the Aiguille du Midi? I'm Annie Sargent and today I bring you a conversation with Edie Couvillon about visiting the Aiguille du Midi in Chamonix. When you take the tram to the Aiguille du Midi you're actually going on top of the Mont Blanc, so this is really exciting, but there are a few gotchas you need to know about!
Tips for Visiting the Aiguille du Midi
The official website is very confusing as far as getting tickets and the planning process. But one good reason NOT to book too far ahead of time is that you want to go on a clear day or you won't see much of anything. So it is best to keep an eye on the weather predictions.
The day before they wanted to go (which happened to be a poor weather day) they stopped by the information desk to inquire. They were told since the weather was supposed to be better the next day and there was no line to go ahead and get their ticket for the next day.
Get Your Ticket Ahead of Time
This turned out to be great advice because the next morning when they showed up and the weather was glorious there was a huge line to get tickets! If you can't go in person the day before, keep an eye on the weather predictions and book online. You can either use your e-ticket or print the ticket.
This ticket you buy either online or in person just specifies the day you want to ride, not a specific time. But they only sell so many tickets to each day. So get it a day or two early so you have a good idea what the weather is going to do, but they don't run out of slots for the day you want to go.
At the time of recording these tickets are 63€ per adult.
Next You Have to Get a Boarding Pass
But then, even after you have your ticket, you have to go back to the information booth near the parking area to get a boarding pass. This boarding pass is a blue plastic thing with a number on it. That number is the number of the tram you'll be riding that day.
It is best to go early to get the boarding time you want. The longer you wait to get your boarding pass, the later your ride will be. In their case there was a 2 hour wait between getting the boarding pass and the next available tram. But in any case, even if you have a ticket, you can't walk up and just get on a train, you need to wait for your assigned tram.
Third Wait for Your Boarding Time
Again, because this was a busy day (and any day with good weather is likely to be busy!) they had a 2 hour wait after they got their boarding pass. So you need to plan a good chunk of the day to do this.
The ride up and down per say is maybe 20 minutes and then once you're up there you can stay as long as you'd like.
Parking Was Easy in Early June
They couldn't just walk to the lift, so they used their rental car. Street parking was not difficult in early June, but it would be tricky in July or August. Chamonix can be a congested little town, allow plenty of time to get to the venue.
Want to Hike Down the Mont Blanc?
It is possible hike down the mountain, but you need to arrange that with a guide and you need proper equipment. It is very icy and cold and some people didn't look well prepared for that.
How Long to Spend on the Mountain?
You can stay on the mountain as long as you'd like. Edie and her family rode the tram both up and down and spent about 45 minutes looking around and taking photos. The tram ride up is about 20 minutes with a change of car in the middle.
How Cold Is It on Top of the Aiguille du Midi?
When the weather is light jacket weather at the bottom of the mountain, you'll need a heavy jacket on top, with gloves, hat, scarves, all of it. The wind is strong (70 or 80 miles per hour wind) and cold, you will need to be dressed for the occasion. The sun is also really strong on top, you will need sun-screen!
Elevator to the Very Top
Once you get through the second stage of the tram you have the option to take an elevator all the way to the top of the mountain. The elevator is actually carved up into the rock!
You can stop at different levels depending on your comfort level with mountains and altitude. Edie and her son took the elevator all the way up and that's where the wind was crazy, but it's also really beautiful.
There are plenty of places to walk around on the lower level where they have a café and a shop. They also offer food at reasonable prices, which surprised them.
Age Restrictions on the Mont Blanc
Children under 4 or 5 years old cannot go (check their website or ask at the information desk). People with a heart condition or asthma may want to consider what the altitude may do to them.
Mobility impaired people will have access to elevators, this is an accessible site. But, as always, it is best to ask the folks who run the facility when you buy the tickets there may be outages that will impact you.
Aiguille du Midi: a Great for Active Families
A visit to Chamonix and the Aiguille du Midi is great for active families. You will have to do a fair amount of walking because parking is tight. Aiguille du Midi is accessible to wheelchairs, but Mer de Glace is NOT.
A Visit to the Mer de Glace
La Mer de Glace is a glacier in the Alps. As the glacier is receding you have to take 500 steps to get to the glacier by now. The stairs are metal and you can see right through them. This is a challenge for people who are afraid of heights.
On the other hand, the fact that two people in her family are afraid of heights didn't hinder them for the visit to the Aiguille du Midi. You can look straight ahead at the mountain and it's worth challenging your own fears.
FOLLOW US ON:
Discussed in this Episode
Aiguille du Midi
Chamonix
Mont Blanc
Mer de Glace
Subscribe to the Podcast
Apple
Google
Spotify
RSS
Support the Show
Tip Your Guides
Extras
Patreon
Audio Tours
Recommended in this Episode
The Hotel Edie and family used was the Best Western Excelsior. It wasn't quite in the city center, so they had to drive to go to dinner. But it was a really nice hotel.  Chamonix is an expensive town for hotels and restaurants.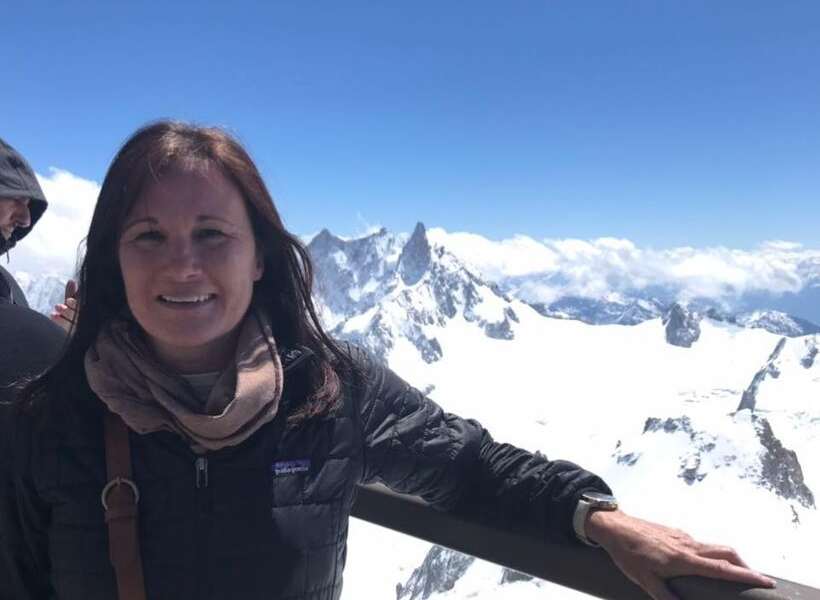 Read more about this episode
Transcript
Category: Lyon Area