This post contains affiliate links, meaning I get a commission if you decide to make a purchase through my links, at no cost to you. Please read my disclosure page for more details.
Category: Alsace and Lorraine
This episode is a trip report with Annie and her husband David. Strasbourg is a great city to visit at Christmas or any time of year. But since we went between Christmas and New Year, we wanted to give you a head's up. Here are some of the best things we think you should do in Strasbourg at Christmas time (or any time):
Visit Strasbourg Cathedral: Also known as the Cathedral of Our Lady of Strasbourg, this Gothic masterpiece is one of the most famous landmarks in the city. If your knees don't hurt, climb to the top of the tower for an incredible view of the city.
Watch the Astronomical Clock go off at 12:30. We explain how to get in in the episode.
Explore Petite France: This charming area of the city is located on an island in the Ill River and is full of picturesque houses, bridges, and canals. It's a great place to wander and take in the sights.
Take a boat tour: See the city from a different perspective by taking a boat tour on the Ill River. You'll get to see many of the city's landmarks from the water, including the European Parliament and the Palace of Europe.
Visit the European Parliament: Strasbourg is home to the European Parliament, and you can take a guided tour to learn more about how the EU works. Watch out! It's not open to the public all the time!
Visit the one of the local museums. We discuss what your choices are and which one was our favorite in the episode.
Try some Alsatian cuisine: Strasbourg is known for its delicious Alsatian cuisine, which features dishes like choucroute (sauerkraut with various meats), flammekueche (a type of pizza with onions and bacon), and tarte flambée (a thin, crispy pizza-like dish with cream, onions, and bacon).
Go to the Christmas Markets, of course! If they have ended in Strasbourg (if you go after Christmas Eve), you can still enjoy them in Colmar and Obernai for example.
Strasbourg at Christmas Time: Recommendations
A few more recommendations we made in this episode:
Au Pont Corbeau restaurant
Aux Armes de Strasbourg restaurant
Le Roi et son Fou restaurant
FOLLOW US ON:
Subscribe to the Podcast
Apple
Google
Spotify
RSS
Support the Show
Tip Your Guides
Extras
Patreon
Audio Tours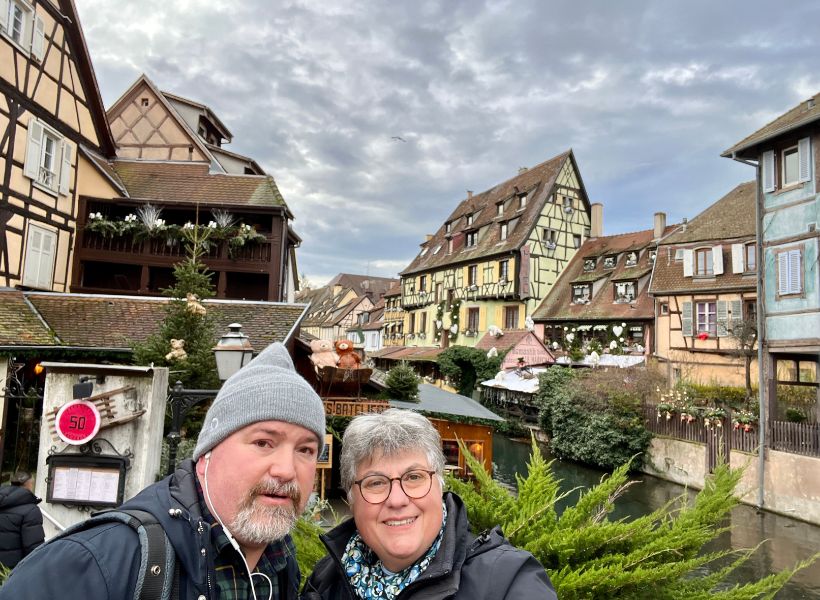 Read more about this episode
Transcript
Category: Alsace and Lorraine