This post contains affiliate links, meaning I get a commission if you decide to make a purchase through my links, at no cost to you. Please read my disclosure page for more details.
Categories: Bordeaux Area, Dordogne
This episode features our frequent and very popular guest Elyse Rivin. If you enjoy her episodes, please consider supporting her on Patreon.
Is Périgueux on your list of places you might like to visit in France? It's indeed a great city with roots into the times of the Roman "occupation" of France and a beautiful Renaissance neighborhood. The area is famous for its gastronomy and pleasant way of life.
Let's get the names straight first. Périgueux is in the Périgord, and isn't that a tongue twister for English speakers? But today it's in the department of the Dordogne and the New Aquitaine region, which means it falls under the jurisdiction of Bordeaux for administrative purposes. Long ago the name Périgord covered all the lands that belonged to the counts of Périgord and so you'll find both names to this day: Dordogne and Périgord.
The city today is about 65,000 people within city limits and 150,000 if you count all the towns that surround it, so it's a medium size French city.
Recommended Accommodation in Périgueux
Maison d'Hôtes Annie tested in Périgueux: La Villa Marguerite. A lovely home with friendly hosts. They've renovated this home with a handful of beautifully themed rooms that they clean to perfection every day. They serve a tasty breakfast with pastries, freshly chopped fruit and yogurt. The only thing Annie wasn't excited about was the fact that the bed was hard for her taste.
What Stands Out about Périgueux
When you first arrive in Périgueux what stands out is the large Basilica in a Byzantine style that towers over the city. For those of you who have been to the Sacré Coeur in Paris, this basilica looks somewhat like that, but it's older. Take a look at the brochures before you arrive to get familiar with the area.
You could say that there are two distinct parts of Périgueux that are worth visiting. You can see it all in two days, but you could spend 3 or 4 days and visit surrounding villages as well.
The first not to miss is around the Basilica there are a lot of gorgeous Renaissance buildings.  The second part that is not to be missed is the Roman area. This 2-page map by the Tourist office is helpful to discover the city on your own.
Great Restaurants in Périgueux
There are a lot of great restaurants in the area and if you're going to be going to the ones listed here it's best to reserve in advance because they are popular! We were there on a long week-end and it was busy, so we didn't get to try any of them (sad face), next time!
But here are the restaurants our French Maison d'Hôtes hosts recommended. They are French (from Paris) and they have great taste, so we trust them.
Michelin Restaurants in Périgueux
L'Essentiel
Un parfum de gourmandise
L'Épicurien
Hercule Proireau
L'Atelier
Café Louise
Traditional Local Restaurants
Le 66 degrés
Chez Nico
Le Troquet
Le clos Saint Front
Vegetarian Restaurants in Périgueux
Miscellaneous
La Firma (Italian)
Trattoria Les Coupoles
LÉden
Le Seizième
L'Ogrillon
La Péniche
Guinguette chez Barnabé
Café Riviera
Watson Pub
Garden Ice Café
La Clarté du Vin
Other Things to Check Out in Périgueux
The cookbook festival
Les Coucounettes (a preparation made of foie gras and something sweet that's about the size of an egg)
Truffles
Walnuts
Tourin à l'aïl soup
Mardi Gras (biggest Mardi Gras in the southwest of France)
La Truffe d'Argent
Symphonia
Macadam Jazz Festival
Vesuna by Jean Nouvel
They were digging for a new HLM construction and they found Roman ruins. To protect the ruins they asked architect Jean Nouvel to build something that looks like an umbrella or hat supported by glass. The building is gorgeous and the collections impressive. This is not to be missed!
Nearby Attractions
If you stay in Périgueux for several days, you could also visit several attractions in the north of the Dordogne:
Montignac and Lascaux
Château des Bourdeilles
Château des Bories
Abbaye de Chancelade
Brantôme
FOLLOW US ON:
Subscribe to the Podcast
Apple
Google
Spotify
RSS
Support the Show
Tip Your Guides
Extras
Patreon
Audio Tours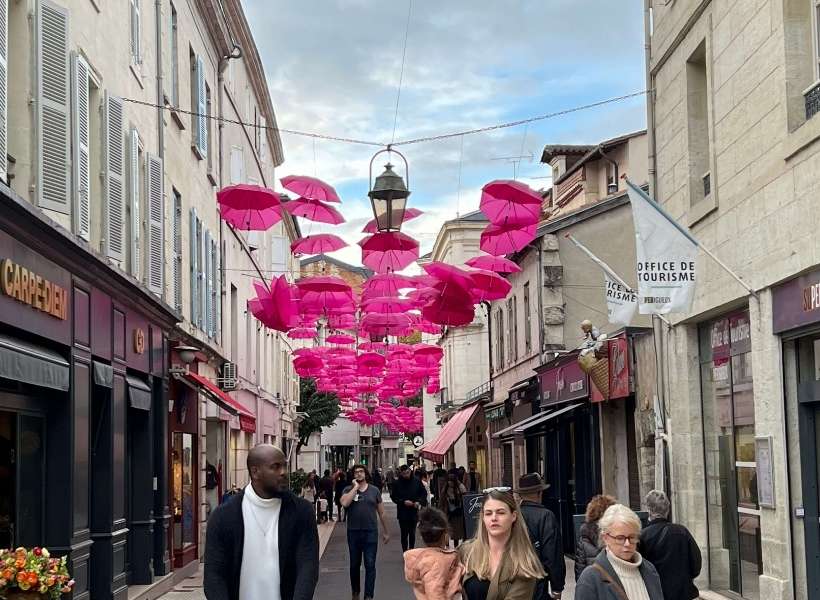 Categories: Bordeaux Area, Dordogne