Category: Provence
In the "Join Us in France" podcast episode 442, hosted by Annie Sargent, is a trip report about a Mediterranean cruise with guest Helen Talley-McRae.
There are many itineraries for Mediterranean cruises but Helen shares her experience of a Viking Ocean Cruise starting in Rome and ending in Tarragona, Spain, stopping at French ports including Marseille and Sète. Helen explains why she and her husband chose to go on a cruise for a big milestone birthday after their travel plans for 2020 were postponed.
She shares that while she enjoyed the experience, she doesn't plan to go on another cruise, as it didn't suit her travel style. Nevertheless, she recommends Viking cruises for people interested in trying out a cruise, particularly noting the smaller passenger capacity, all-inclusive package, and some included shore excursions.
According to Helen Talley-McRae, there are several pros and cons to consider about Mediterranean cruises:
Pros:
Getting to visit many different places in a short period.
Simpler logistics - no need to book separate hotels or transportation between locations.
Excellent service and comfortable accommodations.
Freedom from COVID mask mandates (at the time of the trip).
Consistent service and easy availability of food at all times.
Access to facilities such as pools, spas, and a variety of entertainment options.
The onboard medical center can handle minor accidents and issues.
The variety of shore excursions and the option to plan your own tours.
Cons:
Cruises can be costly and often require full payment months in advance.
Limited time at each location, leading to a more superficial experience of the places visited.
Ports are not always close to the places you want to visit, leading to reliance on shore excursions or shuttles.
Pre-planned tours can sometimes fall through due to factors beyond your control.
Food may not be as good as advertised and may even cause discomfort due to high salt content.
The number of lights on the ship can make stargazing difficult.
Weather conditions can sometimes change the cruise itinerary.
Mediterranean Cruise
Annie Sargent and Helen Talley-McRae discuss Helen's favorite places from her recent trip to France.
Sète
Their favorite location was the town of Sète, where they enjoyed local food and a relaxed atmosphere. They took part in a locally-guided excursion that introduced them to the town's history, including its jousting tradition and the fisherman's cathedral. Helen appreciated the opportunity to practice her French as the locals were more patient compared to those in Paris.
Their excursion in Sète also involved a visit to the Cimetière Marin, a notable local cemetery. However, they didn't explore the entire area and mostly learned about local customs. A highlight of the town was the large square with the giant octopus fountain and a sense of everyday life there, from families to dog walkers.
Saint-Rémy-de-Provence and Les Baux-de-Provence
Their second favorite destination was Saint-Remy-de-Provence, visited during market day. Helen enjoyed buying gifts from local vendors and the tour's theme was "in the footsteps of Van Gogh." Their visit to Provence was rounded out with a trip to Les-Baux.
Monaco
Initially reluctant to visit Monaco, she was pleasantly surprised to find that the old town, Monaco Ville, resembled a traditional French city, contrasting with the glitzier side of Monte Carlo.
She talks about the small size of Monaco, with the city's size being roughly three square miles and its location on a hill leading to the installation of elevators throughout. She and her husband enjoyed the beautiful views from a park on the city's edge, and visited the cathedral where Princess Grace is buried. They didn't, however, manage to visit the aquarium due to time constraints.
Port of Marseille
Moving on from Monaco, they embarked on a bus tour of Provence, where they admired the picturesque countryside. Helen mentions that the port of Marseille, where their ship docked, was quite industrial and far from the city, hence they never really saw Marseille itself. They took a full-day bus tour from Marseille to explore the Provençal countryside.
One highlight was a visit to Les Baux-de-Provence, where they enjoyed a fixed three-course meal in a room carved out of a mountain at Le Mas d'Aigret. They also visited the Monastery Saint-Paul de Mausole, a sanitarium where Vincent Van Gogh had once stayed. Unfortunately, they didn't get a chance to experience the popular multimedia art show, Les Carrières de Lumière, due to time constraints.
Despite this being her first cruise, Helen enjoyed her trip and expressed interest in potentially undertaking a river cruise in the future. She recommends a French company, CroisiEurope, which she believes offers a more down-to-earth and affordable option.
Who would enjoy this Mediterranean cruise best?
Helen suggests that such a cruise could be a fantastic trip for individuals who have never had the opportunity to visit Europe before, especially if they're coming from the U.S. This might be due to affordability issues or a lack of confidence in traveling independently. Additionally, she believes the cruise would suit those who appreciate the resort-style experience but also wish to see more than one location. After her own successful cruise, Helen shares her plans to return to France to visit family in Paris and Brittany.
#MediterraneanCruise, #TravelPodcast, #TravelTalk
FOLLOW US ON:
Subscribe to the Podcast
Apple
Google
Spotify
RSS
Support the Show
Tip Your Guides
Extras
Patreon
Audio Tours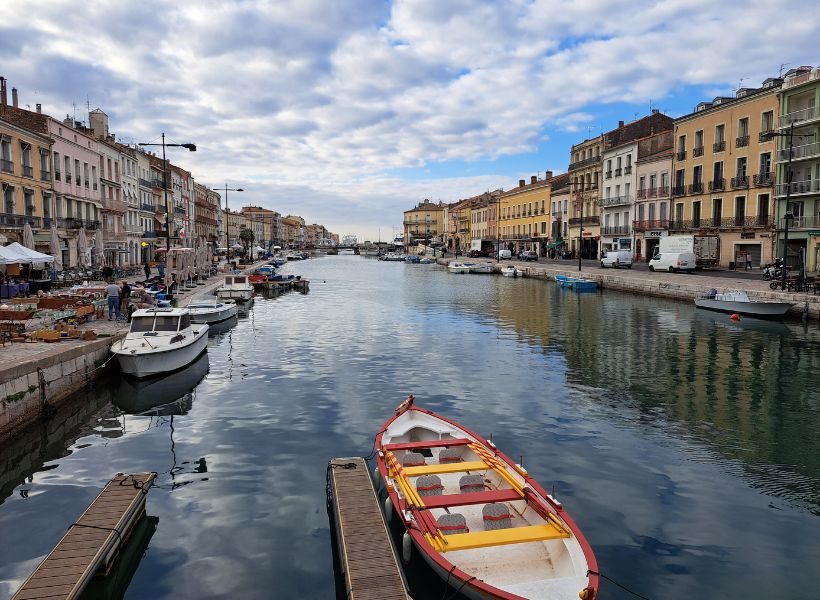 Read more about this episode
Transcript
Guest Notes
Category: Provence