This post contains affiliate links, meaning I get a commission if you decide to make a purchase through my links, at no cost to you. Please read my disclosure page for more details.
Category: Alsace and Lorraine
Welcome to today's episode of the Join Us in France travel podcast. In this episode, we'll be discussing a four-day visit to the city of Strasbourg, France with Marion Hill and Brenda Orozco.
Strasbourg is located near the border of France and Germany along the Rhine River, which has resulted in a unique blend of both cultures. The city has a rich history and is known for its architecture and diverse cultural offerings. Our itinerary will cover key attractions such as the Cathedral and the picturesque district of La Petite France. Join us as we explore the various aspects of Strasbourg and share practical tips for making the most of your stay in this interesting city.
About Marion and Brenda's Four Days in Strasbourg
Marion and Brenda took the train to Strasbourg directly when they landed in Paris. They were really jet lagged on the train ride but it all went smoothly. It was Brenda's first time going transatlantic.
They stayed at the Hotel Cathédrale right by the Cathedral. Tight rooms, but a great breakfast and a comfortable hotel. They loved walking around the city center and took a boat tour. There were Christmas stores already open in Strasbourg in September but they'd like to return at Christmas time. They at at Chez Yvonne and La Frigonette, in Strasbourg and enjoyed the food a lot.
They did a wine and food tour with a local guide. They went to Colmar on a tour bus. Along the way they stopped in Riquewihr and the Château du Haut-Kœnigsbourg.
They also absolutely loved Au P'Tit Curieux restaurant in the 10e arrondissement in Paris.
If you'd like to connect with Marion, visit his blog.
Magazine Part of the Podcast
Do all kids get in for free at French museums or just Europeans?
Annie's hedgehogs are back!
Schmigadoon! on Apple TV, very fun for folks who enjoy Broadway shows.
Audible books Annie recommends:
More episodes about the Strasbourg area
FOLLOW US ON:
Subscribe to the Podcast
Apple
Google
Spotify
RSS
Support the Show
Tip Your Guides
Extras
Patreon
Audio Tours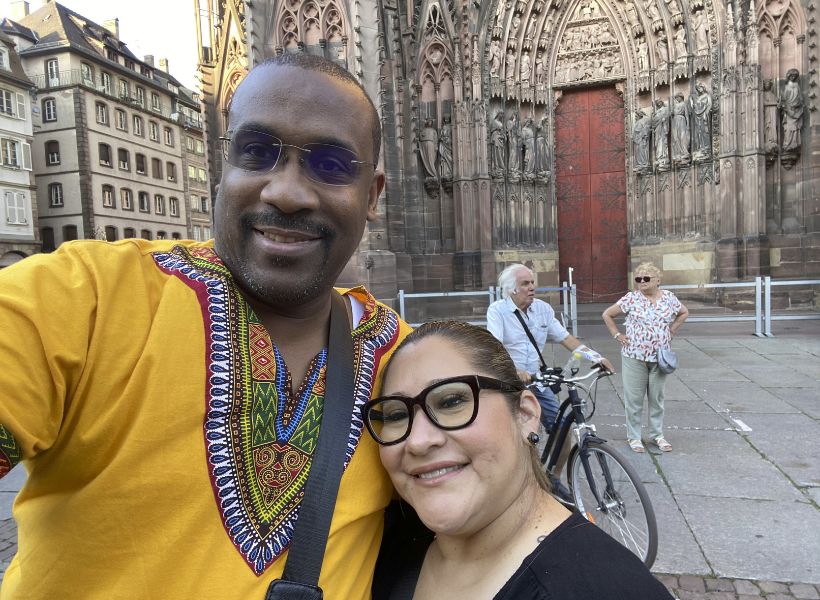 Read more about this episode
Transcript
Category: Alsace and Lorraine