Categories: French Culture, French History
This episode features our frequent and very popular guest Elyse Rivin. If you enjoy her episodes, please consider supporting her on Patreon.
Welcome to a new episode with Annie Sargent and Elyse Rivin that takes you back to 17th-century France, a time of kings, queens, and legendary Musketeers. Today, we delve into the life of Charles de Batz de Castelmore, better known as D'Artagnan, the real-life inspiration behind Alexandre Dumas' "The Three Musketeers."
From Gascony to Glory: D'Artagnan's Early Life and Rise to Fame
In the annals of history, there are figures whose lives transcend the ordinary and take on the air of legend. D'Artagnan, the name itself evokes images of swashbuckling adventures, camaraderie, and unwavering loyalty, is one such figure. But beyond the pages of Alexandre Dumas' "The Three Musketeers" lies the real-life D'Artagnan, a man whose story is as fascinating as any fictional hero.
Born sometime between 1611 and 1615 in the small Gascon village of Lupiac, D'Artagnan hailed from minor nobility. His father was a merchant, and his mother's lineage connected him to the influential Montesquiou family. Yet, as the fourth son, inheriting family wealth was but a distant dream. Armed with little more than ambition and letters of introduction from his well-connected relatives, he set off for the bustling streets of Paris in 1630.
A Journey to Paris: How D'Artagnan Became a Man of Arms
In Paris, the young Gascon had one burning aspiration: to become a "man of arms" and serve in the king's army. It was here that he adopted the name D'Artagnan, inspired by his mother's family, and embarked on a journey that would see him transform into a soldier of renown.
His skills in fencing, firearms, and tactics propelled him through the ranks, and he quickly earned the rank of sous-lieutenant. Cardinal Richelieu, the chief minister of King Louis XIII, recognized his loyalty and resourcefulness, employing him as a spy to uncover plots against the monarchy.
Sword in Hand: D'Artagnan's Adventures Under Louis XIV
As the reign of Louis XIII gave way to Louis XIV, D'Artagnan's loyalty endured. He joined the Company of the Musketeers in 1644, becoming one of the king's personal soldiers. Prime Minister Mazarin, in his efforts to navigate the complexities of the time, utilized D'Artagnan's abilities as a spy.
In 1654, D'Artagnan's valor in battle was rewarded with a captaincy in the Guards. In 1657, Louis XIV reinstated the Company of the Musketeers, appointing D'Artagnan as its captain, entrusting him with 150 men under his command.
Amid the opulence and intrigue of the Court of Versailles, D'Artagnan found himself in the company of influential figures like Finance Minister Nicolas Fouquet. In 1659, he married a wealthy widow he had met at court. However, their marriage was short-lived, ending in separation in 1662.
The Affair Fouquet: D'Artagnan's Role in a Historic Scandal
In 1661, D'Artagnan was handed a weighty task—arresting Fouquet for embezzlement. He held Fouquet in captivity for three long years, resisting any attempts at bribery, thus cementing the king's trust in his unwavering loyalty.
Yet, the allure of the battlefield proved stronger than the role of a jailer. In 1665, D'Artagnan requested to return to active duty, and he was appointed the head of a new company of Musketeers. He fought alongside Louis XIV and other notable figures like the Great Condé.
Return to the Battlefield: D'Artagnan's Last Stand
In 1670, D'Artagnan was made the governor of Lille, a role that failed to satisfy his yearning for action. Eventually, he returned to the battlefield, meeting his end at the Siege of Maastricht in 1673. He died as he had lived—a soldier's soldier.
Legacy of a Musketeer: D'Artagnan's Impact on French Culture
Louis XIV, the Sun King himself, mourned the loss of D'Artagnan, lauding his loyalty and integrity. His life inspired writers like Gatien de Courtilz de Sandras and later Alexandre Dumas, forever enshrining him in the cultural tapestry of France and the world.
As of June 2023, D'Artagnan's ancestral castle in Lupiac is on the market for 2.2 million euros. Despite its historical significance, no buyer has emerged, and the local community's efforts to turn it into a tourist attraction remain stalled due to a lack of funds.
D'Artagnan's life, with its blend of loyalty, bravery, and intrigue, is a testament not just to adventure but to the intricate political and social dynamics of 17th-century France. He emerges from history not merely as a Musketeer, but as a living, breathing embodiment of a tumultuous era—a hero in the truest sense.
Table of Contents for this Episode
#Dartagnan #RealMusketeer #LouisXIV #FrenchHistory #JoinUsInFrance #Gascony #ThreeMusketeers #HistoricalFacts #BehindTheMyth #AlexandreDumas #DumasLiterature #DumasInspired #TheThreeMusketeers #DumasClassic
FOLLOW US ON:
Subscribe to the Podcast
Apple
Google
Spotify
RSS
Support the Show
Tip Your Guides
Extras
Patreon
Audio Tours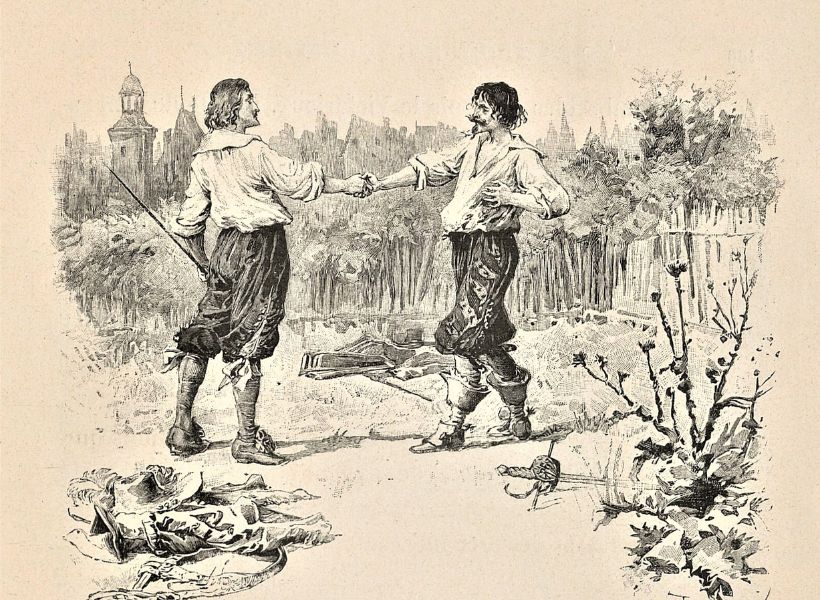 Read more about this episode
Show Notes
Transcript
Categories: French Culture, French History