Tags:
Episode with Elyse
Categories: Day-Trips from Paris, Loire Valley
CLICK TO PLAY THIS EPISODE
This episode features our frequent and very popular guest Elyse Rivin. If you enjoy her episodes, please consider supporting her on Patreon.
This week we take you to the world-famous Gothic Chartres Cathedral, one of the oldest UNESCO World Heritage Sites in France, and a place where the blue stained-glass windows will surely take your breath away. We discuss the circumstances surrounding the building of this Cathedral in the 1200s, the pilgrimage that brought hundreds of thousands to this church over the last 800 years, and how you can visit it on an easy 6-hour day-trip from Paris. You've heard Elyse make reference to it many times on the podcast, now you should consider going to see it for yourself!
 Episode Highlights
How you can visit Chartres on a Day-Trip from Paris
One of the first areas of France to be Christianized
Oldest UNESCO World Heritage Site in France
Relic of the Virgin Mary at the Chartres Cathedral
The Chartres school of philosophy founded in the 10th Century
The Romanesque church of Chartres burned down in the year 1195
The new Gothic Cathedral was completed in 1224 and it only took 30 years
The tenants of Gothic Architecture
Built after Saint-Denis, but before Notre Dame
Blue stained-glass windows
There are 26,000 square feet of stained-glass windows at the Chartres Cathedral
The Labyrinth on the floor
The cost of restoration
How this masterpiece survived WWI and WWII
The Crypt
The city
How to visit by train from Paris
3 great day-trips from Paris
Did you get my
VoiceMap
Paris tours yet? They are designed for people who want to see the best of Paris neighborhoods
and
put what they are looking at into historical context. There are so many great stories in Paris. Don't walk right past them without having a clue what happened there! You can buy them directly from the VoiceMap app or click
here
to order activation codes at the podcast listener discount price.
Subscribe to the Podcast
Apple
Google
Spotify
RSS
Support the Show
Tip Your Guide
Extras
Patreon
Audio Tours
Merchandise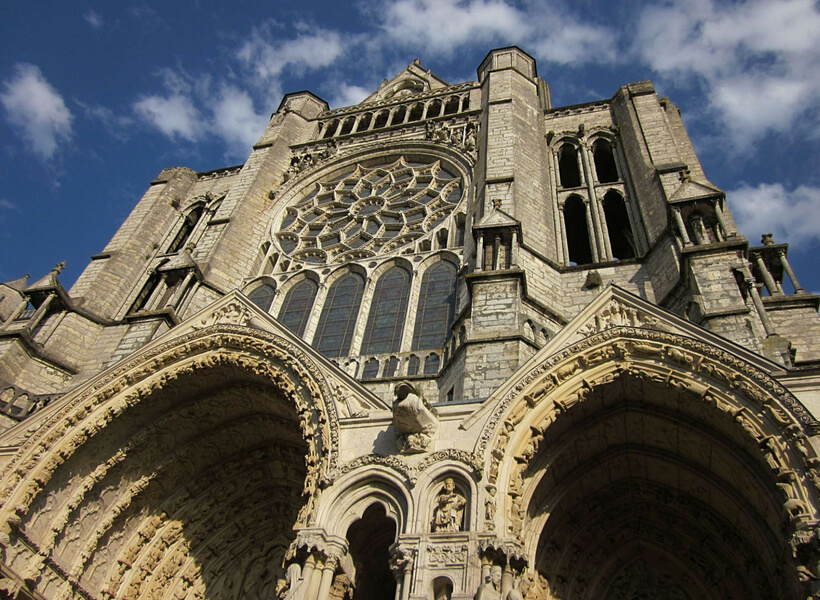 Categories: Day-Trips from Paris, Loire Valley