This post contains affiliate links, meaning I get a commission if you decide to make a purchase through my links, at no cost to you. Please read my disclosure page for more details.
Bonjour Bootcampers!
The 2024 Bootcamp starts at 10 AM on Sat, May 11 and ends at 9:30 PM on Sun, May 19. I recommend you arrive in Toulouse on May 10th and leave no sooner than May 20th. Arrive one day early so you can get your bearings and don't leave until the 20th late morning so you don't have to skip anything.
Bootcamp 2024 is going to be 3 days longer than last year's.  Our excursions will take us to Albi, one destination in the Arriège (we are still testing a couple before we decide), Gaillac, Mirepoix, Carcassonne, and Saint-Cirq-Lapopie. We will also spend two days exploring Toulouse.
Bootcampers will be invited to a few Zoom meetings so you can ask all your questions and we can all get to know each other before May. We will communicate via WhatsApp during the Bootcamp.
The maximum number of Bootcampers is 40. You can reserve your spot now for 350 €. You'll owe a balance of 749 € due by April 10, 2024. Please note that the down payment is NOT refundable. You need to be sure you want to do this!
The price includes 2 dinners, buses to all attractions, 1 wine tasting, 1 cheese tasting, 8 days of guiding by the amazing Elyse Rivin under the watchful eye of Annie Sargent.
Please enter your name and reserve your spot(s).

I will acknowledge that I've received your reservation within 24 hours at most.

About Langue Onze
Langue Onze was a great experience for previous Bootcampers so I'm pleased to work with them again to provide outstanding language classes.
The Bootcamp activities and Langue Onze are separate things. You can sign up for the Bootcamp and NOT take the language classes and vice versa. You'll need to sign up for them separately. But I can already tell you that the cost of the Langue Onze classes is 350€ per student for the week. I will send you links to Langue Onze paperwork within a month so you can get that process started.
LangueOnze classes are from Mon, May 13 until Fri, May 17. They'll announce precise times, but you'll be done with class by 1 PM. You'll meet the bus at 2 PM 900 meters away from Langue Onze on Place d'Arménie (see map below).
We'll take the bus at Place d'Arménie shown on the map below. The other point by Cathédrale Saint-Etienne is where Langue Onze is.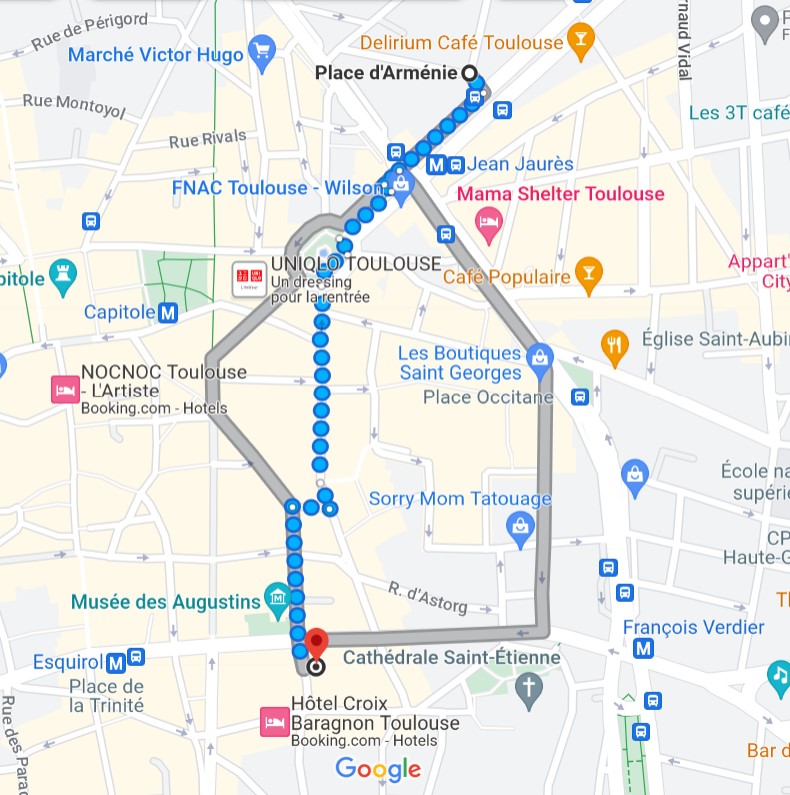 Accommodations in Toulouse
Because you are staying for 10 days, you might want to stay at an apartment. Toulouse has a number of Apart'Hotel places where you rent a studio with a kitchen and bathroom. Please consider reserving a place with Air Conditioning. It is possible that it'll already be quite warm in early May. The ones I recommend here all have AC. Don't book your accommodations just yet, wait until you meet some of the other Bootcampers and decide if you'd like to share an apartment.
Apart Hotels, studios for 1 or 2 people.
Appart'Hotel Clément Adler (not far from the train station (1.1 km from Langue Onze)
Adagio (not far from the train station, very close to the bus drop off and 1.2 km from Langue Onze)
ResidHotel (by the Garonne river and 1 km from Langue Onze)
Odalys (by the Canal du Midi and 1.2 km from Langue Onze)
Résidence Metropole Toulouse, 750 meters from Langue Onze and close to the bus drop off as well)
Villa du Taur (really central)
Whole Apartments
There are many apartments to rent on Airbnb, but you'll have to find those on your own because I'm not familiar with it. Here's one listed in Booking: Les Relais du Capitole (really central, seems posh)
Favorite Hotels in Toulouse
Grand Hôtel de l'Opéra: location can't be beat (Place du Capitole), service is great too!
Ibis Styles Capitole: also on Place du Capitole, plush at a reasonable price.
Hôtel des Grands Balcons: Place du Capitole, lovely hotel at the heart of the city. This is where Aéropostale aviators such as Saint Exupéry and Mermoz used to stay. It is said that one day Mermoz's wife who was pregnant at the time was feeling ill and fainted in front of the hotel. The hotel management took such good care of her while he was away that he decided that going forward all his aviators would stay at this hotel and they did.
Hôtel Croix Baragnon: In a lovely part of town (near Saint Etienne Cathedral) a simple B&B / small hotel (14 rooms) at a fantastic price. No elevator, no AC.
Hôtel des Arts: right by Place Saint Georges which is a favorite around Toulouse. A small boutique hotel.
La Cour des Consuls: By the Pont Neuf and the Garonne River. The area might be loud at times.
Are you more into a fantastic boutique hotel? Soclo is for you.
That's it for now. I'll update this page as needed. We'll communicate via email to start with, then via Zoom and WhatsApp (once I have your phone number). Questions? Please email annie.sargent@gmail.com
Merci, I look forward to Bootcamp 2024!
Annie
Subscribe to the Podcast
Apple
Google
Spotify
RSS
Support the Show
Tip Your Guides
Extras
Patreon
Audio Tours