Are you coming to France in 2022? Whether you come in the springtime, in the summer or in the fall, and  no matter where your destination, or what activities you have already planned, you might want to include one or several festivals in your agenda.
There are endless numbers of festivals of all kinds in France. Whether it is a street festival, a pageant, a series of concerts of a particular kind of music, or a large assembly of different events, there is something going on in every region of France. The festivals mostly take place from June to August, but there are a few that are held before, in the Springtime, and then there are a few in the Autumn as well. Scroll down to see those festivals on the map.
Here is a nice list of a good number of the best of the different festivals and events. They are organized by category and they are in more or less chronological order. The town and or region where they are held is indicated and you can see that they are in every region of France.
Some are free, many are paying, but there are so many that you will find something to interest you, I'm sure.
France is a summer festival so take advantage of the opening of all these events after two years of absence!
Everywhere in France: Fête de la Musique, June 21st
One night, the summer solstice, when there is music of every kind imaginable, outdoors and indoors, in every town, village and city in the country. Programs usually start in the late afternoon and the music goes on until 2 am. For one night, you can't escape the music and it is free.
Street and Theater Festivals
Most of these festivals are out in the street and inside theaters. Some have pageants and parades. Often partially or completely free.
April 29 until July 3: Festival of Street Arts in Gex in the Jura mountains near the Swiss border.
May 6 thru 8: Grands Jeux Romains of Nîmes. Huge street show and spectacle in the Roman arena
June 25 and 26: Medievals of Provins. Southeast of Paris in Provins (Seine et Marne) Costumes and pageantry.
July 8: Theater Festival of Mende. Lozère.
July 4 thru 28: Avignon Festival of Theater and Arts. Avignon. Vaucluse.Street theater, small companies, big shows. Something for everyone and very popular.
July 16 and 17: Fete du Grand Fauconnier. Costumes, music, spectacle. Cordes sur Ciel.
Map of the best theater and street festivals in France in 2022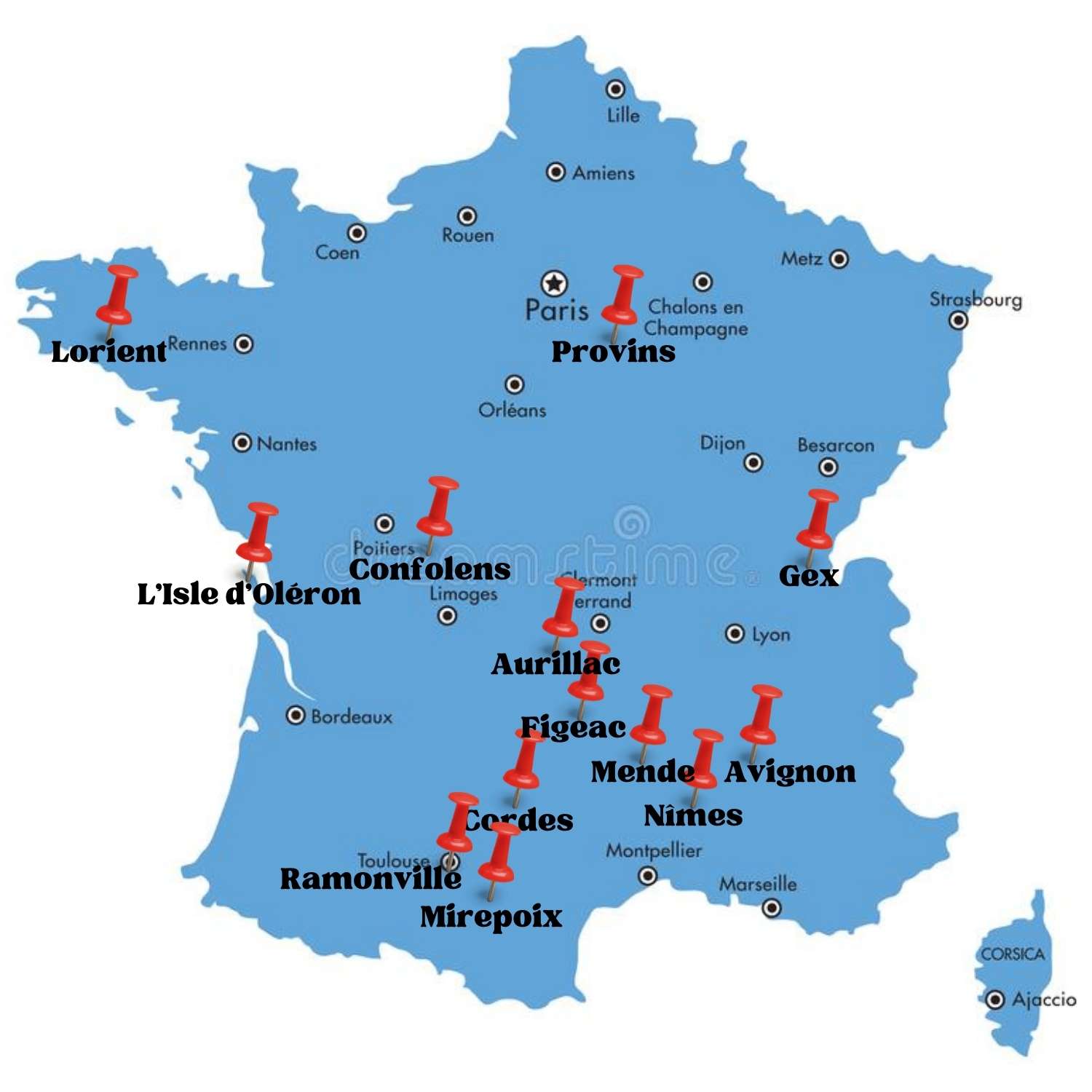 July 24 until August 4: Festival of Street Theater and Costumes of Figeac. Lot.
August 5 thru 14: InterCeltic Festival of Lorient. Celtic music and danse. Very popular. Lorient, Brittany
August 9 thru 15: Folklore Festival of Confolens. Danse and folklore. Confolens, Charente.
August 15-20 Arelate in Arles (not on the map it made it too crowded!)
Street Festival of Aurillac. 17 -20 August. Cantal. A tradition for 35 years. Theater, circus, music.
August 28 and 29: Street Theater Festival of L'Ile d'Oléron. Charente.
MiMa – Marionette Festival. August. Mirepoix. Ariège.
Mid September: Street Festival of Ramonville. Ramonville near Toulouse. All kinds of shows.
Classical and Sacred Music Festivals
Perhaps classical music is more interesting to you? Here are a few great festivals for you!
Different dates in May and June: Festival of Sully sur Loire. This is an accordion festival and YES, the accordion is a wonderful instrument.
June and July: Festival of the Fourvière. Many different concerts of all kinds of music in the outdoor antique theater in the neighborhood called the Fourvière in Lyon. Famous, popular, and fun. Go online to find specific concerts and dates.
May 31 until July 3: the Festival of Sacred and Classical Music at St Denis (St Denis Abbey, near Paris), symphony and recitals.
20 June to 6 August.: Chorégies of Orange. Famous festival of music, opera and theater in the antique Roman theater of Orange in the Vaucluse department.
July 2 – 14: International Festival of Colmar in Alsace region
Map of the best classical festivals in France for 2022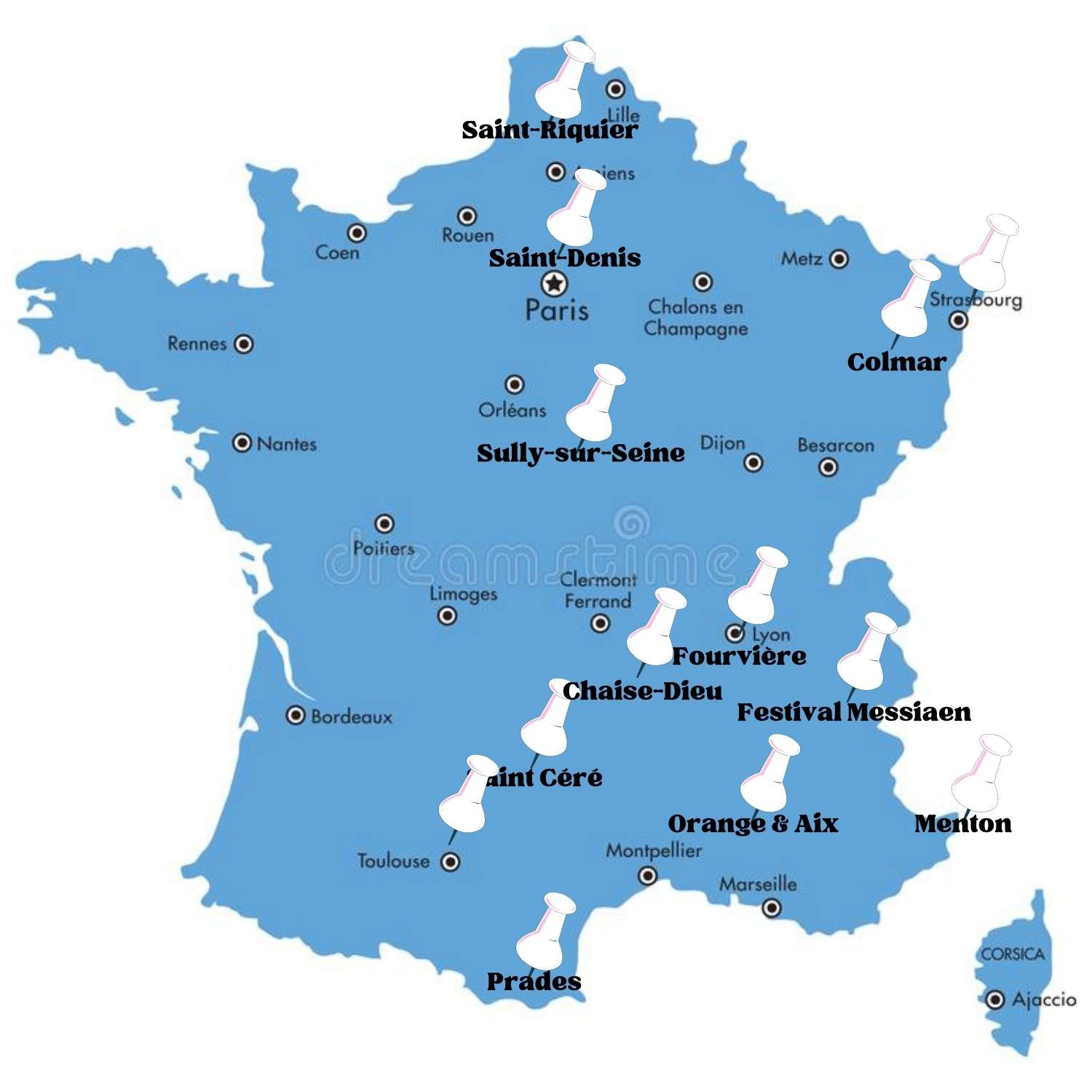 July 4 – 23: International Festival of the Art of Lyrical Music in Aix en Provence. Famous for the singers and the quality of the music both indoors and out.
July 29 until August 12: Festival Pablo Casals focusing on chamber music. Prades in the Pyrenees Orientales.
July 29 until August 12: Festival de St Céré in the Lot department.
July 20 – 31: Festival of Contemporary Classical Music in the Hautes Alpes. The Olivier Messiaen Festival in the Meije region. Near Briançon in the Alpes of Haute Provence
August 18 – 28: Festival of the Chaise-Dieu – Sacred Music in the Auvergne region.
July 31 until August 13: Festival of Music of Menton, not far from Nice.
September and October: Festival Musica Strasbourg. Contemporary and Experimental Music.
September 9 thru 30: Piano Festival of the Jacobins in Toulouse. Famous solo piano music, mostly classical but a little jazz. The best musicians internationally known. In the cloister of the beautiful Jacobins monastery.
October: Festival of St Riquier.
October 5 thru 16: Toulouse Les Orgues. Organ concerts in several churches with exceptional acoustics and excellent organs.
Jazz Music Festivals
June 22 thru 26: Festival Django Reinhardt. Guitar and Gitane jazz in Fontainebleu.
July 15 thru 19: Nice Jazz Festival. Big names. Different venues.
July 16 thru 18: Juan les Pins – Jazz at Juan. Great jazz names under the pine trees.
July 22 until August 6: Marciac Jazz Festival. Huge festival, big names and unknown too. Marciac is in the Gers
July 16 thru 18: Montreux Jazz Festival. One of the oldest. Montreux is in the Cher department.
September 8 thru 18: Jazz in Touraine, thid is in Tours and surrounding area.
POP ROCK AND MIXED MUSIC FESTIVALS
There are many festivals. Here are just a few of the most famous ones. Almost all are out of doors. Some with big name attractions, both French and international. Very informal and sometimes big crowds. Usually lots of fun or as the French would say, 'bon enfant".
April 19 thru 24: Le Printemps de Bourges. French pop, rock, and composers. Very popular.
June 3 thru 5: Festival Art Rock. St Brieuc, Brittany
June 2 thru 5: We Love Green. Big names pop and rock. Bois de Vincennes. Paris
June 17 thru 24: Les Nuits de Fourvière. Every kind of music in the antique arena in Lyon.
June 30 thru July 3:  Eurockeennes de Belfort. Big international and French groups. Belfort, Alsace.
June 30 until July 3: Festival Garorock. Rock in the countryside. Marmande in the Lot et Garonne.
July 5 thru 31: Festival of Carcassonne. Every kind of music from hard rock to opera. Under the stars in the old city. Carcassonne in the Aude department.
July 13 thru 17: Francofolies de La Rochelle. A famous festival of French singers and songs. La Rochelle in the Charente department.
July 14 thru 17L Les Vieilles Charrues. Another huge festival of mostly, but not only French music and singers. In Carhaix, Brittany.
July 22 until 31: Festival of Wine and Music in Colmar. Big name singers and groups. Wine tastings.
August 25 thru 28: Rock on the Seine. Park of St Cloud, Paris. Big summer festival in Paris
Want to see more? Check out the sites of festivals in France 2022 and see if there is something else that strikes your fancy. Festival going will be a big part of your travel experience no matter when or where. ENJOY!