Visiting Paris in August

On today's episode, Annie and Elyse chat about the pitfalls and joys of visiting Paris in August. Things are different in Paris in the summer months and we review them all in this episode of the podcast!
What Closes in Paris in the Summer?
People who are coming to Paris for the first time in August or in the summer wonder what's going to be open and closed? It's a fair question and I caution you against relying on information that started circulating decades ago that somehow still gets repeated today: No, Paris does NOT shut down in the summer!
In fact, Paris is teeming with activity in the summer! That's why you should have a strategy to minimize wait time at popular museums, which we explain in this episode.
Airbnb and Pickpockets
Elyse and I also get talking about Air B&B in Paris, there are some things you need to know about that so you can ask the renter important questions that will impact the quality of your stay.
We also recap some quick tips about prevailing against pickpockets in this episode and about the best kinds of bags for a trip to Paris for both your comfort and your safety.
Go to Some Guinguettes!
Visiting Paris in August or in the summer months is a joy! It's a great time to rent bikes because the car traffic is lighter. It is also the time for Guinguettes. Even if you don't remember the word Guinguettes, I'm sure you have seen them pictured in paintings and in the movies!
They are places where locals and visitors alike go to on summer evenings to have some drinks and dance.
There are some famous ones and some not so famous ones all along the Seine River and the Marne River. One we recommend is close to the Eiffel Tower on quai de Suffren.
August in Paris is also the time for walks in neighborhoods you don't know, trying boulangeries and restaurants you've never heard of. You shouldn't be weary of doing that, we have great food all over Paris! One great place to take such a walk would be around the delightful Palais Royal area as we've mentioned in previous episodes.
Ignore at Your Own Peril
We want you to have a wonderful time in Paris in August, which in our mind includes this piece of advice: Yes, you do need Air Conditioning when you are visiting Paris in August, July or maybe even June and September. Having lived in France so long, Elyse is not a fan of Air Conditioning. But even she admits that when the temperatures climb over 95F (which they do, sometimes for days-on-end!), it is really hard to get some rest without AC.
RSS
|
iTunes
|
Android |
Stitcher Radio
|
TuneIn Radio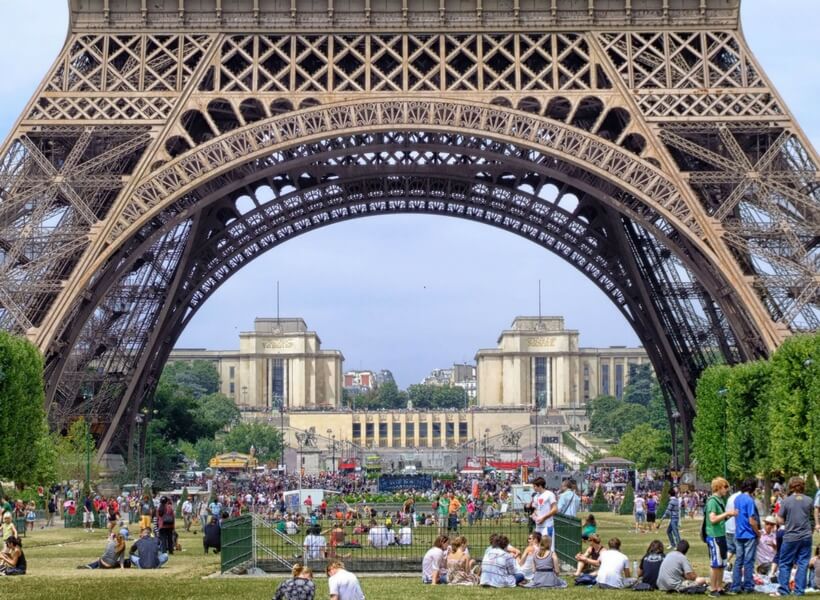 Timestamps: the Joys and Pains of Visiting Paris in August or During the Summer Months
[05:45] The conversation between Annie and Elyse starts.
[06:54] What changes in Paris in July and August.
[09:05] Head's Up about what Paris is like in the summer!
[10:43] Parking is free in Paris the first 2 weeks of August. You can rent electric cars to get around if you wish. Traffic is much lighter in Paris in the summer.
[12:14] Paris can get very hot in the summer. Some metro cars are air conditioned, not all. Buses are air conditioned.
[13:09] Some of the small stores and restaurants do close to take their vacation. All the big stores, department stores, are open, but not on Sundays for the most part. Don't save your shopping for Sundays!
[14:48] There are masses of tourists who come to Paris in the summer. Museums can be terribly crowded. Use the site J'aime attendre to figure out the best time to go.
[24:30] Strategies for visiting museums in Paris.
[29:00] Plan which days you'll go to which museums so you don't get stuck waiting in long lines!
[32:00] French people love to go to wonderful Paris exhibits also, it won't just be foreign visitors!
[34:13] More and more, Museums and attractions will force people to use Apps instead of queueing up. For instance JeFile to go up the Towers of Notre Dame.
[35:44] If you are staying 3 or more nights late July until the last week of August, you can negotiate a very good deal. There are lots of tourists, but no business travelers. To get the best rates, call the hotels.
[38:05] Air B&B questions you need to know about. Triple rooms for 3 adults (like for 3 adult sisters) are hard to find!
[44:08] Small restaurants do close in the summer in Paris! If you have your heart set on a specific place, check it out ahead of time on their site! Big Brasseries never close, but small restaurants do. Have a backup plan!
[49:00] Pickpockets in Paris and how to defeat them in the Paris metro, especially when you're on line 1. Leave as much as you can in the hotel safe.
[51:54] What bag to take to Paris and why.
[52:53] Vélib': Rent a bicycle and enjoy the low Paris traffic! Really cheap, can be free if you switch bikes every 30 minutes.
[54:50] Les Guinguettes. You will see them if you go on a ride on the bateaux mouches. There are a lot of fun and you should go! Great place to go for a drink and some dancing. Along the 13th arrondissement is great with free dance lessons! This makes Paris into a summer festival.
[58:30] In France in the summer you can always find something to do to find besides museums and restaurants.
[61:00] Sunset in France is late in the summer in France, if you want to see the Eiffel Tower sparkle at night, you have to go fairly late.
[63:00] Don't sweat the small stuff: you need to know where you're going sleep and what places you're going to visit. But you don't need to go to any one bakery or restaurant no matter what bloggers and guide books tell you!
[65:19] Too many tourists who come to Paris have not put any effort into planning anything, which is why they get in trouble.
[68:00] Get AC in your hotel or accomodation in Paris in the summer. It will be hot and muggy and that can ruin a vacation because you'll have a terrible time to sleep. Big thick walls do nothing against muggy.